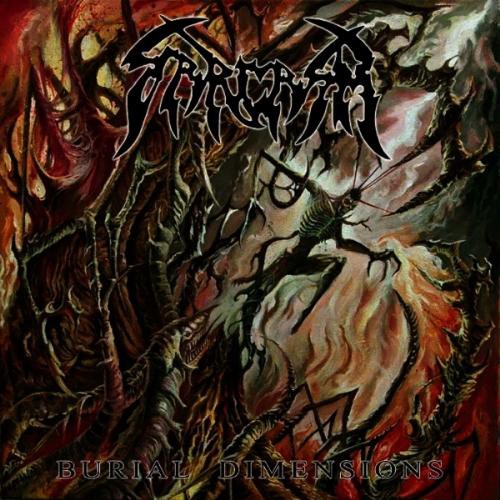 Article by Corey M
Burial Dimensions is a compilation of releases by Swedish death metal band Sarcasm, featuring six demos (released between 1992 and 1994) and a full-length album (also recorded in 1994, but first officially released in 2011). For most of this review, I'll be talking mainly about the titular full-length album when I use "Burial Dimensions", and not the compilation as a whole.
As for the compilation as a complete package – It has cool cover art and all the demos you could want, but they sounded redundant to me, though in full disclosure, I was unfamiliar with Sarcasm before getting this release, and didn't know any of their demos before listening to this compilation. Fans will no doubt find more value in having this large collection of demos on two CDs, even though casual listeners may not spend much time listening to them. The full-length features the best songs with the best production quality, so I focused in listening to it the most.
Some listeners might be able to guess that Sarcasm are Swedish by the first riff, and most of the musical techniques they use had been well-developed by 1994, so this album is more about refining a craft than innovating. Except for a few incongruent flourishes, Burial Interludes is mostly sinewy, sometimes fluttery death metal, but melodically bears resemblance to some contemporary heavy metal-influenced black metal like Rotting Christ's Thy Mighty Contract, with a lot of tense, enigmatic harmonies and an emphasis on keeping songs flowing smoothly throughout dynamic transitions between high- and low-intensity passages. However, due to the band's admirable unwillingness to shift dynamics too quickly, some of the more low-tension parts in songs drag on for too long, dispelling the sinister insinuations of the more intense passages as we are lulled by comfortable but impotent consonance. These soft sections subvert the dark spirit that these songs aim to conjure, and are almost always too off-putting to ignore. Examples include a brief break for a female operatic vocal to take over a song which is otherwise made of imposing, sharp riffs, and some dull segments that showcase an unmotivated (and unmotivating) lead meandering over a melodramatic chord progression. These parts always sound insincere and drag the album down because other parts of the songs really rip into you.
The production of Burial Dimensions is raw (and the demos sound considerably worse), with some gnarly analog compression and heavy reverb on everything, giving the sensation of the sound being squished and distant. This isn't necessarily bad and allows the guitars space to grind through high and low frequencies, giving the rhythm guitars a dangerous-sounding, shredded, spiky texture. In many riffs, a second guitar will pick out a higher-register harmony that stands separate from the rhythm guitars by having a distinct echoing tone. Usually following the rhythm fairly closely, the second guitar is also sometimes used for counterpoint melodies, and at times these are very effective at bringing out the full impact of the riffs, especially when the bass guitar splits from playing in unison with the rhythm guitars and all three guitar melodies hit you from different directions in three-part harmony. Sarcasm can create an impressively broad and rich sound with the three guitars being utilized this way, but during the worst parts of the songs, the counterpoint will be played in some such off-kilter way that doesn't synchronize intuitively with the rhythm guitars and some strange harmonies emerge, negatively altering the flow of tension that is channeled so well during the more simply-structured passages.
Sarcasm sound amateur at worst, mainly due to the artificial melancholy that butts in and trips up a series of otherwise engaging riffs. Some of the better examples of riffs that really take you along for a ride begin the songs "Through Tears of Gold" and "Never After", but frustratingly their momentum falters when one of the more flaccid, weepy progressions intrudes with clean guitars and soft synthesizer washes. "Pile of Bodies" and "Scattered Ashes" both begin with slow, chunky riffs that menace and lumber, but eventually either song gets bogged down in slowly-strummed reverb-drenched chords and leads too timid to venture far enough from the chords to inspire much sense of wonder or foreboding.
All considered, this album probably never achieved wide recognition because of the incongruent dynamics which can leave you with a sense of ambiguity about the whole experience. If you listen closely, you'll hear lots of cool-sounding riffs scattered throughout, but they are offset by the sappiness that inevitably kicks in during any song's development. In this way the amateur nature of the band works for and against them; when they get into energetic and fearsome riffing, the sensation is both threatening and mystical, but their inability to maintain tension while focusing more on the mystical than the threatening aspect means that each burst of strong riffs is undermined by a stretch of weak soloing or ostentatious gimmicks.
If you are a fan of Sarcasm, this release is right up your alley; you get some upgraded album art and a collection of demos in their original condition (not retouched or remastered, as far as I can tell). If you are not a fan but curious to see what Sarcasm are all about, I strongly recommend finding some of the music online or streaming it and giving it a close listen before making the decision to purchase. Personally, I don't see any lasting replay value in Burial Dimensions; Sarcasm are just one of the many death metal bands that fell by the wayside during the '90s heyday, and for good reason. If you are really itching to hear some death metal from the '90s with lots of black metal-esque melody and heavy metal leads, compare this album to Necrophobic's The Nocturnal Silence, which is a perfect example of how these influences (black, death, and heavy metal) can merge fluidly and efficiently. And Intestine Baalism beat these Swedes at their own game with 1997's An Anatomy of the Beast, which does a better job than Burial Dimensions of combining raw and evil-sounding riffs with dramatically melancholic lead melodies.
Tags: 2015, anthology, burial dimensions, compilation, death metal, sarcasm, Swedish Death Metal