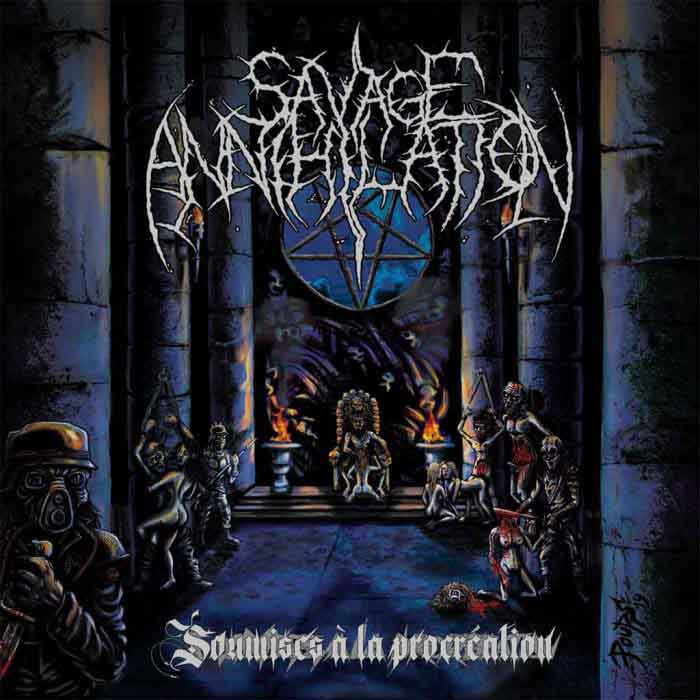 When life first took over planet Earth, its initial goal was to spread until it covered every square mile of the globe. Then, it began to specialize, since all of the major variants — fish, birds, worms, beetles — had become apparent, and those now divided into different varieties to flesh out ecosystems.
Metal displayed the same history. At first, we struggled to make metal into a voice of its own, battling over becoming rock or punk, and then underground metal came about, giving the genre its articulate voice. Now bands work in different niches within that, or join the disorganized scrum of mainstream metal-rock which fades quickly.
Savage Annihilation pick up where the big heavy bands of the middle 1990s took over, merging the heavy American sound with European precision and insights of melody; if you can imagine a fusion between later Suffocation and Deicide, you have the basic approach of Savage Annihilation.
This band relies less on lots of complex internal percussion to riffs, and instead uses the tremolo strum to its full effect, essentially taking very simple riffs and placing them in difficult rhythms to build them outward in layers, adding different instrumentation or vocals for emphasis.
Soumises à la procréation delivers the basic thrills of very heavy death metal in this approach, but like a more measured version of early Hate Eternal, it seems to take all of its potential and channel it into basic bouncy rhythms at the end of each song. That aside, this band understands subtlety in the unsubtle better than most!
This EP consists of three originals and three "tribute" songs — a Helloween cover, a Deicide cover, and a Slayer clone — with the latter being interesting in passing but not really of any enduring power. The Slayer cover sounds like every bad Slayer clone from the 1980s, and the Deicide cover shows how difficult it is to actually nail the rhythmic inflections that keep Deicide sounding evil and not happy.
It will be interesting to see what this band come up with on their full length. In particular, they need to have more confidence in taking songs to adventurous places, since we can see they have a good grasp of the complex textured but basically catchy percussive death metal riff.
Tags: death metal, Savage Annihilation