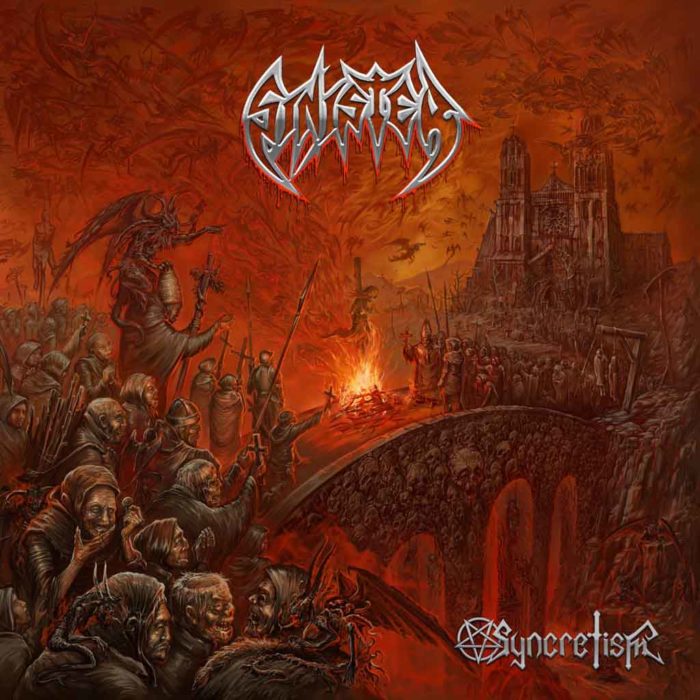 Some bands gained prominence because of their influence on other musicians but were given less credit by fans years later because they no longer had current releases. The Dutch death metal assault Sinister crafted three albums of great influence but then faded away in the mid-1990s, leading to fewer people mentioning their place in the death metal canon.
Sinister broke into the scene with Cross the Styx, a somewhat messy onslaught of intense rhythm that broke into striking old world melodies at crucial times despite some disorganization. The band refined that style and brought greater technicality to their second release, Diabolical Summoning, then combined the percussive strand of death metal with their technical yet melodic assault on the epic Hate before fading away with a series of less focused releases through the late 1990s and 2000s.
With Syncretism, Sinister returns with a release that ties together their many influences in a form that is both streamlined and abundant in its use of nuance and variation. On the surface, Syncretism fits into the world of percussive death metal innovated by bands like Suffocation, but the band have invented a musical vocabulary that borrows and adapts elements of other sub-genres, such as the rushing chromatic riffs of war metal, the melodic lead rhythm guitar that modern metal overuses, phrases ending in melodic fills from early black metal, and compositional tendencies from progressive death metal and flowing black metal that are now integrated into an entirely different dialect.
Songs begin with primitive and elemental over-the-top rhythm riffing which serves, in echoes of Diabolical Summoning, to set a kind of meta-theme against which all other riffs play off; as opposed to a straightforward syncopation, for example, all rhythms on drums and guitars tend to play with the rhythmic figure of the initial theme. The rest of the song serves to make sense of that founding idea and then expand upon it, causing the later third of each song to begin with a changed atmosphere, and then repeat the original theme in the new context. This creates a union between the power of repetition and the need for death metal to advance a narrative by changing context as riffs comment on one another; if anything, this could be used more.
Unlike all modern metal bands and many of the more simplistic percussive death metal acts, Sinister knows how to shape moods like putty, using adroitly bizarre solos bent among the riffs and building intensity in layers of repetition interrupted by contrary dialogue. If anything, this album sounds like early 2000s era Gorguts or Immolation with more variation in riff form and melody, capturing both the intense power of death metal and the nuances that make it great. Syncretism shows us a genre that not only has no need of dying, but continues evolving in its older form, picking up newer influences in a naturalized vocabulary upon which the album can build new passageways in the ancient labyrinth of death metal.
Tags: Brutal Death Metal, death metal, Melodic Death Metal, sinister, the netherlands