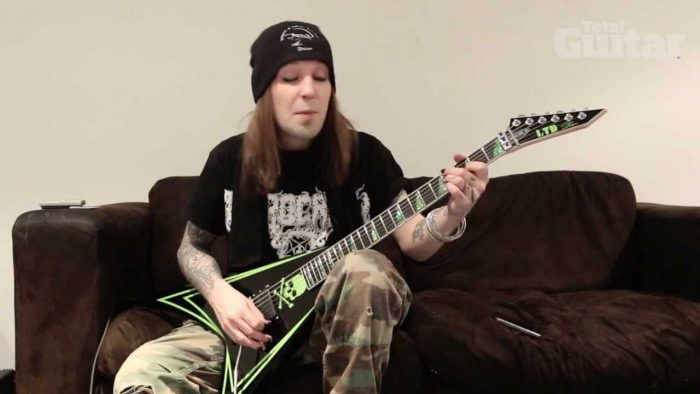 When all the bands that were terrible fifteen years ago still release music, there is no way that the desperation and attention whoring won't come out in the music. Here are some of the worst songs to curse metal not only in these times but since the birth of the genre itself.
Testosteruins – "Fuck Sharafuck!"
Hailing from Sweden by way of Tunisia and South Africa, this comically titled duo consists of one multi-instrumentalist playing the blandest form of Modern metal over the weak grunts of the feminist vocalist as she attempts to shed light on child marriages. While an interesting theme that has existed in humanity for thousands of years, feebly growling "DIE MOTHERFUCKER" is just the dumbest thing conceivable. There is little distorsion in the vocals and it sounds like the singer is putting on a voice as the annoying riff goes on until it the band stop trying and just continue chugging. The song reaches a climax that consists of the same riff but with North African percussion on top because the band need some gimmick to distinguish themselves. This is not African Death metal or even metal but just boring mallcore for those who want feminist rhetoric of the lowest order in simple metal form that is made by people with "exotic" origins. At least Castrator tried to make something other than vocal driven nonsense. Replace with any Myspace band for the same dull effect.
Pawns of Christ – "Brink of Life"
This pretty much only has one riff which is a annoying groovy Pantera styled riff. It then has a bit of noodling before going back the initial riff. This is useless music made by people who don't know what Death metal is and are probably not interested in making good music. This is the type of music for those who pretend to be serial killers but then cry when slapped. Replace with testosterone and Abhorrence for some truly crushing Death metal.
Dream Theater – "Paralyzed"
Any pretensions of playing Progressive metal are immediately discarded as the band fully embraces their saccharine modern sound and some of the most popular chord progressions in pop music. This is a verse, chorus, solo affair with the solo being the classic 80s shredder style that goes on for too long before returning to the Linkin Park styled verse and chorus. Replace with the real thing, at least Linkin Park's first two albums recognized that they were cash grabbing Nu-metal albums and did nothing to masquerade their music as being some higher form of art.
In Flames – "Burn"
Standard Melodeath riff with the annoying screams that then breaks into a pop chorus and solo before the vocals returned but with the Korn styled whiny sounds and Metalcore spoken parts in between the growls. The Djent-lite breakdown in the middle just makes this even more monotonous before the whole cycle repeats again. Replace with Cenotaph's Riding Our Black Oceans for actual Death metal with an emphasis on consonant melodies
Children of Bodom – "Under Grass and Clover"
It has actually happened, the band have realized that their music is worthless and have decided to release a song consisting of a nursery melody that then leads into the electronic section with start stop guitars.At some point there is an actual riff idea but that makes way for the solo before briefly returning again and the band goes back to dancing for infants. Replace with Judas Priest as this is what the band wants to be.
Avantasia ft Candice Night – "Moonglow"
Are Ritchie Blackmore and Candice Night broke? If not why she join on this abortion of a pop song. European Power metal went from gritty bands like Running Wild to bouncy disco songs for teenage girls. This is proof of the depths which people will go to make metal understandable by the masses. Replace with real Power metal like Blind Guardian's Battalions of Fear
The Haunted – "Spark"
One of the worst bands to come out of the melodeath movement. This band essentially plays modern hardcore of the most annoying kind. This is just modern hardcore with copy pasted soft parts as the gruff shouts take on a more "emotive" tone while the songs plods forward aimlessly tripping over itself. There is a cool Hard Rock riff with a decent solo at one moment which has no place here before this reverts back to the retarded chorus. Replace with good Hard Rock like Michael Schenker's Assault Attack
Tags: abhorrence, Assault Attack, avantasia, blind guardian, Candice Night, cenotaph, dream theater, in flames, linkin park, Michael Shenker, Pawns of Christ, testosteruins