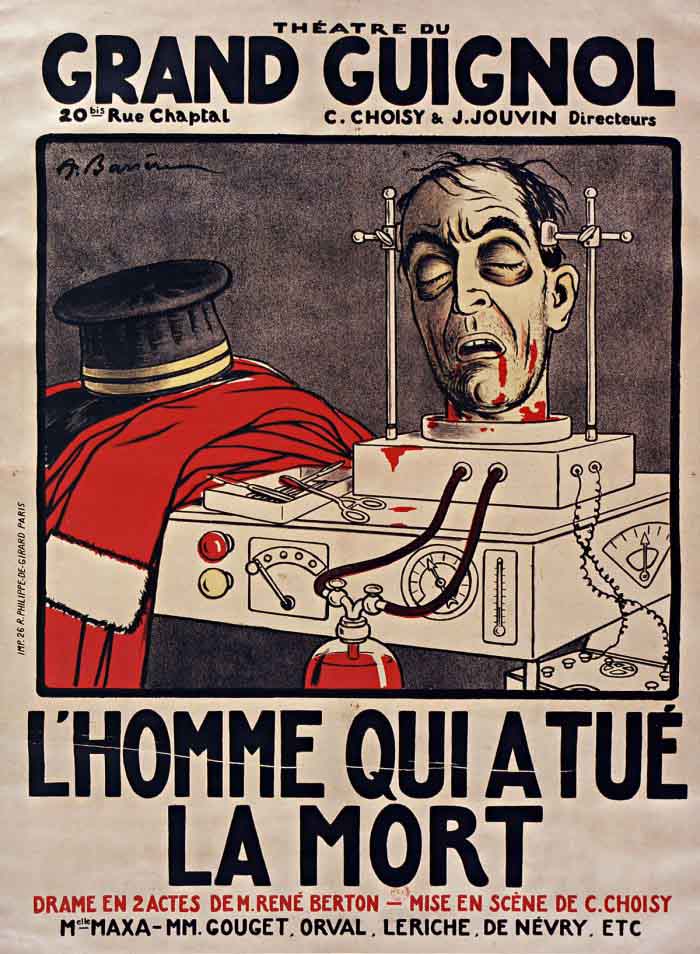 Pensées Nocturnes – Grand Guignol Orchestra:
The Grand Guignol was a form of French theater known for its exaggerated performances that fused horror and comedy in revealing the most violent tendencies that lie hidden within every individual. Outlandish yet poignant and a precursor for what the best horror cinema had to offer. Pensées Nocturnes confuse this with the circus and make carnival music with a wide variety of instruments that eventually has to rely on dissonant Black metal riffs. Ideas aren't connected to each other and the songs follow a riff salad pattern that sees the traditional instruments fade away for some sub-standard attempts at Black metal. Only the vocals manage to convey both horror and comedy as demented howls meet pseudo operatic singing. The constant need to shock the listener loses its potency as its predictable nature is quickly revealed as its base, this is bad Black metal taking from influences it doesn't have the slightest grasp on to create the lowest denominator metal at which fails completely.

Tomb Mold – Planetary Clairvoyance:
The horse is no longer dead as Tomb Mold have beaten it to the point where its no longer recognizable. Riffs that were left over by other Incantaclone bands meet the calmer sections seen in European Funeral Doom bands. A jumpier sense of melody inherited from the Melodeath bands with the typical Hardcore influences expected from this band. No riff is memorable and there is no repetition as each riff is played a few times before transferring to the next one and the song ending at some arbitrary point. Vapid and boring.

Alder & Ash – "Sons and Daughters of the Slaughter":
A martial pulse guides this song as dissonant cello melodies played on detuned strings play in counterpoint over an eerie base. A brief pause in the percussion allows for a build up in tension as the full range of the instrument is exploited with lines in different octaves create this harsh soundscape. Another break as a percussive bassline provides a different basis for a variation of the songs main motif that unfortunately doesn't conclude in a satisfying way as the pulsing rhythms stops while the same melodies are repeated until ending abruptly instead of a grand destructive finale. The use of melody and multiple layers on one instrument works to give this song forward momentum while creating the at gloomy atmosphere not through aesthetics or exploration of tone character but through actual composition. A fitting ending would have made this into a great piece of abrasive music.
Listen here
Devil Master – Satan Spits on Children of Light:
Stereotypical Black metal motifs are briefly integrated in these pop-punk riffs that form short simple songs. Harmless music that lives on a Black metal aesthetic while playing somewhat catchy pop, making this the ultimate "Black metal for people who don't like Black metal". The lack of ideas gets tiring quickly as every song relies on the same handful of chord progressions and pop like repetition. If the band were to remove any pretense of playing metal this would amusing Rock music but its lost by trying to dumb down something that has been simplified far too much already.

Tags: alder & ash, devil master, grand guignol orchestra, Pensées Nocturnes, planetary clairvoyance, satan spits on children of light, tomb mold