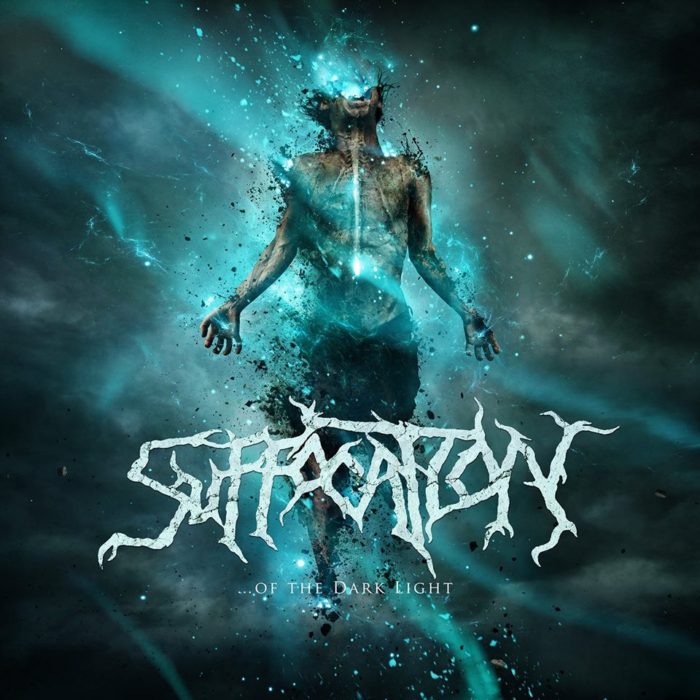 Review contributed to Death Metal Underground by Edward Colt.
Suffocation overreaches on this one. Favoring the pubescent Call Of Duty crowd, they have fully bent over and accepted that their last handful of albums are: video game music. With new artwork that looks like something out of Mass Effect, all …Of the Dark Light invokes is some strange ground between nerd-rage and ravehead drug bingers. The cover artwork could be the poster of some corn field sponsored outdoor rave event in your nearest rural area away from seemingly never-ending suburban sprawl.
After completely bewildering fans with the absence of Frank Mullen in their North American tours in past few years, they have shown that it's "out with the old, in with the new". "New" being Rickey Myers sporting his sweat pants/cargo short garments and belting out vocals half as hard as Frank Mullen after a pre-workout sludge smoothie. The new songs all sound like warmed-over, later Deeds of Flesh tekdeaf numbers.
Not unlike other death Metal legends Immolation, who dress better but still pander to the lowest common denominator audiences, Suffocation has given up the ghost of recycling themselves. Cashing out and looking for new avenues of profit, Effigy of The Forgotten has never carried such meaning to a Suffocation fan. If you still want to support this band, perhaps you might want pick up one of Terrance Hobbs meme shirts at a bargain price instead of …Of the Dark Light or seeing Suffocation gimped on tour without actual front man Frank Mullen.
Suffocation prove once again on …Of the Dark Light that they should have stayed dead after breaking up following the final, excellent Despise the Sun extended play. Do not buy this upcoming sorry excuse to tour. Suffocation continue to prove that they are pandering to a lowest common denominator, mainstream Cannibal Corpse audience since their "comeback" into mediocrity. The brutal, slam boom ended so now the only reason to continue the band is to cash in on nostalgia; Suffocation has been creatively bankrupt for almost twenty years now.
Tags: ...of the dark light, cash grab, new track, nuclear blast records, review, shit, Speed Metal, suffocation, techdeaf