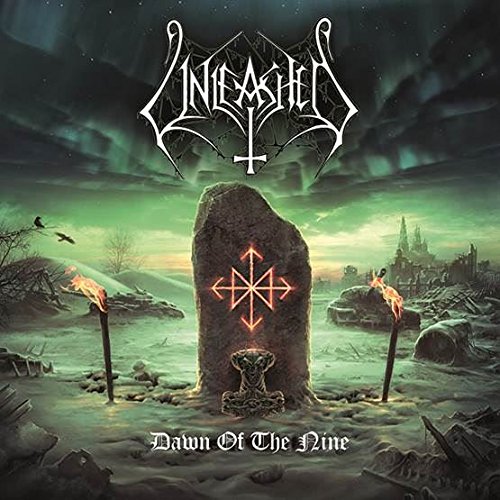 There is no real difference between Dawn of the Nine and an album from a more mainstream Viking themed death metal themed heavy rock band (which, at this point in the history of the universe, means Amon Amarth). Sure, Unleashed is less consonant and theoretically more chromatic, but you're still listening to an especially standardized and formulaic pop music product, even if Unleashed arguably sticks closer to their original sound than the rest of Nihilist's progeny. Still, Dawn of the Nine is at least one way to feed metalheads the infamous "death'n'roll" sound without them complaining… at least not immediately.
On this album, like others before it, Unleashed sticks to the arena rock end of the pop sphere. Consonant, monophonic melodic riffing over generic drumming, no real bass, and unvarying vocal technique probably brings to mind many of the other generic, basal Swedeath styled albums we've rejected over the years. The songwriting here, though, is unusually fixated on the repetition of simple choruses to a degree that few bands dare approach, even when they're just as obvious. Therein lies the tragedy of Unleashed, at least in the present – the guitarists have developed a sense of melody and rhythm that would be well suited towards writing good narrative (albeit probably more traditionally styled) metal. At points, there are some genuinely interesting musical elements being thrown around, but rarely if ever are they developed upon because, shockingly enough, it's time for the song's chorus. Other times, the musicians toss around extremely basic musical ideas for what are presumably commercial reasons, but that at least is common throughout the industry, and even then you can justify the occasional basic break in the middle of a track as part of an effort to write a more dynamic and interesting song.
What particularly strikes me about my own opinions on Dawn of the Nine is how close they are to previous site writings on new Unleashed recordings. The emphasis on tired, overly basic rock tropes weakens the entire album beyond what its also predictable strengths of musicianship and production can recover. It's usually not this incredibly obvious on the recordings of this band's contemporaries, though, but someday they too may need to pander especially hard to the blockheads to retain their underground cred.
Tags: 2015, dawn of the nine, death metal, mainstream metal, repetition, Unleashed