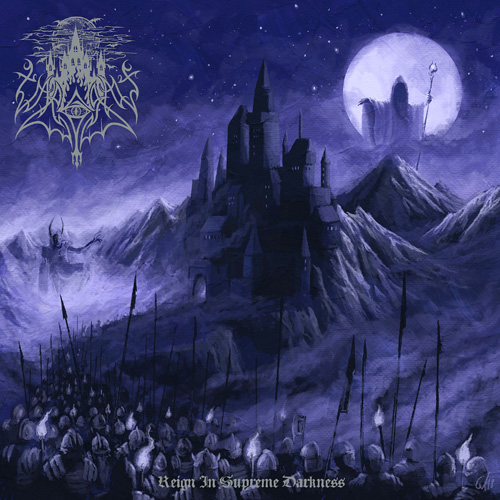 Article by Belisario
Among the latest newcomers of note to the realms of underground metal we find Vargrav, a Finnish one-man-band with a debut album released in 2018 and a sophomore effort published just a few months ago. Under the title Reign in Supreme Darkness, this latest album has stirred some attention not only on account of the material itself but also owing to its recent live debut as part of the notorious SteelFest festival which takes place in Hyvinkää, the very city Vargrav hails from.
This second studio foray shows a huge improvement over the first attempt, since it achieves a more defined and cohesive version of the symphonic black metal formula outlined in its first recording from last year, Netherstorm. The band's style draws clearly on the most relevant references that characterize the symphonic variety, mainly Emperor but also Kataxu, and although it still remains pretty close to its influences, it also displays a considerable degree of skill and creative force in stringing together its compositions, which to a large extent make up for its manifest lack of originality, ultimately offering a rather gratifying listen.
Since the intro, very similar to the one on Anthems to the Welkin at Dusk, and the first minutes that follow it is made perfectly clear that Emperor's music pervades Vargrav at all levels, as the band carefully apes the formula of the Norwegians' earlier and superior era: incisive guitars that lead forward, keyboards constantly jumping over and a varied and imaginative percussion, among other remarkable assets.
In the best black metal tradition, guitars and keyboards are structured as overlapping layers that complement each other avoiding loose ends, with a hoarse shriek overflying the whole as well as short and occasional recitations in the style of Summoning, which disorient at first but are fortunately not out of tune since they never take an excessively prominent role.
Similarities to Emperor reach at times almost unbearable heights, although in general this flaw tends to be compensated by means of diverse well-solved additions that bring in some more personality, such as the feigned closings at the end of each album side (tracks 4 and 8 on the CD), after which the main theme of the song comes back vigorously in a tactic that yields a fantastic effect.
The main virtue of this music is that, in spite of displaying huge amounts of hyper melodic keyboards, it never eschews a steady guitar-based anchoring, which drives it away from the most shameful excesses of what is commonly known as symphonic metal. Instead of presenting catchy melodies repeating themselves time and time again, the keyboards are generally used as dynamic backings, nuancing of the guitar riffs or isolated saturations that generate a pretty ethereal atmosphere, a resource masterfully utilized by Kataxu and whose effectiveness is almost paralleled here.
All this grandiloquence makes sense, since the suggested topic is a romantic exaltation of the night and a sublime reverence of darkness, both aspects being clearly delivered without a need to check the lyrics. Songs are solid and centered, they know where they want to go and do not mess around, which results in a fluid yet compact album that holds well repeated listens.
It is very difficult to talk about originality in an album with the aforementioned features, yet the truth is that there is some undeniable merit here, considering that the symphonic black metal subgenre is something very difficult to cultivate in order to achieve an end result that does not become an awful hodgepodge (such as Dimmu Borgir or Old Man's Child) or something which, while not inherently lame, gets inevitably damaged by its own excessive nature (like Tartaros or Obtained Enslavement).
The problem with this substyle is that more often than not the keyboards tend to assume all prominence, casting guitars aside, which on the one hand decreases the level of aggression and blurs the global frame, and on the other reduces the music to an endless repetition of melodies which are pretty similar to each other and end up sounding like a videogame soundtrack, vaguely attractive yet utterly subsidiary. In Vargrav's music, the guitars are always in place and carry the weight of the compositions, ensuring its solidity and relevance.
The success this album has gathered among underground milieus somehow proves that this hyperactive lad from Hyvinkää, involved in a long list of bands, has truly struck a chord with this project. In contrast to the relative shyness and hesitancy that characterize its predecessor, Reign in Supreme Darkness is no mere exercise in style, it is instead a well-crafted record which is highly enjoyable and does not contain fillers. Nonetheless, for Vargrav to stop being a menial entity, content with imitating glorious echoes from the past, it will have to conclude the process of assimilating its influences in order to finally develop a voice of its own.
The album cover, which unmistakably mirrors the one on In the Nightside Eclipse, is a good visual metaphor of how a band, no matter how good it is, will not reach its mature state until it decides to develop its own style rather than restricting itself to worshipping the work of others. Vargrav is a skillful band that well deserves a few listens, but it is still lacking a big leap forward if it wants to become a truly outstanding and essential act.
Review originally written in Spanish: Vargrav – Reign in Supreme Darkness (2019)

Tags: 2019, emperor, symphonic black metal