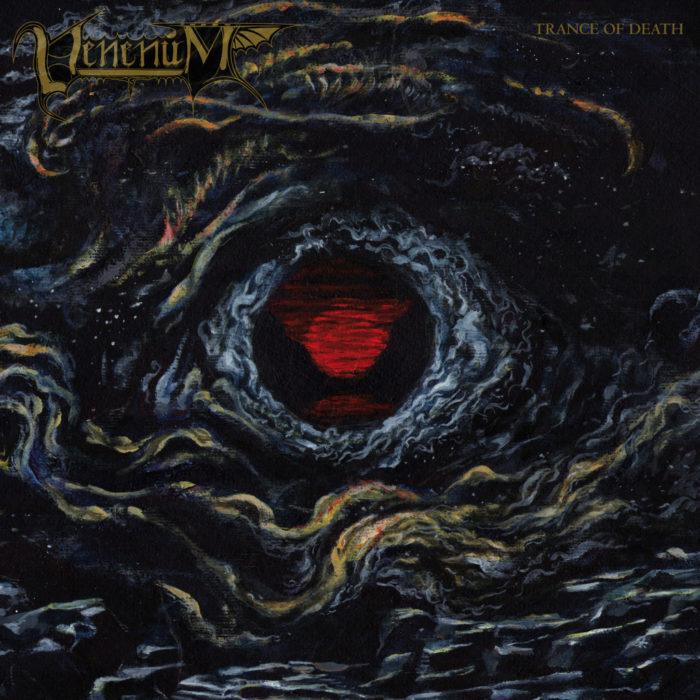 Records praised as "innovative" have a first-mover advantage: we all take that assessment at face value, not having heard the album, and then can only see through it after a half-dozen listens, at which point the record stands revealed. These iconoclastic pioneers usually tend to be the opposite, wielding piecemeal structuring as a cudgel to mask songwriting pitfalls or a lack of overall message in general, and Trance of Death manages to dupe the listener on both counts at first.

Described in many "best of 2017" lists as a truly unique work of death metal, the album immediately reveals its superficial strengths but upon structural analysis gives up the grim truth that its critical acclaim has indeed been fashioned of its most glaring weaknesses. Essentially comprised of two halves, Trance of Death begins as a serviceable attempt at metal tribute, emulating Evil Shade of Grey-era Cemetary riffs by way of the meandering structuring of Blood Incantation and eventually devolving into the eponymous second half (in three essentially unrelated parts) as post-rock spasmic Enslaved riffs by way of the meandering structuring of Blood Incantation. The band can hit the surface-level understandings of metal but lacks any semblance of narrative cohesion. Throughout the record you will hear speed metal riffs, "blackened" approaches to death metal, and even a straight rip-off of "Immortal Rites," but the flow of each song carries the listener through an entirely unnatural collage of peaks and valleys that fail to tell a successful narrative story, and many of the phrasal contrasts are hamfistedly placed after complete stops mid-song. What follows from this technique is feeling contextually lost, more so given that the themes that Venenum does reintroduce into the songs later were often tonally absent of necessary dynamism to begin with, so you will arrive at a perceived climax and not remember how you got there.
This plagues both the metal and post-rock halves of the record, so despite the ambitious nature of the superficialities of the music, even at the album's conclusion you are unsure of what the band is trying to say. The building blocks of its obscured message are often more humorous than declarative, such as the solos which often made me laugh out loud from their forced bravado, and the times in which they start a phrase very slowly and increase the tempo to breakneck speed as a compositional band-aid between two unrelated parts (happens twice on the record), all the while stopping completely between phrases as if the band is gathering the pieces of a message they had never fully understood to begin with. Assuredly, it is these superficial stabs-in-the-dark at compositional relevance through fragmented ideas that has landed Trance of Death on many year-end-lists, but as a holistic work, the glaring lack of cohesion renders it wholly ineffective. Transitions between themes are either tonally lacking in continuity or entirely devoid of flow, and both the violin intro to the record and the final track's lumbering, endless outro leave the listener craving not only a proper journey's conclusion but a true understanding of where it began. The foundational melodic elements, such as the tried-and-true true minor sixth intervals that color the worst of metalcore further the divorce from the band's overall intent and the most effective death metal expressions.
While Venenum has some strength in riffcraft, the complete vision of the record comes across as emulation of vague metal notions due to its compositional shortcomings. Should the band refine exactly what they set out to say, they could perhaps fashion a declarative statement out of their obvious metal leanings, but the somewhat unanimous praise of their efforts elsewhere will instead assuredly amplify their flaws as songwriters as their weaknesses inevitably become their fully achieved artistic foundation.
Tags: Black Metal, death metal, post-metal, rock-metal, venenum