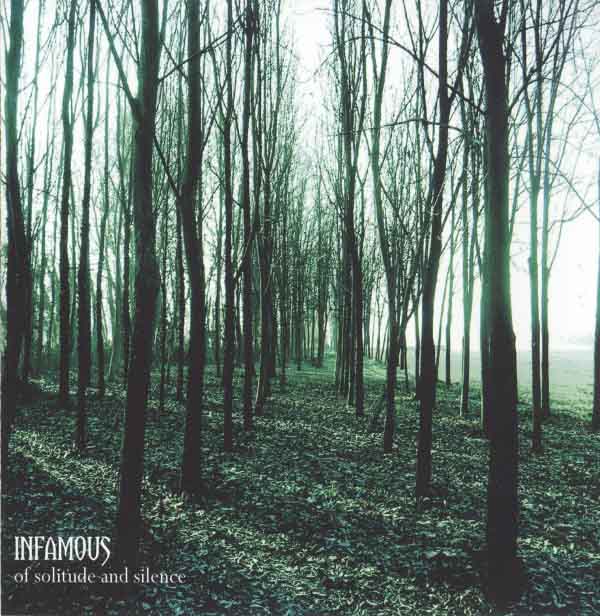 Black metal like most underground metal compares to Romantic art because it has a passion for nature, the raw power of the universe and the emotions which are true in the human being. This inherently rejects the false madness of the madding crowd but most fans of Romantic literature never get to that phase and translate its meaning into nature fetishism and self-pity. Infamous restore the Romanticism to metal with a dark nature worship album that preserves the savage beauty of this genre.
Deriving its basic approach from what can only be described as the more ambitious early Ancient compositions applied to the thematic material of early Enslaved, albeit translated to a country far from the frozen north, Of Solitude and Silence drops into a lush series of melodies that maintain distinctive shape and expression in both rhythm and tone, allowing Infamous to weave songs of multiple contrasting themes that conclude in a beautiful rising of mood from within. These are outright sentimental, like work from Graveland, Sorcier des Glaces or Immortal on Pure Holocaust, but if you can get over that vulnerable yet accessible and stately violent emotion, much excellent songwriting is found therein. Infamous primarily rely on the renowned black metal high speed tremolo strum overly slowly changing drum patterns, aided by reverb and closet-muffled production in achieving its atmospheric ends, but the strength of each song comes from the ability to put riffs together in a coherent form which nonetheless maintains internal contrast to create the sensation of motion and change outside the individual, which is where the essence of the black metal sound (and Romantic poetry) originates.
Instrumentation takes a path for simple but effective, with guitars avoiding complex technique in favor of complex riffs of basic power chords and arpeggiated chords at a slower polyrhythmic strum. At some point, this drummer has listened to a fair amount of hardcore or Oi, possibly even verging into Ildjarn-worship. But the essence of this release remains the flowing longer instrumentals of early black metal experimentation, a source of great potential it never followed up on, and by indulging these in a layered sense of emotion Infamous creates an entirely transporting musical journey. While this one fell off the radar for most of us, it presents one of the more capable and visionary concepts of black metal after the first wave from Norway.
4 Comments
Tags: andromeda, Black Metal, infamous