Desecration Rites – Hallowed Depravity
Wiht – Wiht
Into Oblivion – Creation of a Monolith
Bloodfiend – Revolting Death
Exylum – Blood for the Ancients
Logistic Slaughter – Biophage
Desecration Rites – Hallowed Depravity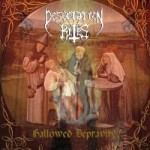 As if poisonous arachnoids had woven a sticky web around a hermit of the desolate Pampas, the multitude of savage Angelcorpsean riffs blasts from Desecration Rites' rehearsal room with hardly any control or structure for the confounded listener to immerse in. The Argentinian blackened death duo did not have the time to execute all matters properly here because of unfortunate circumstances, and it shows in the deprecated, spastic rhythm of machine, the hysterical frequency and bouts of unclean guitar work all over the place. If something is keeping these dogs of sequences under leash, it is the deep, rumbling voice of Wolf intoning Faustian misery from the bottomless depths of darkness, occasionally unwinding power lines of similar effect to Craig Pillard's majestic demon voice in the eternally classic Onward to Golgotha. For the modern death metal fan expecting a digitized, synthetic robot surgery there is probably no more horrific sight than this deluge of an album, but internally it is far more hypnotic, intricate and deadly than one could hope for. Just listen to the freezing pseudo-Nordic moments of "Death Sentence to an Agonizing World" or the ethereal, solar and jarring interlude of "Carnal Dictum" and you might just get a slight moment of hope in the future generations after all.
Wiht – Wiht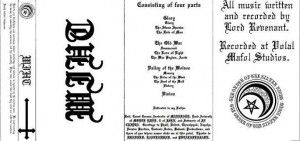 This British debutant lets loose the heathen wolves of war with a triumphant fanfare akin to Vlad Tepes' famous Wladimir's March before leading us to a journey of mountainous black metal landscapes, Graveland-esque meditations, ancient English fire-lit caves and Zoroastrian philosophy. The same sort of extended pagan tremolo epics (18 minutes of length at worst) that made countrymen Forefather and Wodensthrone veritable trials to sit through are pretty close at hand here, but the sparkling energy of youth helps a lot; there is a wildness and intrigue that contributes variation in sense even when there is none in content. Much of the logic of the songs seems to be emotionally stringing disparate sequences into a journey or a fictional narrative, which is essentially never a bad choice but some of the material here could be cut off to be brutally honest. Sound quality is the pseudo-spatial vacuum of too much reverb common for demo-level bands, but the instruments are clearly audible and the mid-rangeness is efficaceous. Unmoving and halfhearted chants and throwaway happy riffs are the blight of heathen metal, but Lord Revenant possesses sufficient pathos to allude to traces of occult evil and memories of ancient war at the same time; while this effort is not enough to coin him as a master of British metal, it would be a disappointment to hear these same songs performed by a more professional, disinterested voice in the future, or see him disappear without a trace after such a promising start.
Into Oblivion – Creation of a Monolith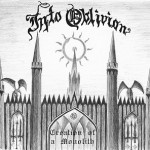 More than one and a half hours of harsh, pummelling death metal is neither a mean feat to compose nor to listen. As if Wagner, Brahms or even Stravinskij decided in the otherworld that these wimpy rock/metal kids have had it too easy and possessed various souls to spend hundreds of nights writing progressive Romantic/Faustian death metal partitures, 20+ minute pieces such as the title track or "On the Throne's Heavenward" lumber and crush with such interminable weight that it is hard to not feel like attacked by a divine hammer from above as designed by Gustave Doré. You can forget about them mosh parts, since this is material about as brainy as anything by Atheist, with slow-moving adagios and creeping crescendos more familiar from Brian Eno's ambient music or Esoteric's hypno-doom than anything in satanic metal realm. Vocals are sparse and it feels like about a half of the album is purely instrumental and this creates a strange calm suspension which might even feel uncomfortable; but compared to The Chasm's mastery of technique, it still does feel like an essential emotional counterpoint or rhythmic pulse bestowing element is missing, and when the cruel vocals suddenly rip the air, it might even be perceived as a disturbance to the solemn atmosphere. Nevertheless, it is probable that they are going for exactly this synthesis of the intellectual and the primal; the emotional and the physical. So fortress-like, rational, calm and measured that it is hard to connect its spirituality with its death metal origins (even the previous Into Oblivion release), it is certainly an important statement while the cumbersome nature and certain academicism in construction (perhaps "filler" in metal language, the problem of the previous album as well) makes it a bit of an unlikely candidate for casual listening. Anyone interested in the future of Death Metal cannot afford to miss it, though.
Bloodfiend – Revolting Death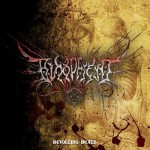 Heirs to the bludgeoning power of Escabios and other ancient compatriots, this recent Argentinian sect wastes no time with progressive anthems, intros nor filler in this concise EP of Autopsy influenced memoirs of early 90's scathing death metal savagery. If the band has capacity for a challenging composition or a range of emotion, it's all but hidden in this conflict of vulgar and intense demo taped riffs that could originate on any scummy cassette dug up from your older brother's cardboard box vaults. Even most crustcore bands could hardly resist the temptation to fill the gaps out with something more liberal, but I am glad Bloodfiend do not resort to any loose pauses in their old school attack. The band is not yet quite there in the top ranks of death metal resurgence, but possess more than their share of contagious energy that will make for a good live experience and raise hopes for a more dynamic album.
Exylum – Blood for the Ancients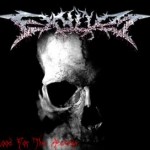 Brutal death metal cliches abound but also tasteful dashes of improvisational riff integration as California youth Exylum strike from the bottomless depths with a manifest of fragmented ideas like old Cannibal Corpse, Finnish death metal and newer black metal in a blender. Weird effected voices cackle, pinch harmonics abound, chugging is all but industrial metal, drumming provides a solid backbone and the ululation of the lead guitar harmonic reaches a hysterical plane of existence when the band lets go of identity expectations and go ballistic as in the end of "Worshiping the Flesh Eating Flies". The worst thing on this demo is the tendency to fill space with something simple and stupid like the endless low tuned one note rhythmic hammering towards the end of the title track. When the band is in a more chaotic mode, as in the older recording "Ritual Crucifixion", the confusion serves to imbue the composition with more blood and action.
Logistic Slaughter – Biophage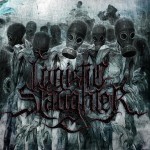 As persistence is the key to cosmic victory, it's gratifying to see that this recent Californian cluster is not giving up in their quest to build a maiming death metal experience which was approached with streamlined Bolt Thrower and Cannibal Corpse tendencies in their last year's EP. First threatening edges noted by the listener here are their improved musicianship with plenty of rhythmically aware palm-muting and tremolo NY style rhythm guitar riffs interlocking like the paths of ferocious large insects on flight while in the new drummer Kendric DiStefano they have a redeemer from the abhorrent pit of drum machine grind, even though his style tends to approach the robotic at times. The moments where this EP shines is when the brutal backbone operates at the behest of melody conjured by the leads of Mike Flory and Daniel Austi, such as the gripping mid-section of "Exit Wounds" and the Nile-ish mad arab string conjuration in "Litany of Blood". I'm still reluctant to call this a total winner because there's a lot of random chugging around as in generic bands from Six Feet Under to Hypocrisy, but there are also subtle technical flourishes such as the lightly arpeggiated bridge in "War Machine" that still keeps me liking this band and following its movements.
Written by Devamitra
---
1 Comment
Tags: Apocalypse, Argentinian Death Metal, Black Metal, Brutal Death Metal, Canadian Death Metal, Classical, death metal, Death Metal Demos, Occultism, Paganism, Philosophy, Romanticism, Technical Death Metal, zine-reviews