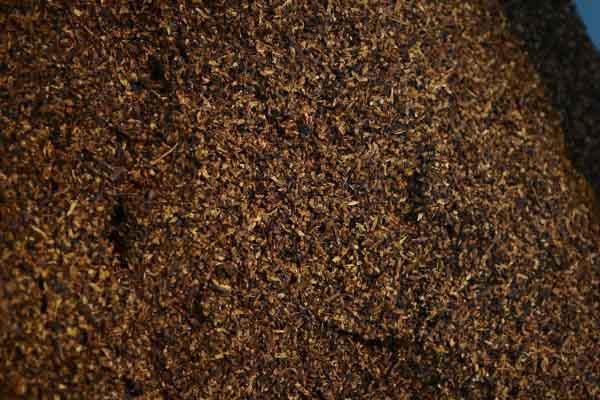 Scandinavian Tobacco Group sells more pipe tobacco than any other firm on earth, and by repute their Lane Limited 1Q variety sells more than any other. It is easy to see why: this mellow blend leaves a warm vanilla smell in the room, burns slowly and tastes sweet. Almost no one will object to it; most people will agree that it, indeed, is pipe tobacco and thinking no further than that, will enjoy it because it has an inoffensive and easily liked flavor and strikes no dischordant notes. The argument that this tobacco should be sold with all new pipes is a solid one not for the above reasons but because it represents a perfect middle of the road plus extra sugar, and it teaches us what to like — and to what to dislike.
As the helpful introduction to pipe tobacco page at STG explains, pipe tobacco comes from many varieties and pseudo-varieties of the same plant. Varieties consist of genetically separated members of the family, and pseudo-varieties rely on differences in cultivation, seasoning and curing to create different flavors. 1Q comes from the aromatic family, combining Virginia and oriental varieties with vanilla flavoring, for a low-to-medium nicotine dose and extremely sweet, mellow flavor with excellent "room note" or the smell left behind after smoking. The latter part is clearly true; for a mix that wives and coworkers will not mind and in fact enjoy, like a non-dramatic incense, 1Q fills the role.
On the downside, this is the Big Mac of tobacco. Low in nicotine, it is also low in strong flavors, which means that vanilla takes over from the tobacco frequently. It has some bite, mainly because its optimal burning speed is very slow. It is meant to be sipped all day like a hip flask, and yet often pipe smoking varies with the speed of conversation or intensity of thought, so this seems like a poor design idea. It delivers the classic barbershop tobacco smell and is almost impossible to screw up, being resistant to long storage periods as well as inept packing and burning, but the consequence is a character undivinable because it represents every trait of tobacco balancing every other, then obscured by the aforementioned vanilla flavoring.
The average smoker can burn this all day, in part because the nicotine and burn speed are so low that it is more like staying in a room where someone else is smoking a pipe. While it is clearly well-executed by competent people, it also loses character and connection to the nicotiana itself, and fits into that category of neither hating it nor loving it, and only regretting its loss in the absence of other tobaccos. The popularity of this tobacco fits mainly within the nexus between social inoffensiveness and personal caving to the convenient, in this case a sweet vanilla taste, like most human evils. At the same time, it is enjoyable if the low nicotine content and sweetened mass-produkt nature does not alienate you.
5 Comments
Tags: 2015, aromatic, Lane 1Q Tobacco, lane limited, pipe tobacco, tobacco