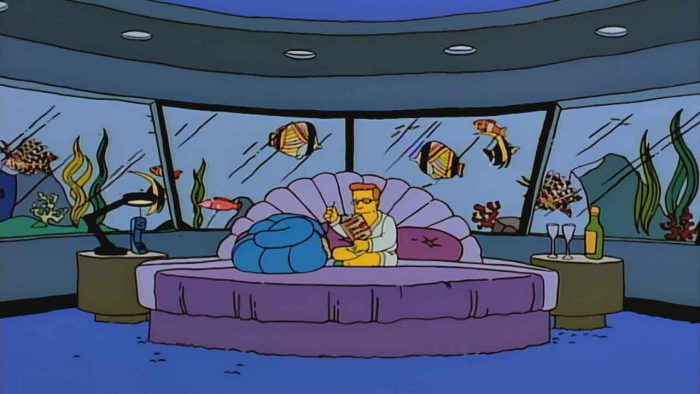 Article by Corey M.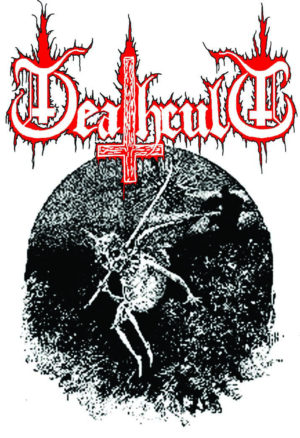 Deathcult – Demo 12 (2012)
Critically indistinct Entombedcore complete with oversaturated guitar fuzz, random d-beats and weirdly laid-back vocals coming from the distant corner of a dirty, empty, boring warehouse interior. From a pop-rock songwriting position, there is a lot of good to find here, as songs have clearly defined segments that are never too long or too short, and there are lots of brief build-up bits that anticipate a transition into a section with a different feel than whatever was last heard. Goldilocks metal – never "too" anything, always "just right" – shows that the musicians are not so drug-addled or retarded that they can't put together songs better than your average punk band. However, since Deathcult play death metal, the listening experience is extremely boring. Death metal lends itself to whiplash-inducing extreme dynamic shifts in tempo or key because the overall intensity and tone of the music holds the songs together and covers the different modes of expression that an imaginative band can explore. Like a deadly car chase, death metal speeds up, slows down, and takes drastic turns in disorienting routes, but all for the sake of accomplishing something. Deathcult would rather take a leisurely Sunday cruise.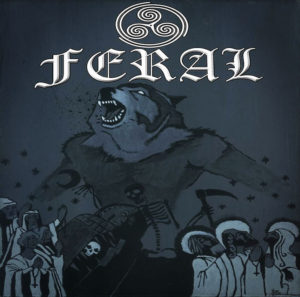 Feral – For Those Who Live in Darkness(2016)
Feral play very modern black metal that gracefully sidesteps any overtly "post-" tendencies. Techniques range from long, blasting, tremolo lines of melody ala early Dark Funeral, to third-wave-era slightly heavy-metal(ish) rock-out moments, but these are not disparate components and actually transition from one to another quite smoothly. With this apparent lack of negative aspects, how could For Those Who Live in Darkness be bad? Surely it would be inoffensively mediocre at worst, wouldn't you think? Perhaps, but this is actually worse than outright bad metal. While black metal can be a wellspring of energy that the listener may draw from strength in solitude, this music only presents a void, a vacuum that sucks in energy and emotion, leaving the listener not just dissatisfied but drained of spirit and motivation. The obliviously anti-Christian rants, tortured-artist vocals, and paint-by-numbers minor chord patterns are as impotent and flaccid as a male to female transsexual's surgically inverted "penis". The target audience of Feral are early-twenty-something, excessively made-up women who can often be seen chain-smoking outside of music venues when they are not posting soulless monochrome photos of their favorite (local) bands on whatever social media platform is hippest at the moment.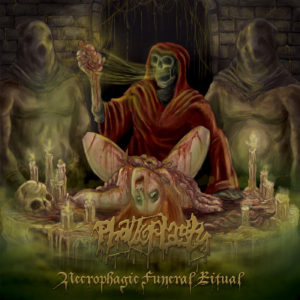 Phalloplasty – Necrophagic Funeral Ritual (2012)
Somehow, this (presumably) one-man goregrind/brutal death metal act comes off as even less intense and brutal than NOFX or Lagwagon. The obviously programmed drums cycle through various irrelevant beats sequenced with all the imagination of a mineral or other inert object. The guitars, which are typically the highlight of even the worst knuckle-dragging brutal music, are bright and featherweight-sounding, completely nullifying any intended brutality. I give the composer/guitarist kudos for at least making the guitar riffs audible but in this case it works against the music. The chord sequences are pop-punk-simple and amelodically bland. There is barely any low-end in the music subverting the brutal paradigm again for the worse. Truly it is baffling that a musician who at least has the capacity to program drum sequences and record guitar riffs would fail this hard at making music in the one genre that demands so little of its participants. Phalloplasty should immediately check himself into a group home or a mental institution. I will happily fund his care with my tax dollars so long as nothing of this sort gets released again. I recommends a hollow-point bullet to the back of the skull. -D.M.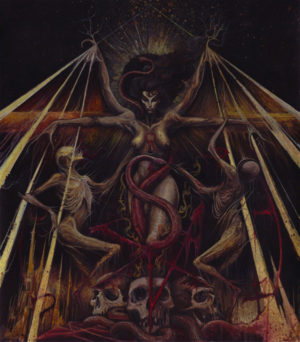 Qrixkuor – Three Devils Dance (2016)
Qrixkuor cut-and-paste various subterranean, tremolo-picked riffs and wailing, atonal leads from early '90s death metal but lack the ability to convincingly replicate the intensity of Morbid Angel or Immolation. What we get instead is a pleasantly nostalgic but grainy and not particularly detailed mashup, "low-resolution" in that you can zoom-in and discover that what appears to be a detailed image from afar breaks down into incongruent little bits when viewed up-close. This style of production (or reproduction, as it were) has already been used to little effect by the likes of Mitochondrion and Antediluvian, two of the better bands that wrote effective riffs but buried them in intentionally obscure mixing methods. Unlike any of the aforementioned bands' releases, however, Three Devils Dance leaves one with a distinct non-impression, and the poor mixing is only one cause for this. The other is the autistically organized compositions which run for far (FAR) too long: The first track is nearly ten minutes in length and the next two make up a half-hour together. The band's goal to disorient the listener with an overwhelming inundation of indistinct waves of riffs.  It worked as after several back-to-back listens, I could only remember one or two segments of melody with any clarity. Qrixkuor should take another cue from their idols and realize that death metal songs have the most impact when everything is said succinctly. Suffocation packed more information into a four-minute song than you hear in the entire forty minutes of Three Devils Dance.
20 Comments
Tags: autism, black 'n roll, Brutal Death Metal, death metal, death punk, Deathcult, entombedcore, feral, Goregrind, Invictus Productions, modern metal, Phalloplasty, qrixkuor, sadistic metal reviews