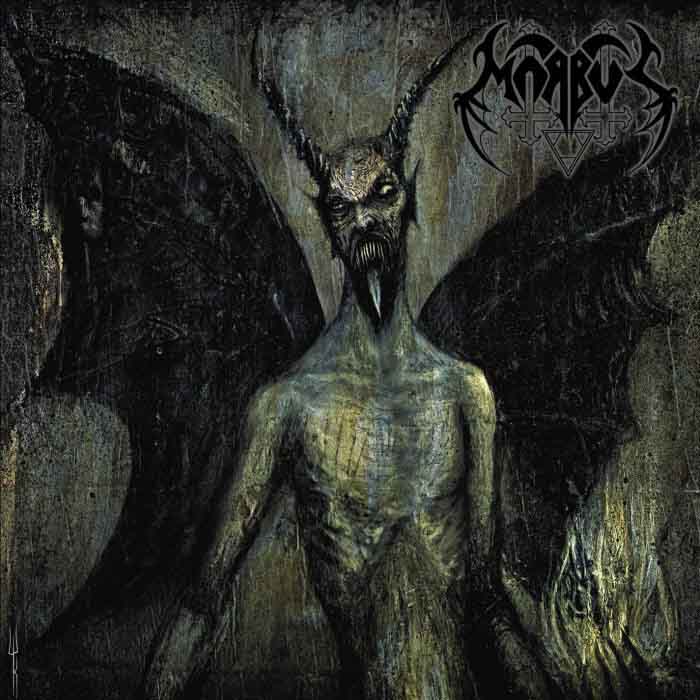 Article by Corey M
Featuring members of two well-respected underground metal bands – Imprecation and Bahimiron – the professional aptitude of the musicians is obvious as soon as Morbus 666's album Ignis Divine Imperium is through with the first song, though that's not to say that there is any showboating whatsoever from the players here. The sonic texture of this album is very similar to that of the latest releases by the aforementioned bands; dry, gritty guitars dominate the soundscape with a harsh midrange attack while scratchy vocals and a beautifully live-sounding drum set do little to assert their presence, but effectively support the hypnotically whirlpooling riffs.
Aesthetics aside, comparing Morbus 666's music to that of Bahimiron is fair, because both feature a similar general sense of dynamics, method of structuring songs, and overall level of complexity (which is relatively minimalist in terms of modern metal in general). In both cases, we're dealing with no-frills black metal that emphasizes gradual evolution of songs (strategically avoiding distracting melodic tangents) while eschewing ornamentation and anything other than rudimentary black metal technique: That is to say, the band's whole arsenal consists mostly of tremolo picking, some creepy ringing chords, marching beats, and sometimes blasts. There are no guitar leads, acoustic interludes, stretches of vaguely disturbing ambient noise, or synthesized string sections. In fact, there aren't even any drum fills or the sort of herky-jerky, stop-start tricks you might expect to hear from some of the more chaotic modern black metal acts. The engine of Ignis Divine Imperium is pure and relentlessly sinister melody, and for the most part, the band delivers impactful hymns that praise Satan as an anti-humanist archetype, denying (both lyrically and musically, and by extension ideologically) the casual fan the luxury of a comfortably passive listening experience.
The most effective bits of music in Ignis Divine Imperium are so simple and subtle that they may first pass by in a blur, but become more rewarding with repeated listens. For instance, the first track ("Fiery Abyss") begins and ends with the same simple two-chord phrase, acting as bookends to the song. It works as an engaging introduction, but by the time this phrase is reintroduced, the experience of hearing it again is not just that of familiarity, but a more lucid contemplation of what sort of hidden meaning the melody implied at first, since it has now been contrasted with the winding riffs that have occurred in between the opening and closing.
To borrow another author's* metaphor: Imagine standing at the edge of a valley, observing the lay of the land before you, and then descending into its depths and eventually emerging on top of the opposite edge. Looking back, you gain a more complete perspective of the depth and width of the valley through which you passed, since you are able to compare the span of time and steepness of the cliffs which you must have climbed down and then back up. In this same way, the introductory riffs of each song on the album serve to give the listener a general idea of what to expect, but it is not until emerging on the other side of the tangle of melodies that one can fully appreciate, by looking back, the journey as a continuum of experience, and realize that there was more to the introductory riff sequences than could be guessed by hearing them alone, as they relate to the riffs in the middle and then the end of a song. This seems like an obvious way to structure any song but amazingly (or not), many bands fail to make their songs interesting without drastic changes in rhythm and guitar techniques and naturally drifting from any main point that they wish to express. Meanwhile, the music of Morbus 666 succeeds by having strong riffs alone.
All this praise but some criticism yet; the simplicity of some of the riff sequences on this album work against the development of the song. There are definite stand-out tracks like "Fiery Abyss" and another near the end of the album, "Through the Black Fog Burns the Eyes of the Devil", which explores the more majestic aspect of Satanic might with off-puttingly somber and yearning melodies, much like can be heard on the best Behexen tracks, but utilized much more convincingly by Morbus 666. However, other tracks sometimes fall into ruts which sound insincerely placid amidst the more viciously hateful passages. The band exercise possibly more restraint than is needed during these parts, which understandably serve as dynamic fluctuations to contrast and therefore highlight the harsher riffs, but they sound somewhat forced (as in uninspired) and can cause the concentration to falter after carrying on for so long. These minor flaws notwithstanding, the album earned a purchase from me, as I'm sure I'll continue listening to it for some time to come. Besides, I'm very interested to hear another album from them, and hope that they can sharpen their songs even more, because they are on a war path and possess the firepower to eradicate any and all belligerents.
*If anybody knows who, I would like to know as well, since I remember the words but forgot where I read them, so can't rightly credit the original.
9 Comments
Tags: 2016, bahamiron, Black Metal, death metal, ignis divine imperium, imprecation, morbus 666, underground metal