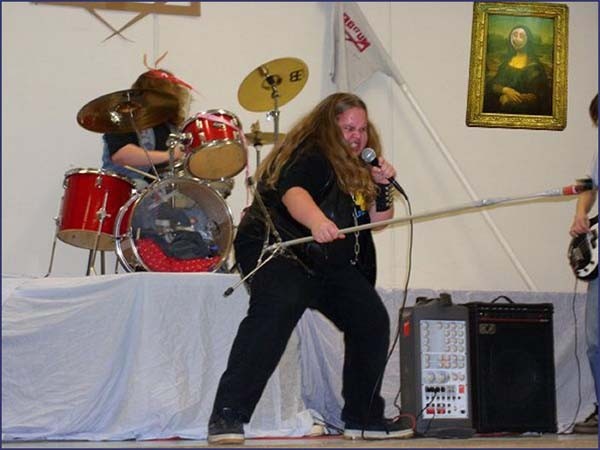 A few speak the truth, but most lie, not because they mean badly but because they think it helps them "get ahead." Later do they learn that unearned merit simply means they are trapped in a world of having to uphold false images and it destroys their souls. To avoid this, we just cut the chaff from the wheat with pure linguistic and musical cruelty. Welcome to the latest installment of Sadistic Metal Reviews: come for the tears, stay for the (occasional) corn in the turd.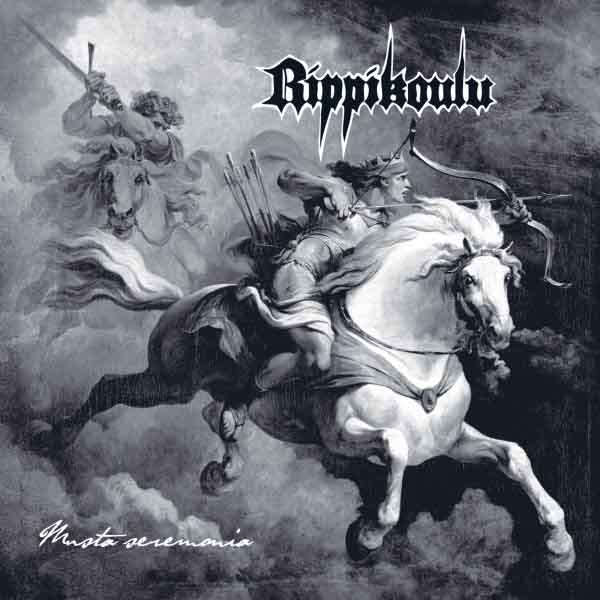 Rippikoulu – Musta Seremonia
Musta Seremonia is clearly B-level death metal that imitates many of those that went before it in the 1989-1991 period. It is excessively primitive, like Grave or Obscurity. Much of it tries to be doom metal, which is — with a few notable exceptions — boring music for boring people. Expect cudgel-primitive low-end power chords rumbling against each other and moveable melodic patterns which create an atmosphere of forward motion and near-symmetry. Like the best of the doom-death slice of the death metal genre, including Asphyx, Miasma, early Atrocity and Funerus, this band creates a grinding atmosphere but refuses to make it wholly repetitive, creating the sense of a plane flying through a ruined city to observe new interactions each time like disconnected visions of a mad prophet. The point is to lower you into the darkness and not let you up, which is excellent as an experience but like many bands in the doom genre, probably not an everyday experience. Unlike its contemporaries, Rippikoulu understand how to put contrast into a song and yet keep it focused on a goal of expression, even if in utter primitivism this goal is so basic as to be very similar from song to song… If this band falls down, it is the intersection of the disadvantages above that brings it down: the B-level death metal with citations in rhythm or melody from Amorphis, Incantation and Deicide; the repetition and relative similarity of approach; and the extremely basic nature of these riffs which, as in Swedish bands like Uncanny and Suffer, can create a sense of pervasive doom bordering on total entropy instead of preparing us for reconquest of the wasteland in the name of terror. And yet, Musta Seremonia lives on with infectious rhythms and a distinctive presence to itself which distinguishes it from others who have traveled this lonely path. It is less rhythmically recursive than Grave, and songs hold together better than Obscurity, and it does not fall into the reheated speed metal patterns which doom Insanity and Num Skull. It simply thunders, aiming to be primitive and basic in the same way Belial or Agonized. While this will not hold a candle to the best of Finland, like Demigod Slumber of Sullen Eyes or even Amorphis The Karelian Isthmus, it stands above the other retrospective acts for at least having a sense of purpose.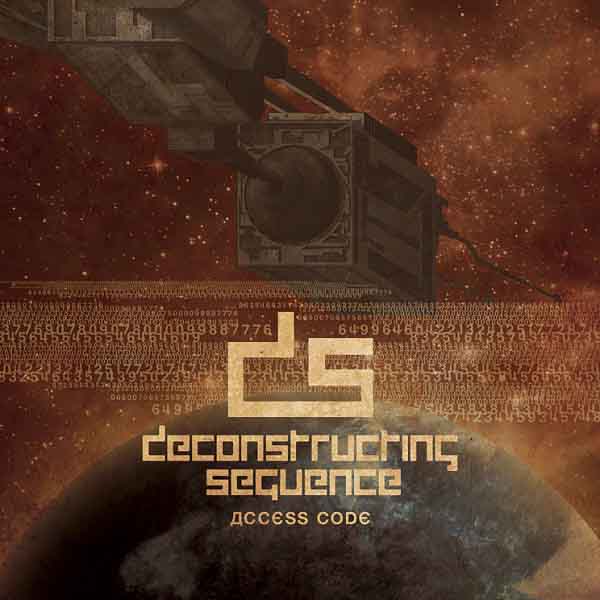 Deconstructing Sequence – Access Code
Tragically progressive and technical metal have become gigwise, or in other words are composed for an existing audience on the basis of what they have liked in the past, instead of forging their own path to attract an audience on the musical merits of the composition. Deconstructing Sequence launch into this arena with a highly informed, creative and periodically musically elegant entry which bears a second look. The surface adornment will unfortunately drive away many die-hard fans and simultaneously attract the type of greebos who were drawn to Opeth because it made them look musically profound among the fedora m'lady crowd of NEETs and hipsters. Much of the surface aesthetic involves voice overs about space landings, lead guitars that cleverly emulate the beeps and quirks of digital computers, and jazz fusion-inspired riffing that mates the ultra-texturalism of Meshuggah with the harmonic depth that bands like Dream Theatre and Gorguts used to establish contrast for their melodic themes. A mixture of Pestilence from its technical years with Dream Theatre and Meshuggah might accurately describe the sound, but the composition here hearkens back to simpler — think Rush or Camel-level — interpretations of mid-1970s classic progressive rock, although this is sometimes hard to find under the layers of postmodern configuration. Underneath all the layers, much of the riffing here as in Meshuggah is the same early 1980s speed metal where guitar serves a purely rhythmic role with a secondary melodic role, as harmony is impossible, thus adopting the chromatic fills that death metal later turned into phrase; a comparison between Meshuggah and Linkin Park is appropriate because they both have their origins in blending this essentially keyless, harmonically-moveable style with jazz fusion and rap/rock respectively. If I have any advice for this band, it is to lose everything but the music. We'll understand the space exploration theme from the cover and the Hal 9000 guitar noises. Then it might make sense to worry less about writing the heavier riffs and to focus instead on why people will like you, which is your harmonically-rich composition in which melodies stand out in context and are not used as a production quirk-cum-purpose as they are in most "melodic death metal" bands. Access Code compares favorably to works from Sadist and other progressive death metal bands even if its heart shares dual loyalties in the 1990s and 1970s.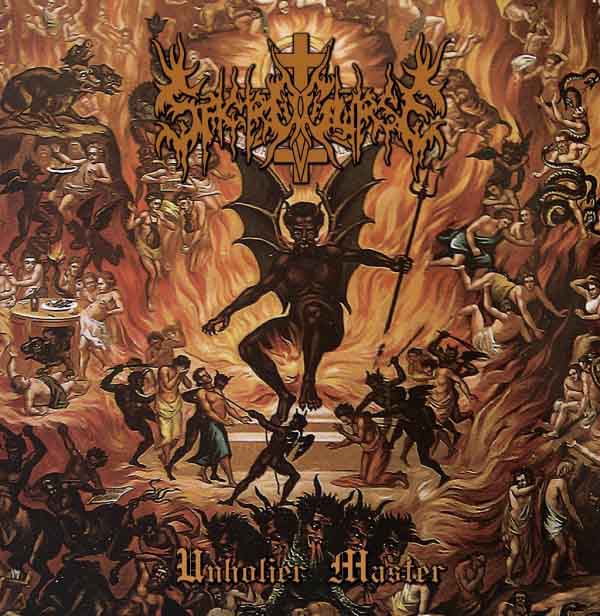 Sacrocurse – Unholier Master
If you want to make metal strong, be hard on metal, especially of the type you like best. Otherwise, in the absence of quality control, that which is mediocre and predictable but familiar gets promoted and any musician who wants his or her work to be heard will avoid that genre like the plague. This is the problem with the NWN/FMP attitude toward classic metal, which is to find an aesthetic imitator that is "true" by being extreme and unrelenting and uphold it as an ideal. These bands are neither satisfying with the same musical punch as the individuals had, nor do they present a quality level markedly different from the newer metalcore hybrids, and thus they maintain a small but diehard audience while driving everyone else toward the newer material. In this way, the "underground" labels maintain a symbiotic relationship with the big media pap labels dumping warmed over hardcore with jazz fusion fixins onto a clueless audience. Unholier Master on its surface fits the underground with charging power chord riffs and extreme death metal vocals under high-speed drumming. The problem is that every riff on this album is excruciatingly obvious and repetitive, song development is near zero, and the main focus has thus become the vocals chanting repetitive but semi-catchy choruses. This reduces death metal to the same level of entropy that speed metal hit toward the end of the 1980s when tons of bands appeared who composed with almost exclusively chromatic rhythm music and hoped to distinguish themselves with vocals and increasingly random guitar solos. This album is an insult to the underground; throw it out and embrace natural selection instead, or you weaken death metal with your good intentions.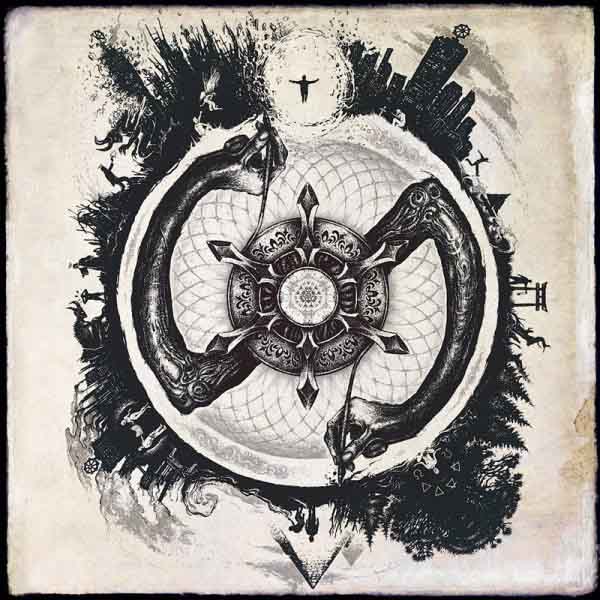 Monuments – The Amanuensis
Excruciating: soaring Gospel-like power metal suddenly breaks into some dude… rapping… in a death metal vocal. The album proceeds in this pattern, with simplified (but less chromatic) Meshuggah style riffing banging out hard rock tunes and then, as if nu-metal went underground, the rap-influenced death vocals kick in. The whole thing seems designed to distract at any given moment which is probably palliative care for the listener who presumably could not be dissuaded from putting the album on and, short of a power failure, will not be immediately delivered from it. Not only is the heavy metal part of this music as cheesy as humanly possible, the brocore rap/metalcore side of it is as insulting to the intelligence as possible. If you are a person of no intelligence who likes stupid things because they make it seem like the world is compatible with your utter lack of positive mental attributes, purchase this immediately and get the tshirt too so we can spot you at a distance, adjust for windage and elevation, and do what is necessary. An experienced listener hearing this is immediately embarrassed for the band, and those who listen, and those who accidentally must hear this album, which would confirm every negative stereotype of metal (maybe it is a counter-astroturfing effort by vegan techno bands). It combines everything stupid in rock, rap, metal and inspirational music into a single ball of string which drips a fermented slime of human oblivion over all that it touches. While normally I oppose censorship, this album makes me re-think censorship on a level of excluding bands of poor musical quality, since all this album does is create a heap of landfill that even bacteria will find insults their intelligence.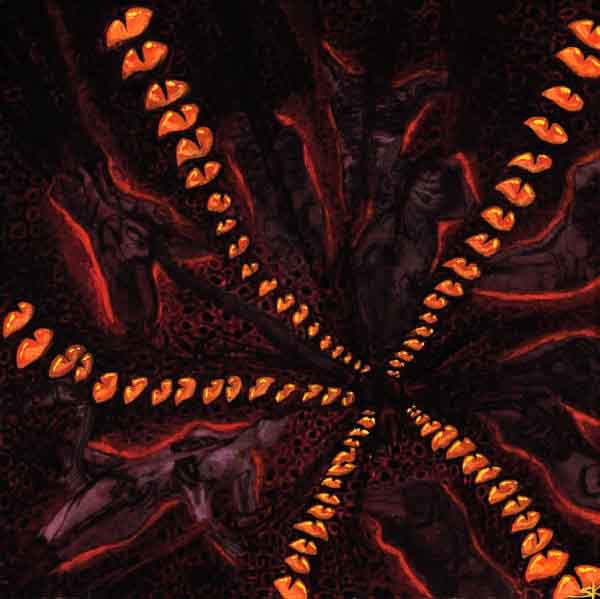 Infra – Initiation on the Ordeals of Lower Vibration
From the tryhard realm of the underground comes love for a new type of band that combines the simplistic Blasphemy/Incantation clone with "high art" and produces music that seems stately, deep and profound. Somehow all of these bands explore spiritual philosophies or ancient religious texts and invent large mythos for themselves. This parallels the tendency of nu-metalcore acts to write about whatever literature they remember from high school, or spiritualist topics of peace and love like Cynic did, which is a way for metal bands to improve their image through pretense. The problem with this approach is that it leads to a flood of metaphysical bullshit which is ill-advised for bands to mention. This band from Portugal, and that fact seems important from the bio, makes this new hybrid low/high-brow grinding black metal. Where Blasphemy channeled the id, this music may be too self-conscious, but is nonetheless well-executed but from these two tracks create a lukewarm effect because song-form and "purpose" rather than content dictate what occurs in each song. Thus we have songs about songs, a kind of theory about black metal, and they never come to a point. Further, they like to stack primitive riffs up against melodic ones, which creates a kind of "precious" response which is every bit as contrived as numu bands switching from distortion and shouting on the verses to acoustic and singing on the choruses. On Initiation on the Ordeals of Lower Vibrations, the black metal moments express themselves and fade into the background as we wait for Profound Moments… but these come not from this kind of preciousness, but in the form of melodic/atmospheric material that exemplifies the best of the old school, both simple and evocative of events in life.
Bleed – Seven Billion Demons
What is it that is so appalling about judging a band by its style? It is OK with some forms, clearly, since no one ever said "Well, you shouldn't write that band off just because they're disco." But in metal we shy away from it, ignoring the fact that some styles are designed to reduce music to what attracts like moths to flame the most basic, blockheaded and purposeless human tendencies. Brocore is one such genre, and while Bleed is clearly above-the-fold brocore, it is still brocore: the ranting speed metal of Pantera, updated with the chromatic riff texture noodling of Meshuggah, but simplified to fit around hard rock chord progressions in the background, against which all the riffery serves as simply decoration. Thus when you peer down into the core of this album you find something closer to Look What the Cat Dragged In or Hysteria than Meshuggah or Pantera, just done up in a new (or should I say… "nu") aesthetic for a new generation of the credulous and inexperienced who will spend their parents' money on dreck that will keep the slacker jobs program known as the music industry operating for another year. No offense intended slackers, and none taken; as a proud slacker I defend the right of everyone to slack off as appropriate, but wish the music industry would admit this fact and stop wasting time with clear filler. Nothing on Seven Billion Demons is badly executed and in fact the album as a whole is quite professional, just empty, like a streetcar at night or an entry-level job. Thus if you have a soul — and you might if you've kept reading this far, not sure — you should probably avoid this. But if you're looking for Brocore 2.0 and something to chant along with as you drink beer and (no homo) wrestle with your buddies at a keg party on the beach, Seven Billion Demons may be for you. Kegstand!
1 Comment
Tags: Black Metal, bleed, death metal, deconstructing sequence, infra, monuments, rippikoulu, sacrocurse, sadistic metal reviews