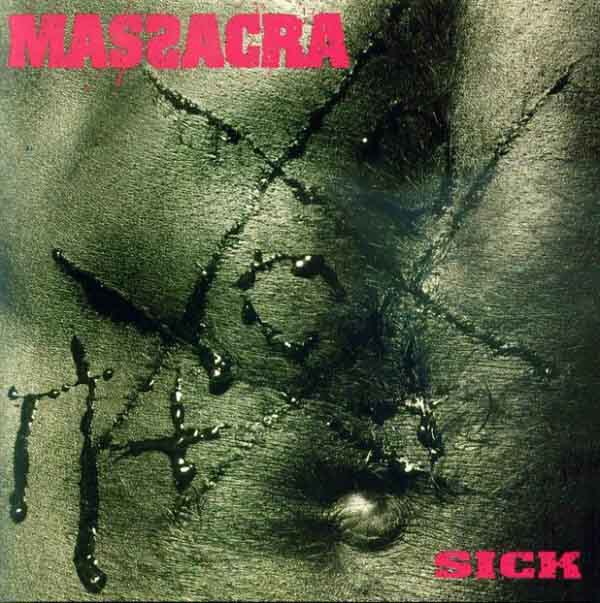 Our minds quickly forget the vapidity of the 1990s amongst the greatest that some bands managed to achieve. In particular, its hangover from the 1980s was so unmemorable that the mind gratefully forgets it. That hangover was the attempt by industry and musicians to cash in on the notoriety of metal and the accessibility of rock by hybridizing the two.
In particular, this appealed to record execs. Why? They were all Baby Boomers. Their world defined itself through a search for the next Jimi Hendrix, Led Zeppelin or Pink Floyd. As a result they found death metal to be totally alien, black metal to be unlistenable, and even most punk to be incomprehensible. Why don't they just throw in a flute solo?
Straight in the middle of this process Massacra release Sick in 1994. Everything about it screams middle-90s when computer technology hit the point where you really could do just about anything from a desktop, but not quite do it well. Thus everything hit the page in bold colors, funky font tricks, and so on. Looking back, it resembles the 1980s teased hair and bright colored clothing: technological convenience. Similarly, the style of speed metal erupting with Pantera represented technological convenience.
Recording studios finally grokked how to record heavy guitar sounds so that the precision of the muted palm technique could be heard, which encouraged bands to divide aggressive rhythms with internal syncopation and expanding recursion, so that one rhythm broke down into several internal rhythms all of which outlined a "bounce" or offbeat rhythm based on slightly delayed expectation. This mixed funk (arguably the roots of rap), rock and metal into an abomination uniquely suited for dumb obedient tools of the system who wanted to blow off some steam before another shift and another six-pack of watery beer.
Sick represents a higher intelligence approach to this tradition and cites freely from the speed metal world, including the album that almost every intelligent metalhead had in the early 1990s, Prong's Beg to Differ (which along with Exhorder and Vio-Lence influenced the Pantera sound). The band make conscious attempts to be avant-garde, most of which consist piledriver series of riffs ending in non-distorted semi-classical passages. If you wondered, however, where Meshuggah got their sound starting at this time, Sick seems to be the place. The same polyrhythms, the same use of groove between aggressive passages. Sick came out in May, and None (the first EP where Meshuggah demonstrated its modern technique) in November. Even the production has similar coloring, but this tells you all you need to know the sound here: based on expectation, like dogs chasing laser pointers, lots of bounce, basically rock structures subdivided by a proliferation of related riffs using the same concepts.
Most modern metalheads will experience embarrassment upon hearing this record. Like most fads, the bounce-metal fad experienced only very narrow relevance within a certain time period, and now sounds dated and awkward. Worse still is that a band like Massacra, no matter what their record label thinks, possesses too much talent to successfully chase a trend. What you get instead is something split between the music that they are good at making, and the music that industry wishes they would make (rewarmed Hendrix and Zeppelin, themselves rewarmed blues, itself rewarmed country music, that in turn rewarmed European folk music).
The tragedy is that much of the innovation that late 1990s bands relied upon in connecting together musical passages of this nature came from Sick or the prior release. American fans may forget how influential Massacra was (and is) in Europe, and how many American musicians heard it even when fans couldn't find it in stores or on MTV (then an important method for mainstream fans of finding metal). Among the riffs that our minds skip over because we have heard the archetype so many times, great riffs populate this album at a 1:3 ratio to the rest. Some of the soloing contains concepts we have not yet heard metal elaborate on, and clearly someone thought hard about how to structure these songs. Musicians might keep Sick around as part of their book of tricks.
As far as a listening experience goes, Sick falls short in the range somewhere between "fru-fru" and "embarrassing." Most metalheads would not want to be caught dead listening to this album, which sounds like the underground finally adopting how the mainstream saw metal (i.e. angry groovy drunken rock 'n roll). The irony of course is brutal. By the time 1994 rolled around, Shark Records had fixed its US distribution problems and was able to get a record into just about every store. This meant that American metalheads who had heard tape-traders raving about Massacra for years finally got a chance to buy some and found this turd of an album belching in their faces. This, and the thin production on the first two Massacra albums which bothered American metalheads more than Europeans who liked the mids-centric feel of Bathory's Blood, Fire, Death, relegated Massacra to a ring outside the inner circle of famous underground metal bands. Hopefully that will change someday, but not through Sick it would seem.
3 Comments
Tags: bounce-metal, death metal, massacra, meshuggah, Speed Metal