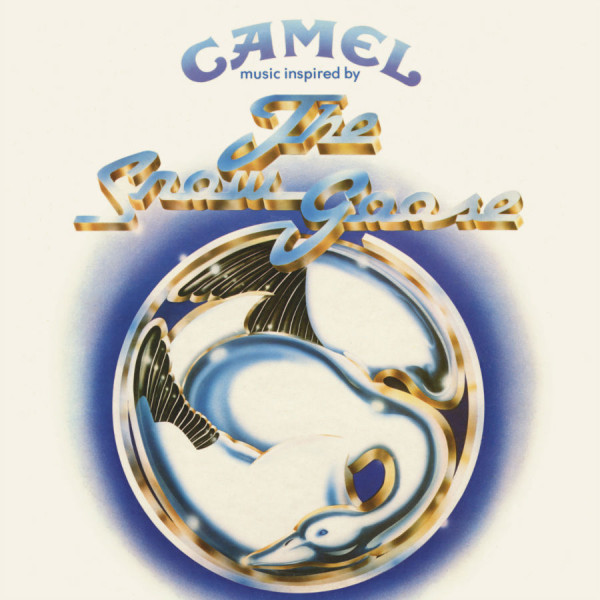 Those familiar with The Heavy Metal F.A.Q. and the The Dark Legions Archive will note the basic thesis of this site: heavy metal arose from the fusion of late-1960s punk, progressive rock and horror movie soundtracks, and this blossomed into its final form in the early 1980s with Hellhammer, Sodom, Bathory and Slayer. From that all underground metal emerged.
On the progressive rock side, the obvious influences are King Crimson and Jethro Tull, but the entire genre had its effect. Much in the vein of Jethro Tull, who wrote the rock equivalent of vast narratives united by leitmotifs in the Wagnerian style, Camel for their second album chose inspiration from The Snow Goose: A Story of Dunkirk by Paul Gallico and crafted an epic instrumental album around it. Lore holds that this may have been in order to avoid a copyright complaint, but that seems ridiculous unless they literally quoted from the book; perhaps the authors always intended, as classical composers did, to translate rather than transliterate great writing into sonic form. The result was a sprawling instrumental work which used themes from the book to inspire melodies, around which it built songs, as a result decreasing the "rock" quanta of progressive rock and transitioning mostly to a new genre. As with most 1970s progressive rock, jazz-fusion and classical/soundtrack-inspired parts vie with bombastic ballad-style choruses and processionals. The absence of vocals allows the layers of guitar, bass, and keyboards to expand their roles, which gives this music both harmonic depth and the ability to transition themes through foreshadowing by different instruments.
The greatest strength of Music Inspired by The Snow Goose however comes in what it did to the songwriting abilities of this band, unleashing the guitarists to think outside the lead and instead write lead rhythm parts based on the motifs of the narrative. As if presaging what Joe Satriani would do for shredder guitar a decade later, Camel often allow single-string melodies to take point and walk through a theme cycle that is then repeated and expanded with stacks of keyboards and guitar harmony. Counterthemes appear as if from a darkened cloud, often transitioning between tracks, and then force a thunderous conclusion which finishes the story arc. That results in an album which is both emotionally satisfying like a myth, and deeply satisfying as a listen because each of its tracks gives itself fully over to purpose. This may be the peak of the progressive rock genre because it fully transcends its origins in those moments and creates a form of popular music which, like Greek theater, connects the listener to idea and sensation at once.
Each melody becomes delightfully distinct in its effort to exemplify a character or situation, and by giving itself fully to that purpose, loses much of the randomness of popular music. While Music Inspired by The Snow Goose may be a bit difficult for popular music listeners who are accustomed to a constant beat with vocals to guide them, a reasonably mentally alert person will find that the melody itself — transitioning between instruments, in the form of a leitmotif — has taken that role, and everything else follows like the reaction of forest creatures to the break of dawn. Forty years later, this album remains a favorite for many prog listeners, and those of us in the metal world can only hope it inspires someone to tackle a hybrid of its narrative approach and the more stentorian sounds of first album Immortal and Incantation.
http://www.youtube.com/watch?v=eg75nFifO90
5 Comments
Tags: camel, leitmotif, motif, progressive rock