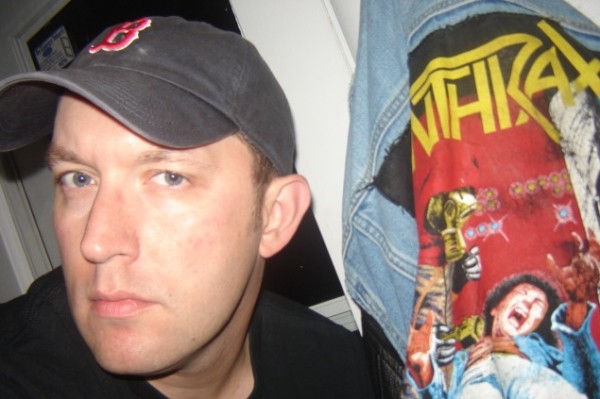 The second of May makes many of us uneasy because we remember the death of Jeff Hanneman, composer and architect of the Slayer approach to mythological alienation. The world isn't the same without him, and many of us felt like we had lost a parent, since when adults refuse to grow up and speak honestly about life, children have to turn to other sources of information. Hanneman made sense of the modern world, no matter how apocalyptic the outlook ultimately turned out to be.
We are fortunate to get a few words in with D.X. Ferris, author of the books Slayer's Reign in Blood (33 1/3) and Slayer 66 2/3: The Jeff & Dave Years. A Metal Band Biography. Ferris has spent the last several years writing about Slayer and understands the importance of this historic act not just to metal, but to the society around us all. Read on for the inner truths of writing about Slayer on this day we commemorate Hanneman's life.
You've written two books on Slayer. What's your relationship to Slayer? When did it begin?
My life is very clearly divided into Before Slayer and Since Slayer. I tell the story in my first book: Over the years, I had edged toward metal. I thought Metallica was as hard & heavy as it got. Then I read a review of Hell Awaits, and the review talked it up like a thrash masterpiece. So bought it. The first time I played it, it started with that big three-minute slow intro. I thought I had bought a bad album based on a bad review. But then the track kicked into the thrash part, and it was the universe cracked and a new dimension opened. And almost 30 years later, here I am, talking about Slayer.
Over the '90s, I wasn't as into metal as I was and am, but Slayer always stayed with me. My college notebooks are filled with Slayer lyrics and pentagrams. After college, when I'd sit in meetings, I looked like I was taking notes, but half the time, I was sketching Slayer logos — that's one of the reasons why the new paperback looks like it does.
And the older I get, the more the band means to me. I think it's curious how people get old and forget about metal. When you're younger, metal is great music for when you're pissed off. But when you get older and you have to deal with questionable coworkers and pinhead middle managers, that's when you really need angry music. Slayer is always here for you!
How did you become a writer?
Writing is my one rare ability. I have tried doing literally everything else I though I could do: being a businessman in a suit, bartending, entering a doctoral program for corporate communication. Writing just keeps dragging me back to it. I wrote for school newspapers. I used the school newspaper as an outlet for record reviews. And gradually parlayed those clips into paying gigs as a writer.
Are you a metal fan "in general," a Slayer fan or a writer who found this topic intriguing?
I primarily identify as A Metal Guy. I love a lot of other music. In high school, I was deeply into hardcore and punk, too. But I had long hair and the metal outfit: denim and some leather. In the picture I sent, that's my same Anthrax back-patch from high school. The last three albums I bought were Triptykon, Behemoth, and High School Musical 2. Hey, I have kids. I could have scored free promo copies, but those dudes deserve my money.
What do you think is Slayer's cultural impact?
Great question. Early in the book, I say "This is Slayer's world, and we're just living in it." Look around is: The Twilight series is a phenomenon. It's about vampires. There are four vampire shows in primetime TV — well, three now that NBC canceled Dracula. Walking Dead is the most popular TV show with young audiences. Game of Thrones is the most popular HBO show since The Sopranos, and it is metal as hell. In fact, I write weekly Heavy Metal Reviews of it for a website called Diffuser.fm, where I evaluate how metal the episode was. Since the days of Hell Awaits, long hair, violence, the undead, and the supernatural have saturated society. And that's just the fantasy aspect, not to mention the fact that we've been at war over a decade.
Can you trace all that directly to Slayer? Maybe not. But they sure were ahead of the curve.
Your first Slayer-themed book appears to be Slayer's Reign in Blood (33 1/3). What can you tell us about this book, and how did you end up being the one to write it?
I was a fan of the series. Each book is by a different author, writing about a single classic album, from the Beach Boys to the Beastie Boys. And something about it just called me and made me think "Go write a Slayer book for it." I would have liked to write the Beastie Boys one, but Dan LeRoy beat me to it. When I looked down the list, I saw there was no metal in the series. So I pitched Reign. I knew it was a stretch. But, one, I thought there should be some metal. Two, if you look at the people who made the record, the album is an intriguing nexus in the history of rock: It was produced by Rick Rubin, who was known strictly as a rap guy at the time. It was his first rock record. And he would go on to work with about 10% of the Rock and Roll Hall of Fame inductee groups. Engineer Andy Wallace mixed everybody, basically, from Nirvana to Guns 'N Roses. It was released on the rap label Def Jam. So it was the perfect metal choice, because the album reaches beyond metal.
Did writing this book change how you viewed Slayer?
It did. With pretty much any group, when you really dig into the credits and start crunching numbers, you realize that your impressions of the band aren't necessarily right. Like, there are a lot of Who fans who assume Roger Daltrey wrote the words, because he's the singer. I thought I knew a lot about the band, but it was really interesting to see how the leadership roles changed over the years, and how the artistic division of labor changed over time. And with the splits between Dave Lombardo and the band… Well, when I started the second book, I was partial to one side of the division. And when I was done, I had switched sides.
Last year, you unveiled Slayer 66 2/3: The Jeff & Dave Years. A Metal Band Biography. This looks to be more of a historical book. How did you come up with material, and what's in it?
It's a combination of new research, material that was breaking news at the time, and great stuff that wouldn't fit in the first book: They wanted 25,000 words, I wrote 67,000, and they took 42,000. The new book is 110,000 words, with 59 chapters, 33 photos, 3 indexes (2 in the paperback), and 400 footnotes. Its full title is Slayer 66 & 2/3: The Jeff & Dave Years, A Metal Band Biography. From Birth to Reborn, Including Slaytanic Profiles, a New History of the Thrash Kings' Early Days, Reign in Blood Tours, a European Invasion, the Palladium Riot, the Seat Cushion Chaos Concert, the Whole Diabolical Discography, Newly Unearthed Details From Dave Lombardo's Turbulent History With the Band, Artwork and Some Photos You've Probably Never Seen Before, Jeff Hanneman's Hard Times, the Big Four's Big Year, Lombardo's Final Exit, the Top 11 Hanneman Tributes, the Mosh Memorial Service, Untold Stories, Updates, Relevant Digressions, and More Scenes From the Abyss.
What prompted you to write a second book on Slayer?
Lombardo left the band for the third, and finally final, time in February 2013. Well, he didn't exactly leave. But he was gone. It was a fresh shock in the metal world. And it should have been. But Slayer fans who knew history knew he had left twice before. So I decided I would write a short e-book about his trouble with the band: He was never in step with the rest of them. The first time he quit was during the Reign in Blood tour. And their relationship never recovered.
I figured it would be a 12,000-word e-book. I wanted to have it out by the end of April. All spring long, I kept getting sick. If I wasn't sick, one of my kids was. I just couldn't get the book done. April ended, the book wasn't out, and I was pissed. Furious. May 1, I was fuckin' pissed. May 2, I was even more furious. Then the evening of May 2, word breaks that Jeff Hanneman died. And there I was, with a Slayer book halfway written. So for the rest of the year, as the story unfolded, it grew from a little project to a full-on rock biography. One thing after another stopped me from getting it done, and every time, the delays helped, until at the very end, famous metal photographer and musician Harald O found some amazing photos that he had totally forgotten about. And that's where the cover came from.
What's an interesting Slayer fact most people don't know?
Man… They just split with Rick Rubin after almost 30 years. And they were his only client from the 1980s. I don't know how many younger metal fans realize how influential Dave Lombardo was for all metal percussion. He gets respect in the metal world, but rock fans don't realize he's one of the all-time great drummers. When Lars Ulrich was sick and Lombardo played two songs with Metallica, Ulrich was actually nervous. He said something like, "You try sitting in a hospital bed while Dave Lombardo is playing with your band."
Writing the second book, though, the biggest thing I learned was how little Slayer has toured over the years. I mean, they're a regular presence on the touring world. But the South of Heaven tour was something like, if I remember right, 60 shows. They took a lot of time off.
Do you write on other things besides Slayer? If so, what and where do we find them? If anonymously, can you tell us why?
I transitioned from music writing to news journalism a few years back, and I won some awards for journalism. But lately, I mostly teach college. I write some popular-culture stuff for Diffuser and The AV Club. And I'm working on a couple non-fiction projects I can't talk about yet; one is a collaboration, so it's not mine to talk about. I write a terrible webcomic called Suburban Metal Dad that's not as autobiographical as you'd think, for a website called Popdose.
Have you visited the "International Day of Slayer" website? What did you think of that?
International Day of Slayer organizers Dag Hansen and Jim Tate are great! Hansen is among the people I interviewed for the book. I just heard on the radio that today is actually the International Day of Prayer, which was the original inspiration for International Day of Slayer. Last year, I thought it was really something when Kerry King took time to acknowledge Slayer Day and talk about Jeff's absence. As I discuss in the book, I think it's about as emotional as we've ever seen him in public.
What do you think Slayer's lasting influence on metal has been?
Like I said, Lombardo practically invented modern metal drumming. They've been the standard-bearers for thrash. Metallica are huge, but Slayer has been the Big Four band that stayed true to their original sound and style. They never tried to cash in or cross over. They're the gold standard for a credible long-term metal career.
No Comments
Tags: books, d.x. ferris, dave lombardo, death metal, jeff hanneman, kerry king, Reign in Blood, slayer, Speed Metal, tom araya