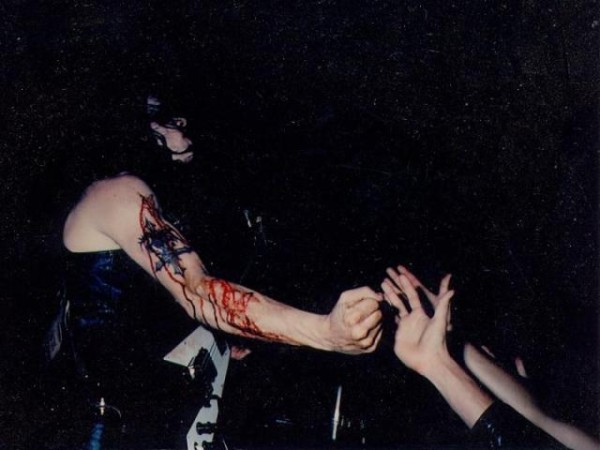 Early death metal (Bathory, Slayer, Hellhammer, Sodom, Master) emerged as an aggregate of the past, comprised of speed metal (Metallica, Exodus, Nuclear Assault, Testament, Megadeth), late hardcore (Cro-Mags, Amebix, Discharge, The Exploited, GBH), classic heavy metal (Judas Priest, Iron Maiden, Motorhead) and thrash (DRI, COC, Cryptic Slaughter). As a result, most death metal bands exhibited some tendencies more than others, although the founding early death metal bands tended toward the type of tremolo-powered phrase-based riffing exemplified by Slayer.
For example, Deicide on its second album Legion arguably made the album that …And Justice For All wanted to be, with lots of choppy percussive riffing forming intricate textures from which a melody emerged. Early Master sounded more like a punk band with its simple song structures and emphasis on droning, protest-like vocals. Second-wave death metal like Death and Possessed had a tendency to apply speed metal song structures and riff styles. Even advanced death metal like Pestilence often sounded like a more technical and complex version of early speed metal.
But focusing on death metal requires we look at what was unique to it. Getting past the vocals and the intensity, what distinguishes it musically is its use of that tremolo-strummed phrasal riff. This in turn forced bands to escape from riffs integrated strictly with drums, and to as a result put more riffs into the song to drive changes that previous would have been done by the drums. That in turn forced bands to make those riffs fit together, what Asphyx call "riff-gluing," so that songs avoided the "riff salad" plague that captured later speed metal.
These bands exploded onto the world from 1983-1985, inspired in part by Discharge's Hear Nothing See Nothing Say Nothing which hit the ground in 1982. Slayer in particular stitched together classic heavy metal and ambient hardcore like Discharge and GBH and ended up with its particular formulation, taking the tremolo and riffs independent of drums from Discharge and matching them to the complex proggy structures of Judas Priest and Iron Maiden with Motorhead speed and aggression. This was what launched death metal free from the shadow of speed metal, which was the first metal genre to break out of underground status despite being — for the time — fast, aggressive and dark.
If you want to get to the core of death metal, these albums might help. They're albums I keep returning to year after year because they have enough complexity and that unquantifiable quality of having purpose and being expressive, perhaps even emulating the life around them and converting it into a beast of mythological quality, which makes them interesting each time I pick them up. Without further ado, ladies and gentlemen, the players….
Slayer – Show No Mercy
While Hell Awaits has more expert composition, South of Heaven better control of mood and melody, and Reign in Blood more pure rhythmic intensity, Show No Mercy captures Slayer flush with the fervor of youth and the belief in big concepts. As a result, it is an intensity mystical album, uniting a narrative about war between good and evil with the actions of people on earth. It is not like Hell Awaits more solidly situated in a single mythology, nor like Reign in Blood and after an attempt to explore the dark side of modern existence in a literal sense. Instead, it is a flight of imagination mated to an apocalyptic vision of a society crumbling from within. As a result it is musically the most imaginative of Slayer albums, creating grand constructions of visions of worlds beyond that stimulate the fantasy dwelling within our otherwise obedient minds.
Massacra – Enjoy the Violence
Another early album in very much the style of Slayer but with intensity cranked to the ceiling, Enjoy the Violence shows a band intent on conveying intense energy through their music. To do this, they rely on not only near-constant breakneck speed but also vivid contrasts between the types of riffs that are used in a song, welding a rich narrative from riffs that initially seem simple like the scattered twisted bits of metal left after a battle. The result is closer to epic poem that punk music and blows conventional heavy metal and speed metal out of the water with the sense of unbridled aggression and lust for life that surges through its passages. In addition, it carries on the mythological tradition of Slayer but adds a Nietzschean spin whereby constant war for supremacy and domination is the only path not only to victory, but to personal integrity.
Morbid Angel – Abominations of Desolation
Most prefer the more refined versions of these songs from Altars of Madness and Blessed Are the Sick, but my ear favors these nuanced and unsystematic detail-heavy songs which feature more of a blending of textures into what sounds like a communication from another world heard underwater or through the croaking voice of a medium. Trey Azagthoth's solos were best when he used his half-whole step leaps to make solos that sounded like the creation of gnarly sculptures, and these songs powered by Mike Browning's drums and voice have more of an organic jauntiness to them than the later mechanistic tanks-crushing-the-shopping-mall sound of the full albums. In addition, this combination of songs strays from the later more interruption-based riffing this band would attempt and instead brings out their inner desire to rip all ahead go at all times, creating a suspension of reality like war itself.
Incantation – Onward to Golgotha
When the idea comes to mind of death metal at its essence, this album will be mentioned because it creates a sound unlike anything else. Incantation took the Slayer riff and song formula and slowed it down, doubled the complexity, and focused on alternating tempos and riff styles to create a building mood of immersive darkness. The result was not only aggressive, but melancholic and contemplative, like a warrior looking out over an abandoned bullet-pocked city. Detuned riffs collide and deconstruct one another, resulting in a sound like the inexorable flow of black water through underground caverns as civilizations collapse above. This rare group of musicians achieved a triumph here that none have been able to repeat individually, suggesting this album was born of a magic confluence of ideas more than a process (ham sandwiches on a conveyor belt).
Carnage – Dark Recollections
If you want "the Swedish sound" at its most powerful, Dark Recollections offers every component synthesized into a package that has not yet had time to become self-critical and neurotic, and thus is an unfettered expression of the thoughts of precocious adolescents translated into sound. The components of Swedish death metal are the modified d-beat, the use of melody to expand song development, a gritty electric explosion of guitar sound, and a tendency to write songs that are half searing budget riff and half horror movie sound track.
Sepultura – Morbid Visions/Bestial Devastation
The first EP in this two-EP package is the more classic death metal version and packs a solid blast of inventive riffcraft staged with theatrical precision into songs that form narratives of the topics denoted in their titles. But the riffs are instant creations of their own, shaped from raw chromaticism and whipped into fury by two levels of rhythm, both in the change of chords and the texturing of the sounding of them. The result owes quite a bit to Slayer, Bathory and Hellhammer, but also to the punk hardcore underlying those acts and a good knowledge of dark metal of the time, and yet is still its own animal. Nothing sounds like this except it, and by giving itself a unique voice, it conjures a power of revelation that endows these songs with lasting enjoyment for the listener.
62 Comments
Tags: Abominations of Desolation, bestial devastation, carnage, dark recollections, death metal, Enjoy the Violence, History, incantation, massacra, morbid angel, morbid visions, onward to golgotha, sepultura, show no mercy, slayer