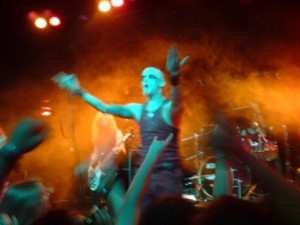 By the time the doors opened at the Forum at 2pm, individuals were already gathering outside the venue. As the hours passed themselves by, more people congregated in accordance with the more prominent bands that were playing.
Cork duo Ghost Of Medina began proceedings just after the doors opened, and played purely instrumental music that bore strong resemblances to the music of post-hardcore acts such as Isis and Neurosis. At this early stage of the day, the venue was under packed and more or less saturated the impact of their live performance: both guitarist and drummer were highly able, and performed compositions that were well thought out, though like most bands of their ilk, it seemed at times like a disorganized pastiche of ideas. Nothing particularly special, but an otherwise necessary means to begin proceedings.
The next band to play, Belfast's Overoth, played an excellent short set, and played mid-to high pace death metal that were of a consistent formula: the simplistic song structures of Swedish acts, such as Unleashed and Dismember, combined with the techniques not uncommon on the early works of New York metal acts Suffocation and Immolation. The production on their studio output is the clear, crunchy tone not unlike the sound of classic Entombed, though their live acoustics this day had a rough edge to it, sounding raw yet discernible, like Morbid Angel's 'Covenant' it was well treated yet free of artificial compressions. For a crowd that was not yet numerous enough at that early stage and somewhat less participant than could have been, Overoth had quite a commanding presence in the midst of what could do lesser acts a complete lack of justice.
Just as energetic and fierce were England's Spearhead, whose appearance at the venue was partially beset and delayed by unknown travel circumstances. A somewhat abrupt end to the band's brief set came across as a slight disappointment. A well respected act on the underground circuit, their style is a hybrid of the British death metal/grindcore that defined Carcass and Bolt Thrower, with the charging tempos and structures of modern acts, Angelcorpse and Axis Of Advance. Guitar technique was skillful yet not over-extravagant, solos bearing a strong resemblance to the classic Trey Azagthoth/Richard Brunelle trade-off style, with vague similarities to the shredding Gene Palubicki, with clicking, compressed and tight drums an aesthetical paean to the acoustics of a machine gun. Their precise, warlike songs again should have generated a much more enthusiastic reception from a venue that was still under crowded at that phase, though they were still a pleasure to watch, and made their craftsmanship known.
Kildare's Mourning Beloveth were the first act of the night to generate strong passions from the audience. Their morbid, downtempo heavy metal was met with a good stage humour, and they received the warmest of responses from a crowd that was by this time, healthy in a size and possibly spurred on to enthusiastic involvement by the ingestation of alcohol. More fitting to this good performance was the set time they were allocated, which allowed for their lengthy dirges to weave momentum. Musically, they bring about the gothic overtones of My Dying Bride and mix it with simpler, melodic song structures that resemble influential NWOBHM bands like Witchfinder General or Angel Witch, and sluggish, flowing tempos that echo Skepticism.
Onslaught played a very competent and energising set, their Discharge-esque speed metal came across as provocative and inspired. Even with newer songs that seemed watered down at times, and perhaps lacking the chaotic splendor of their early period, their setlist was full of momentum, and was performed with great prowess, the falsetto wails of the vocalist evoking a general atmosphere of nostalgia of an era that pre-dated the mass commercialization of the metal genre. I would conclude personally that Onslaught may be now past their best days, but their excellence as a live band is fitting to a climate where an improving work ethic and a greater respect for artistic clarity is making itself heard amidst what some have called 'hard times'.
Primordial got the warmest of receptions by a native crowd, and stylistically began where Mourning Beloveth left off; melancholic in a sense that only Ireland could fathom and know, but more triumphal than the former, and almost Nietzschean in the sense that their music makes one stare into the abyss, only to emerge a better man. They played a lengthy set, consisting of material that ran in fluid cohesion, like a more hookish, streamlined My Dying Bride, and a use of guitar dominated forms that reference Burzum as much as they do Candlemass. Impressive as is known the onstage dynamism of vocalist Alan Averill, whose onstage character is that vibrant it comes across as bring rhetorical without having to make use of words. In terms of showmanship, professionalism, a will to evoke the vision of tragic heroism, Primordial were the most impressive band of the entire festival, with little room for dispute.
Legendary grindcore veterans Napalm Death were hotly anticipated though came across as a disappointment due to two factors: the first being the depleted length of their set, and the second being what some perceived as a muddied sound job that permeated the guitars during their time onstage. During the intensity of their set, which given their indisputable live reputation would have made little difference to the highly involved crowd; though due to an unbalanced mix, it was only possible to follow the song forms through memory of having heard them before. Songs were from the mostly from the earlier part of their discography, and in between this were pieces taken from their latest release. Anyone new to the band listening to their performance I am sure would have had trouble trying to appreciate the nature of some of the output, and would have otherwise physically involved themselves in the ensuing crowd actions purely for the sake of doing so. The set did not even exceed forty-five minutes and this was also perceived as an obvious disappointment given the fact that they were given the headlining slot.
In spite of anything that might have at anytime proved to be detrimental, this happened to be an excellent day and evening. It was especially brilliant for an event such as this to actually take place in the south-east of Ireland. By all accounts it was a memorable night.
-Pearson-
No Comments
Tags: Black Metal, death metal, Death Metal Festivals, Death Metal Live Shows, Doomdeath, Grindcore, Heavy Metal, Pagan Metal, War Metal