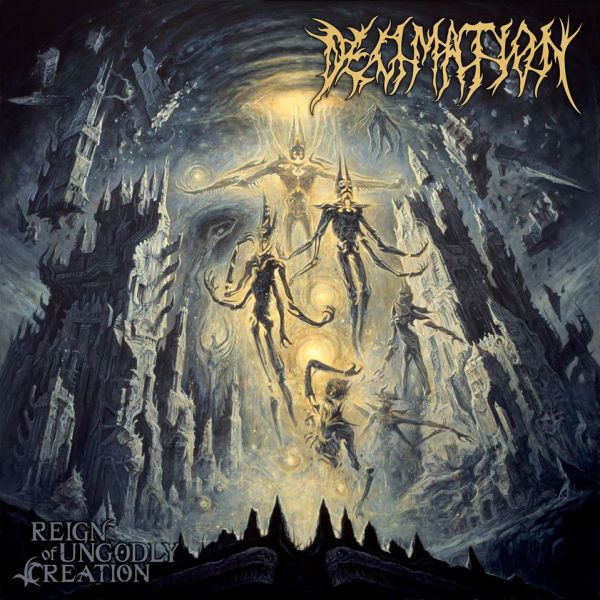 Deathcore relies on trope to the point where the style becomes almost all convention with little variation within. Joining other styles like rap and techno, it reduces itself to minor deviations from a norm and so the difference between bands, albums and songs becomes less important than currency.
Decimation attempt to restore deathcore with many of the stylistic methods of later percussive death metal, specifically Suffocation Pierced From Within, and are remarkably successful in doing so but because of their extensive reliance on deathcore passages may not make the threshold for many death metal listeners. When looking through history, we see deathcore arising from the Cannibal Corpse axis where vocals lead the music and guitars exist to blat out rhythmically hook-centric riffs in coordination with drums but in support of vocal rhythms.
Decimation upgrade this to giving the guitars more leeway at the ends of phrases and between verses, where the band use phrasal riffing and open strumming to generate interest. They even write in melodic lead riffing over high-speed strumming in the way Suffocation would, which infuses these songs with a new energy but will probably offend deathcore purists. If you can imagine a hip-hop troupe who broke every other phrase to play full-on bebop, the effect is similar here in that it makes return to the deathcore that much more jarring but puts into play enough for the ears to listen to that the deathcore parts become more like rhythm comping to build up for the sweetness. Deathcore fans will note that the characteristic lack of variation in technique and approach to rhythm is consistent on the deathcore passages.
Where Decimation excels is in assembling songs around an idea despite surrounding it with a riff salad. These songs sound more composed than your average deathcore song in that they have a center and changing layout to reflect what that is, but less "composed" in that unlike classic deathcore they do not attempt to create a rhythm groove and ride it, alternating with a chorus, into the ground. Bass-intense vocals fall into cadence with guitar during verses, but range free for fills and choruses, allowing the range and texture of vocals to expand. Drums adopt the overactive style of post-Suffocation deathcore but keep an emphasis on varied internal rhythm to produce expectation rather than sheer repetition and breakdown as both techno and deathcore tend to do.
Reign of Ungodly Creation will split death metal purists. If you could listen to Cannibal Corpse alongside Suffocation and Kataklysm, this 37-minute diatribe will appeal and seem to expand on those conventions. If like many you preferred death metal before it started imitating post-hardcore, there may be too much deathcore in here for you. This perspective is entirely understandable, as the deathcore portions of this album use a few common forms in many variations, where the death metal segments vary more widely in form. It is more infectiously rhythmic and disciplined than most deathcore and so could well inject some needed life into that flagging genre.
3 Comments
Tags: death metal, deathcore, decimation