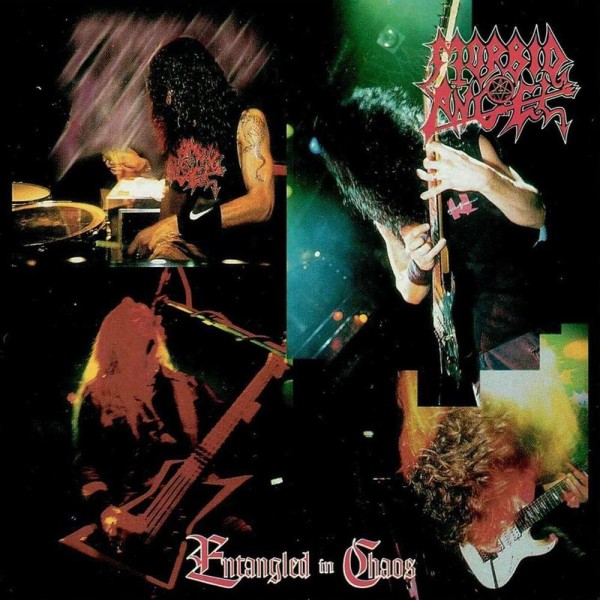 With Earache Records promising us a re-release of this live album on vinyl in October, and an otherwise quiet week of upcoming relevant releases, I thought it might be a good idea to give this a more detailed look. Live albums are fundamentally interesting on a few levels – their attempts to capture something of the experience of a concert, their value as documentation of a period in a band's career, the chance to possibly hear reinterpretations of favored songs, and so forth. Entangled in Chaos came out at the tail end of Morbid Angel's commercial golden age and before the band tried to reinvent itself with Formulas Fatal to the Flesh. The product is low on references to the previously banal Domination for whatever reason, although whether that's due to timing or creative reasons is beyond my knowledge.
These rerecordings end up more polished and standardized than the originals for the second time in MA's discography, as the long holdovers from 1986 already got the Lemon Pledge treatment when they first entered the studios. Sometimes, the end results are rather stripped down; for obvious reasons studio adornments aren't available, and Trey Azagthoth's guitar solos are consistently altered from their original forms. Hearing the band's earliest material with a production closer to Covenant or Domination is mildly interesting, to say the least, although the concessions to a live environment often cost these tracks some of their power and more musically interesting aspects. The performances are otherwise faithful to a fault, as such strict reproductions leave little room for reinterpretation… with the caveat that this is difficult to do successfully in a metal context and in this case might've resulted in an undesirable Domination II or similar.
There are not very many essential live albums in the realm of metal, and you can probably do without Entangled in Chaos in most cases. If you absolutely need to hear Morbid Angel playing relatively faithful but not particularly passionate renditions of their first era or are otherwise a collector, though, this rerelease may be to your tastes.
17 Comments
Tags: 1996, death metal, entangled in chaos, live, morbid angel, rerelease