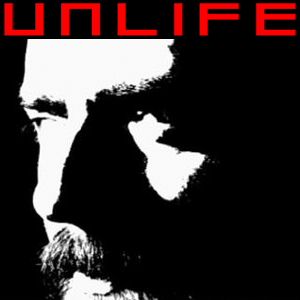 Eric Syre, a musician from French Canada, is best known perhaps for his work with TheSyre or Pohjast. However, he lives a double life. He is also an industrial/ambient musician recording under the name Unlife.
Unlife comes in two flavors. The first is a more Ministry-influenced version, while the second is almost pure Beherit Electric Doom Synthesis worship. For this reviewer, the first was actually the more intense because it is near completion as a unity of aesthetic and content. The newer material struggles with a bit of self-definition and because of this loss of familiarity, is more awkward but nonetheless compelling.
Ossuary (2005) uses guitars and vocals in a more traditional industrial-metal hybrid atmosphere and shows an influence not only of Ministry, but the generation before (Killing Joke) and lighter influence from the generation after (Godflesh). Songs emphasize heavy, mechanical beats over which Syre loosens up his pipes to give a melodic underpinning to what is otherwise purely "industrial" in the old sense, meaning it sounds like a cross between a factory and a war set to post-punk music.
Unlife (2007) on the other hand is all electronic. There is no attempt to fit songs into a traditional rock framework or imitation of its instrumentation, and cut free, the music experiments a great deal more with song form and texture. Clearly the largest influence here is Electric Doom Synthesis, which also gets alluded to if not outright quoted in a few of the songs, but this is in loving tribute and not some attempt to ride coattails. This longer work seems too simple at first, but suspends belief over time, and introduces a ritual trance mindset in the listener.
It's our hope here at DeathMetal.org that Mr. Syre continues to develop these projects or at least the direction he was pursuing with both of these releases. His work on Ossuary more captures the power of his singing and sense of dynamics than TheSyre was able to, and Unlife shows us the potential of his composition as a viral stream of ideas alone.
http://www.youtube.com/watch?v=4IOZSWBy9BI
1 Comment
Tags: dark ambient, eric syre, Industrial, unlife