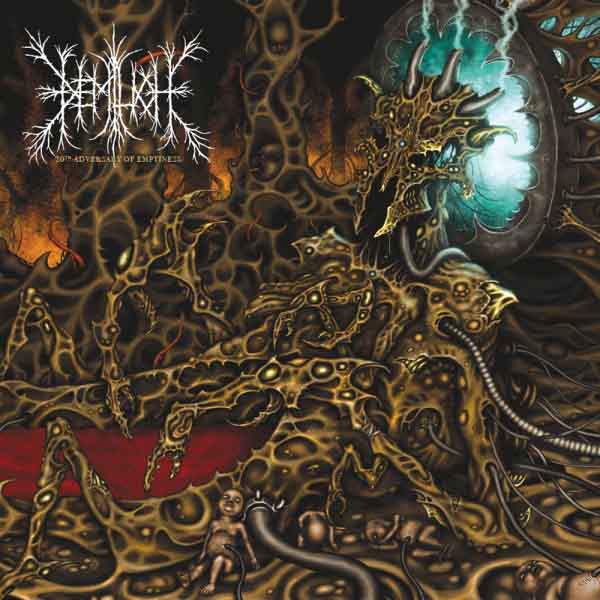 When too many utterly mindless and pandering bands pile up in the review queue, even life seems washed out and hopeless. At that point, even death metal has lost its power and mystique. When that happens, I throw on Demilich Nespithe and my faith in the genre is restored. This album presents such a creative and yet meaningful interpretation of death metal that it restores faith in a lot more than the genre.
The 20th Adversary of Emptiness reproduces a restored Nespithe complete with original art, adds two songs from the 2006 return of Demilich, and then compiles the demos of this formative band. Svart Records prints these on vinyl and CD formats, with the vinyl option as a box set and the CD for more everyday listening (that way you can have a copy in the car, too). Naturally this adds three areas for study.
The original album remains as powerful as it was back in the 1990s. If any remastering has occurred, it has been slight because the originally subterranean and organic sound has been preserved. There is not much to say about this classic that wasn't said in the original 1993 review, but for a short introduction, it is a death metal album that uses lead riffing and complex riff-rhythm interaction and development to create an entirely otherworldly sound. Into this it drops doubt, loneliness, and a sense of restoration through imagination. It is from the oldest school of artistry and a work of intensely fine-tuned thinking and musicianship.
Much will be made of the newer tracks. I see these as an attempt to take the classic Demilich sound into the more technical and streamlined death metal of the early 2000s. In fact, two these songs — "of Vanishing" and "of Emptiness" — were written in the early 1990s, while "Faces Right Below the Skin of the Earth" was the only one penned in 2006. The three tracks hold true to the Demilich format but give it more aggression and death metal thrills. "Faces Right Below the Skin of the Earth" starts with a rhythm tear that resembles something Covenant-era Morbid Angel and first album At the Gates might envision if they collaborated, but then drops into a cyclic riff that follows the old Demilich pattern. In developing that riff, the band put it into the more rhythmically challenging format that contemporary metal listeners might desire, but then begin their trademark cyclic polyrhythm while mutating the riff toward a larger pattern. Eventually this becomes the concluding theme and the song drives hard to a conclusion. "of Vanishing" uses a Morbid Angel trope, namely "Immortal Rites," but gives it the more complex rhythmic and melodic vision of Demilich. This then filters through a full stop and drum roll into Demilich-styled cyclic melodic riffing before returning to theme. Interesting guitar solo on this one. "of Emptiness" uses a throttling melodic riff more like the stuff that Necrovore used to apply, and builds into the most conventional song in this three-track set. It slides into an almost Black Sabbath-styled doomy charging riff and alternates it with lead-picked riffs used to change tempo and add depth, but then returns to its aggressive attack. This track uses a lot of stops and starts and loses some momentum. On the whole, these three tracks show an interesting attempt to modernize Demilich and make it more aggressive, but also show why the band probably did not want to continue going in that direction. Sometimes the past is too distinct to be resurrected as anything but itself, and not everyone may want to do that two decades later.
On to the demos… these are fascinating because they show how deliberate the final Demilich sound really is. These songs are familiar but each has different changes. In particular, different styles of lead guitar were tried as well as attempts to make the riffs fit more into the rhythm styles favored by different subgenres of death metal. The closer demos get to Nespithe chronologically the more they exhibit an intense technicality and unique style, but as one goes back in time they are closer to standard death metal with some unique innovations woven in. As time passes, the weaving becomes more intense and the new style takes over the raw elements. It is fascinating to watch these songs develop and the demo pressing here is entirely worth the price of this album (or even box set). They do not bore and there is always something new to be heard in each of these classic demo tracks.
20th Adversary of Emptiness offers something to just about anyone. If this is your first Demilich experience, stick to the first disk (Nespithe) for a glimpse into classic death metal when it wasn't afraid to be weird. For dyed-in-the-wool Demilich fans and hardcores, there's hours of interest to be found in tracking back these older demo pieces and seeing where they go. Both groups will enjoy the three 2006-era tracks which show a more violent and streamlined Demilich. Ultimately, this whole package lives up to its strange title because it is an adversary of emptiness.
This music evokes loneliness and a hollow, achingly empty universe without inherent point, and shows the creation of a mythos within that void that could keep us focused on survival and improvement even through a long and depleting arctic circle winter. Seeing these rare tracks ride again is rewarding as is seeing Nespithe get the credit that it has always deserved but almost missed as people chased death metal trends back in the day. The booklet, featuring both classic art and pictures, comes with a length interview with guitarist Antti Boman and his commentary on each song with lyrics. This is rare and wonderful also. Just make sure you avoid reading the introduction, which is written by some idiot and makes no sense.
7 Comments
Tags: death metal, Demilich, finnish metal, progressive metal