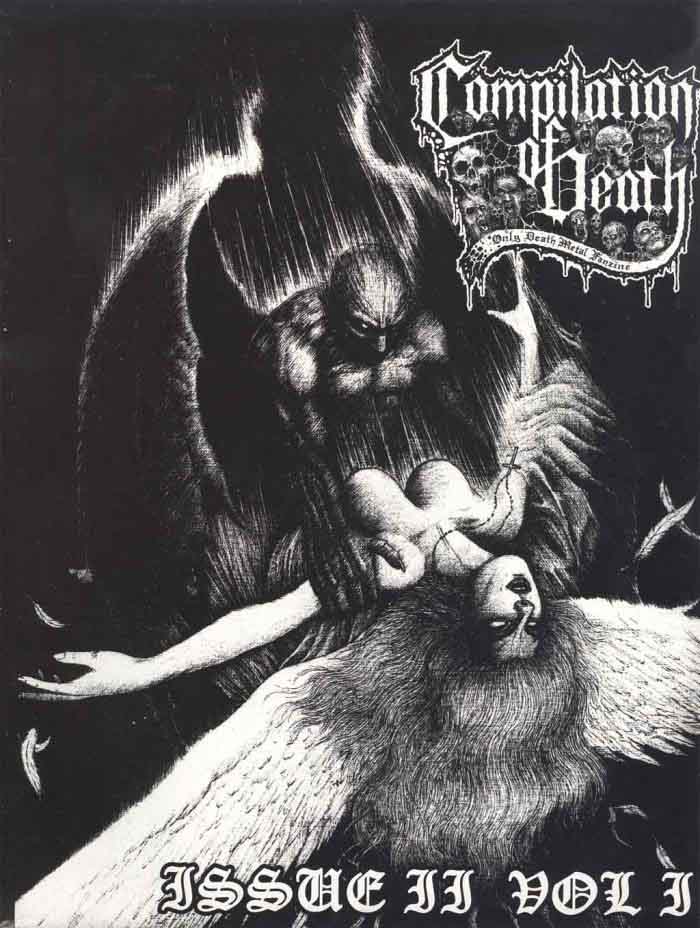 In the many years of reading about metal, I have often wished for something like Compilation of Death: a zine that goes back through other zines, pulls out the best content and annotates it so that a historical record is composed from many sources. Each of the stories in this zine are like a shelf in a great library of metal, usually about a band but equally possibly a scene, a sound or a time.
What you will find among these pages is a carefully curated view of metal, which borrows whole pages from zines from the periods in which these bands were active, combines them with current-day interviews and perspectives, and assembles them into a kind of metal investigative reporting that shows us a well-rounded picture of each band or topic.
Compilation of Death carefully gives credit to each of the source zines and includes information on how to contact them, so in addition to being a feast of metal zine information, this is a promotion for the entire idea of zines, which are experiencing a renaissance as people tire of the information overload — which guarantees a predominance of low-value content — and endless useless people who clog today's internet. Democratizing content merely means that every bad idea gets repeated thousands of times and good ideas get driven to the periphery, so that established commercial interests with the bucks to advertise on the big sites win out. Zines on the other hand are by their nature curated, meaning that someone plays the role of librarian/editor and picks bands deliberately, asks questions with intent, and reveals something unique to that subject with the resulting reporting. This is different than the assembly line process of web sites and big metal magazines, who process whatever the labels send them in roughly the same way with surface changes so that the "quirky" outlook hides the utter sameness and entropy of it all. What made zines powerful was that they had purpose, which allowed them to reveal a truth non-objectively and for reasons of itself, instead of secondary reasons like popularity and profit. Compilation of Death doubles down on this concept by not only choosing direction and topic, but picking from the vast number of zines out there the best of what is written on that topic.
These two volumes offer reading matter that can be pored over many times because they are bursting with details that become increasingly relevant the more one knows about a topic. In addition, metal historians will find many unknown but important details here confirming the motivations of bands and their art, in addition to a broader perspective on the people behind the music which is never revealed by the more uptight, formal and procedural interviews conducted by big magazines. For those who want a heavy dose of information about the underground in a form that rewards the diligent reader with a deep understanding, Compilation of Death is a treat that can be revisited time and again to bring out the nuance of its topic.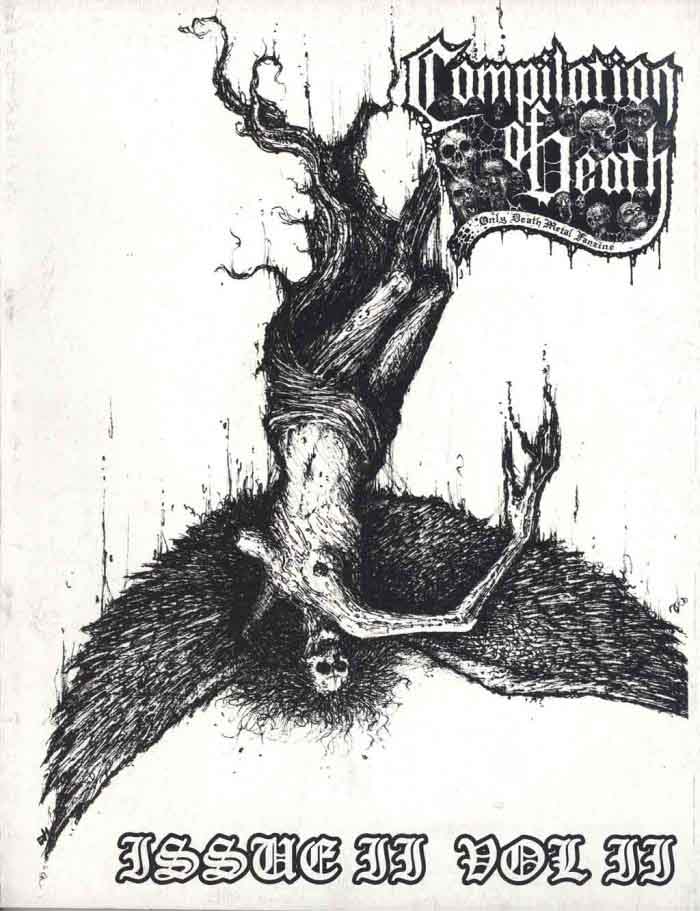 3 Comments
Tags: compilation of death, gabriel andres gatica kretschmer, metal history, metal zine, zine