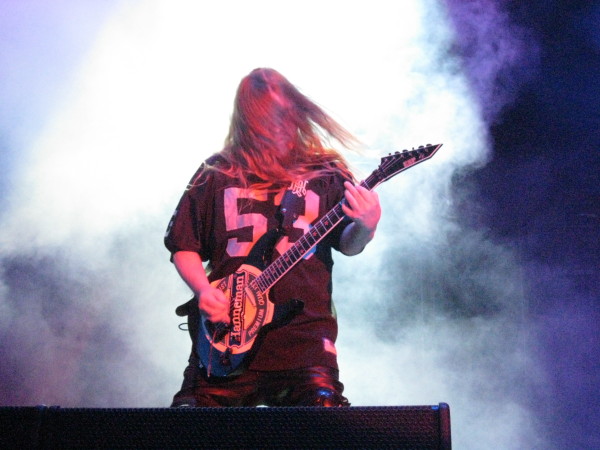 The Hessian Studies Center was founded in late 1994 for the purpose of creating an atmosphere for study and respect of the Hessian tradition, folk art, and philosophical background. Over the next year it struggled off and on with authenticity and funding but eventually opted to remain underground because of the freedom given to respect metal's traditions as independent, rather than integrated, with the western world's containers for those philosophical and political entities. Additionally, the liberal policies of the Center regarding drug use caused ostracism and exile from the benevolent gaze of the herd.
The work of the Hessian Studies Center consists primarily of materials acquisition and content authorship, as well as think tank work in the continued architecture of Hessian history. Its members have authored numerous documents for this and related political efforts and continue their efforts to this day, striving for an independent Hessian state and the corresponding benefits of legal power (decriminalized recreational substances, an end to loudness ordinances, legalized crime).
The following is a reproduction of the original Hessian Studies flyer that kicked off the chaos back in 1994:
What is Hessian Studies?

Hessian Studies is the academic study of Hessians, Bangers, Metallians, Metalheads, death rockers, and other adherents to the genres of metal and grindcore. The Hessian Studies Department believes that any truly diverse multicultural population will contain representatives of this world-wide underground culture, with its rich and spanning historical and social contributions.

What are the aims of the Hessian Studies Department?

The Hessian Studies Department seeks to establish a presence of Hessians on campus and in campus events, as well as to create a comfortable environment at The College that suits the specific needs of Hessians at a small liberal-arts college. To this end, we have presented a List of Demands to the Administration:

That there be Hessians hired to faculty and staff positions, and that all hair length rules and any form of drug policy regarding Hessians hired be abrogated, as Hessians have a religious need for some currently-regulated substances.
That there be a Hessian Studies Center, complete with both audio and textual libraries and lounge area, for the study and advancement of Hessians.
That the community radio station play more music favorable to the tastes of Hessians during prime-time shows.
That the inscription at the gate of the college be changed to either "Fuckin' Groovin'" or "You Suffer (But Why?)".
That discrimination against Hessians as a group of drug-addicted, drunken, long-haired incompetent losers destined for parole at best be eradicated from campus literature and mindset.
That there be Hessian cultural events on campus, including concerts by noted Hessian bands and festivals related to various organic products enjoyed by Hessians.
That the Hessian Studies Center be funded to provide late-night pizza and beer snack breaks.
That Hessians be given equal time to speak at multicultural events, and the right to develop their own curriculum of Hessian Studies Courses.
Hessian Studies Center
Hessian studies is academic analysis of the international subculture of alienated heavy metal listeners and followers of intense music and noise of destruction. Our vision includes tolerance for all people and the right to individual autonomous direction and an end to compulsion and normative behavior.
Since its inception in 1994, the Hessian Studies Center has supported the international metal subculture through collection, analysis, and dissemination of the music and philosophy of thrashers, metallions, headbangers, metalheads, Hessians, longhairs, cruisers, piledrivers and others who comprise a virtual ethnicity of people inspired by the power of heavy metal, speed metal, black metal and death metal music worldwide. We achieve our ends through peaceful and herbological methods.
In addition to supporting the pantheon of academic and cultural programs above, the Hessian Studies Center aids with time and equipment as well as money the Dark Legions Archive, a repository of analysis concerning the music of the worldwide metal community. Headbangers, metallions, metalheads, longhairs, stoners, and other social rejects apply through means of this email link.
The United Hessian Front
The United Hessian Front exists as an extension of the Hessian Studies Center that seeks to find adherents to the subculture of heavy metal music and philosophy internationally and unify their voices in a forum for communication about future generations of metalion thought. Our goals are to acquire and disseminate information about the Hessian subculture in this process while reinforcing its objectives through our actions and treatment of others.
In order for Hessian culture to accelerate its own growth toward the future it must be aware of its past as well as the likely environment into which it will develop. As the world spirals closer to oblivion, entropy, and genocidal apocalypse, the vast suicide cult that is modern society seeks further methods of denying darkness, chaos, and destruction. Hessians exist so that this may not be so.
The objectives of the UHF are as follows:
Establishment of an Independent Hessian State.
To ensure freedom for Hessian development and minimal intrusion from normals, sober people, and authority figures the creation of an independent and autonomous Hessian zone under self-rule is a primary objective of the UHF.
Religious Freedom and Controlled Substances
The complex sociomystical structures behind the art, aesthetic and mindset of a modern Hessian lifestyle requires the stabilizing influence of chaos-generating psychoactive substances in order to remain efficient and content.
Equal Air Time for Nonconventional Music
Current media tendencies exclude all but the most soothingly inane and simplistically melodic, leaving a void of contemporary music for the intellectual connoisseur or musician, generally attenuating the intellectual readiness of the population; for this reason alone we request more air time for metal and other non-mainstream forms of music.
Injunction Against the Christian Right
Given the evidentiary state within science that concludes that so far agents of discreet brainwashing have not been found to be able to influence humans to extreme behaviors such as suicide, assault, or murder through the simple method of stereophonic amplification, it's time to call off the Christian right from attacking metal and rap as "promoting violence and depravity."
Flier for Public Distribution and Chaos
Our reprehensibly straightforward and dissonant fliers bring all of the alienation and some of the isolation home to those you can dupe into reading them, as well as providing hours of family topics for discussion. Spread this bad news everywhere to deconstruct society the networked way!
Our vision is of a world where Hessians can be recognized as a virtual nation of headbangers, metalheads, and thrashers and will eventually be treated with respect to their specific needs and inclinations. Through mutual tolerance we can live together or we will surely die together.
Hessian Life
Introduction
Hessians come from the tradition of subculture, or resistant counter-culture embedded within a much larger cultural container. They have been spotted in almost every country in the world where electricity and a relative amount of personal music technology have been distributed. Most cultures have learned to recognize them and write them off — at their essential nature, they are a pacifistic culture of alienated and/or intellectualized rockers looking for truth in extremity.
Social Conception
Society encompasses their culture, but they treat it with dissonant indifference, realizing that its actions are beyond their control and are mostly ignorant attempts at control or manipulative, fearful and destructive compulsions to duty. The desperate impulse that is afraid of silence (as in silence one must think within) drives normal social activities to be centered around events and to aim at providing comfort. Hessians reject these ideals and instead favor indirection, mayhem, destruction and other chaotic acts in their free (not enslaved by school/job) time. Often they can be found gathered around a bong for interpersonal time, or gathered in small groups to become intoxicated and raise some hell. The heavy party culture that underlies all rock carries its extremities also in the extreme rock arena, where brutal concert violence and fastidious drug abuse are signs of successful interaction.
Philosophical Worldview
Beneath this fury of strange behavior a philosophical foundation supports but does not attempt to justify these acts. The naturalistic philosophy of the Hessians prioritizes justice and ideal at the same time it encourages chaotic fantasy; its essential communication is to live well through freedom from the clutches of neurotic thought, and to spend time in whatever liberating activities can be fashioned from the elements available. The nature of this in the trapped, suffocating world of commercial society (narcotic of the one true herd) is a relative overemphasis on intoxication and freedom from plans, morals, karma, memory, or the will of other people; the consequence is often an overindulgence in rebellion without a clear direction for self-preservation. However, Hessian philosophy as revealed by the metaphors within the music reveal a fascination with information, with fantasy, with power, with destruction, and an obsession with honesty and spiritual power to speak the apocalyptic truth.
Drugs and Mysticism
Hessians tend to believe in both the psychological/mystical power of drugs as well as the spiritual power of their music, although this belief is not shared by all. Often Hessians can be found gathered around a stereo consuming large quantities of marijuana, hashish, or other less-refined forms of drug. By liberating the mind in intoxication the Hessians believe they achieve a stable plane of nihilistic consciousness, where they are closer to the dark gods of winter and more able to comprehend the profundity of death. In this morbid ritual metalheads develop a comprehension of reality that supersedes all other methods of processing life and frees them from the drug of mainstream life, fear and consumption. In this more spiritual state they feel they can comprehend the complex messages transmitted through rhythm and metaphor in the music. Other parts of this ritual involve simple spreading of chaos in the fertile order of society, a mystical act of supreme rebellion and refreshing spiritual heresy.
Freedom Manifesto
Conventional social ideals would cast aside the non-ideal, the non-quantifiable and stay with the symmetrical and symbolic, fearing the ambiguous world of obscurity and metaphor. Double meanings, they say, balking in horror like the sheep they are. But what does the Hessian say?
The Hessian rejects insecurity and underconfidence and plunges ahead no matter how insane the project in conventional ideals. By denying the doubt of the people around them and aiming for loftier ideals than the simple "feed thyself" command of society's trough, Hessians have created some of the most extreme and beautiful music ever to hit planet earth.
Their rejection of neurosis and mocking anti-idolization of society's scapegoats make them a terror to the unstable and fragile balance of deception that allows our modern society to function.
"Turn off that fucking noise!" — every Hessian that has ever lived has heard it. Many people every day seem not to think about how unoriginal their comments are and tear into the usual insult of how Hessian music is "noise" and not music because it does not fit conventional classifications. The wily Hessian only laughs, and mocks back with even ruder noise — for the Hessian knows that human boundaries are only impositions of human understanding, and not inherent to the outside world — a place known for its nihilism and aggressive destruction as well as its nurturing instinct.
Through their addiction to noise Hessians have discovered a method of chaotic, spiritual, dark and naturalistic living that rejects the distinction between music and noise as it rejects government, religion, control and commodity as frivolous arbitrary containers of human invention for the purposes of competitive success. Who knows why humans think that way? But the Hessian only blasts louder, breaking down distinctions as his music breaks down assumptions and suggests a darker vision for art than the kitsch and design of mainstream consumer tastes.
The anarchistic views of Hessians rest in their fundamental choice to have will, rather than reaction, as their response to life. To be informed and to be of mental presence to make decisions, they say, is a fundamental part of the valuable capacity of being alive. Society is here to make room for the individual to create and to be, they say, not to glorify the process of society and to make it more demanding, more greedily afraid of its own destruction.
Through the needs of our industrial machinery we have enslaved ourselves to bureaucracy and the weakness of human need in the power-deprived state of an anonymous modern individual. We have seen, they say, the order of our grandparents and parents grow stronger every day to enforce its arcane social restrictions yet it cannot stop the problems it bemoans, but only makes them stronger as symbols against its rule. We have seen how soon all was suspect, and anything outside the norm became fearful — we have seen also how easily the scared will run to this strong will of order, begging for their dose of power from the dominatrix, doubt.
A civilization that worships fear is nothing to us, they say, as we like the ancients choose a broader, faster, freer life. We choose our will and our dreams over fear.
Naturally this runs against the order of society: sit down and be sensible, provide for yourself or you might become lost (sheep without pension must retire in poverty, and sheep without property may be beaten by the sheepdogs of the herd). For this reason to most in society Hessiandom is an Icaran falling into the abyss of fire, consumption by internal angst (although most of the inner tension is caused by the external internalized), but to Hessians it is the freedom in the one honest voice they hear, which affirms the nihilism of survival, the degraded state of the human race, the victory of destruction over life, and the uselessness of civilization as conditions of existence.
More than the violence of punk rock or the dissidence of political music, this scares the public because of its ambiguous but menacing message of deconstruction. But ineffective control has led to anarchy anyway, an anarchy of a different sort: the equal response to suppression is rebellious destruction; the power of denial cannot file this off the walls of our memory. And so metal is denied, as it has not yet been broken down into enough of a mainstream consciousness to be accepted as anything other than aesthetic.
In the shadow of this denial Hessians have had to find a new way of understanding their existence, when it is not often acknowledged and never given any credit for being as intelligent and architected as it is. This enforced internalization has reached its peak in the romantic but morbid subgenre of Black Metal, which encourages a fascistic love of self and misanthropic hatred toward the world. Alas, Hessians in this world are tainted by its virus, and this over-extension is sometimes as much reaction as independent direction. However their metaphor speaks its truth plainly, and rebellious deconstructs any rules or beliefs that it can lay a hand upon.
But were there only silence, the spirit of the Hessian would continue, in the same proclamation that life makes oblivious of its communication, a nihilistic acceptance and aspiration toward the light as if to become the world rather than consume it. This translates, through the voices of memory and individual personality, to a universal level of thought that refines to a simple message and harmonizes in the medium of chaos. In this arena, the medium delivers the message: with no order, it is free, and it has proclaimed itself so with the organic complexity of chaotic recombinance.
The dark nihilistic rage of the winter gods of thunder presents the looming possibility of spring, of death beyond life and life beyond the living death of modern society. In the combination of musics at modernistic minimalism and romantic construction, metal brings forth a future that may offer more answers and less emptiness than our current adaptation of our collective existence.
2 Comments
Tags: hessian, hessian studies, hessian studies center, hessians, metal academia, metal history, metal studies