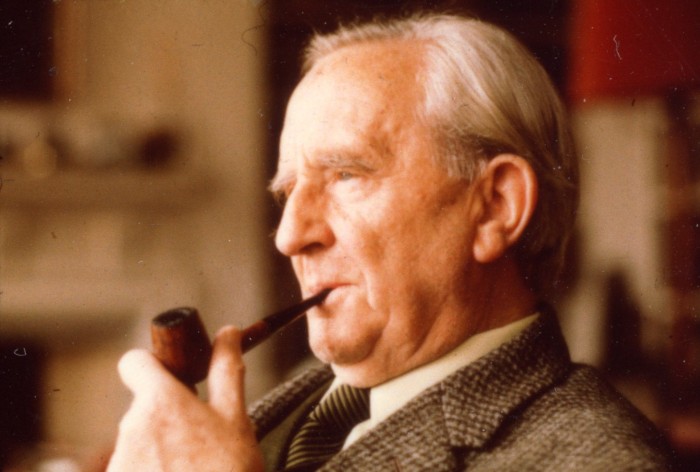 Metal derives many influences from literature, but H.P. Lovecraft and J.R.R. Tolkien appear near the top of any list, while philosophers like Friedrich W. Nietzsche and authors like Louis-Ferdinand Celine linger in the background. Tolkien captured the essence of a dying society without purpose and a contrary invention, which is the medieval-styled worlds of myth and magic from his middle earth books. This appeals to metal which both hates mass society and loves violence, conflict and mythology.
Tolkien saw modern society as a horror and argued for a return to older ways by violence, a lot like Varg Vikernes and even the more cynical Black Sabbath songs:
My political opinions lean more and more to Anarchy (philosophically understood, meaning abolition of control not whiskered men with bombs) — or to 'unconstitutional' Monarchy. I would arrest anybody who uses the word State (in any sense other than the inanimate realm of England and its inhabitants, a thing that has neither power, rights nor mind); and after a chance of recantation, execute them if they remain obstinate!…

Government is an abstract noun meaning the art and process of governing and it should be an offence to write it with a capital G or so as to refer to people…

The most improper job of any man, even saints, is bossing other men. Not one in a million is fit for it, and least of all those who seek the opportunity.
This mirrors the story in his epic Lord of the Rings cycle, which seems to borrow both from the Nibelungenlied and Plato's parable of the ring of the Lydian Gyges, where a force of evil seduces men through their egos and the quest for power and control embodied in a mystical ring.
His stories inspired many pieces of fan art, including this animation by Ulla Thynell which has been floating around the internet for the past few years: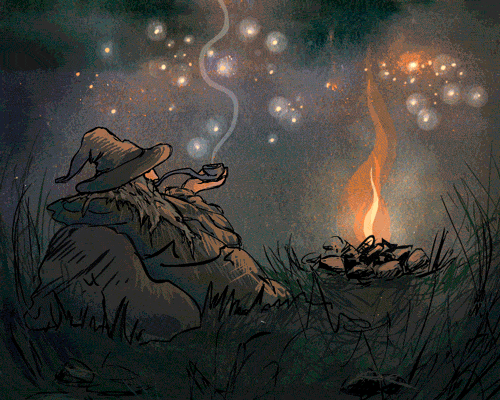 In contrast to the LARPers to follow, Tolkien saw himself in the hobbits, including their love of pipes and Nicotiana (called "pipe-weed" or "tobacco" in the novels):
"'I am in fact a hobbit,'" Carpenter quotes from Tolkien, "'in all but size. I like gardens, trees, and unmechanized farmlands; I smoke a pipe, and like good plain food, but detest French cooking. I like, and even dare to wear in these dull days, ornamental waistcoats. I am fond of mushrooms; have a very simple sense of humor; I go to bed late and get up late. I do not travel much.'"
Thematically, this fits, since the theme of his book is for the degraded remnants of an ancient order to, despite their puny size and lack of self-esteem, rise up and be heroic against the evil encroaching on them. To any who feel like midgets compared to the ancient Vikings, medieval Knights, or even Otzi the caveman, this is an appealing message.
Tolkien smoked Capstan Navy Cut, a Virginia flake known for its sweetness and long-burning. On the other hand, his characters in the Lord of the Rings film were actually smoking Peter Stokkebye Nougat aromatic tobacco to give them the feel for being real Hobbits.
He explained his own pipe habit and the portrayal of smoking in his books through a letter to a fan:
I think that the prologue says enough about Hobbits and their art of pipe-smoking. I do know people want more – but I think that covering the story in mysteries is a good thing, if not a necessary one. It also helps to replicate real history.

Regarding the taste, I'm inclined to answer that I do not know myself. The hobbit leaves surely made for very good flavoured pipe-weed (I would not say brand, as there's no question about commercial products here) but I've not given much thought to that until now – or if I did, my old memory is failing me somewhat. However, I do imagine that most pipes were primarily simple in design. Their shape would look similar to the the large half bent Billiard or Dublin shapes, but often much more long-stemmed.

Regarding the material, I think that Hobbits, if they could not grow suitable briar in the hills, would use hardwood like beech or oak – or perhaps even a type of wood I do not know about. These are details that, when writing, do not come to mind and that must be thought out later, if at all. I must admit I'm always hard put to give out so many of them, and in the end I often favour giving only a partial answer, lest the flavour of authenticity I try to give the story completely disappears. Indeed, I see my job primarily as that of a translator, not an encyclopedist!
The mythos lives on, perhaps in a cloud of bluish smoke.
1 Comment
Tags: capstan navy blue, hobbits, j.r.r. tolkien, pipe tobacco