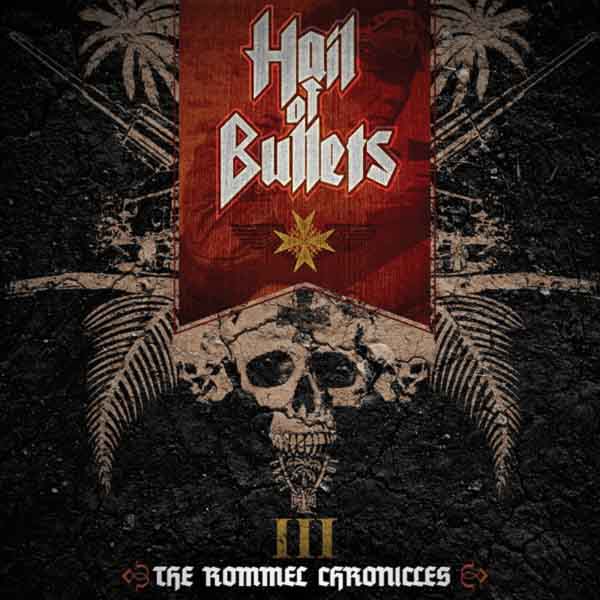 Hail of Bullets formed when Martin van Drunen joined ex-Thanatos, Gorefest and Asphyx personnel to make a modern metal project with the intensity of old school death metal. Drawing heavily from related act Houwitser, the band specialized in pounding chorus-emphatic songs that used the simpler song structures of grindcore to accentuate the abrasive riffing of old school death metal applied with a modern metal sense of rhythm and production.
The band launched their third effort in 2013 with III: The Rommel Chronicles. This album more closely resembles late hardcore bands like Terror than death metal. The bouncy nature of the riffs and rhythms along with the metalcore-esque melodies present to us a more fun and friendly flavor of death metal in complete contrast to the death metal lexicon.
Reading the lyrics makes one feel as if they focused entirely on the lyrical aspect and assembled songs as a vehicle for those lyrics. Emphasis on riffs declines with the need to present vocals foremost. Slower riffs sound like they drifted over from a Whitechapel song. Martin van Drunen's vocals sound as vicious as ever but that does not save the underlying problem: a lack of emphasis on riffs and song structure to fit them as has been the hallmark of quality death metal since its inception.
III: The Rommel Chronicles disguises metalcore as grinding death metal like Asphyx at the time of The Rack, creating death metal by style, not spirit. While there is much to like about this all-star lineup and many of its aesthetic choices, the underlying music cannot back up that promise and so the album feels hollow and expedient. Leave the trenches, because nothing is happening.
8 Comments
Tags: asphyx, gorefest, hail of bullets, houwitser, martin van drunen, Thanatos