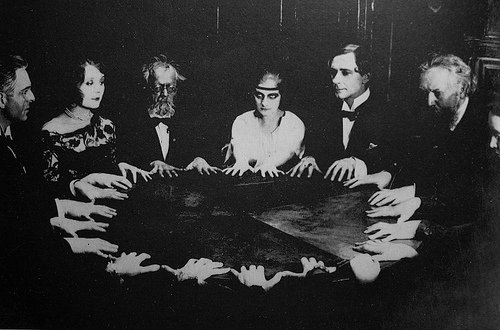 What's an oration of disorder? What most people think of as "order" consists in telling other people what they want to hear and then manipulating them. That's how you sell them products. But the selling of products is the opposite of what art and listeners need, which is a harsh voice to tell us the truth.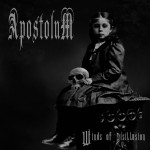 Apostolum – Winds of Disillusion
Like Ras Algethi, this is a black-metal-influenced doom metal album that does not rely on detuned guitars to produce a low-end rumble. Instead, Apostolum shape their songs out of repetitive melodies like we might find in a horror movie soundtrack (shades of Damien Thorne) which cycle through repetition with frequent breaks for rhythmic or dynamic changes. The result is like a comforting background noise segmented into long enough pieces to tell a story, on top of riffs which themselves hint at a type of mood. Vocals add layers of lush intonation that flesh out the relatively sparse pieces, but one of the most important instruments here is silence. Riffs are slower but not uniform pace, so often pauses create gravity; pauses between riffs, and the interruptions in sound, create a sense of melody arising within darkness. The only real problem here is that much of what makes metal enjoyable is less present in this music. Its attempt at emotional depth leads it toward melodies that are periodically happy, so that they may be shattered, and the slowness is for lack of a better term not very exciting. I can appreciate this but I don't think I'd listen to it.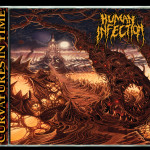 Human Infection – Curvatures in Time
When we say something is "stale" in music, we generally do not mean that it is old. We mean that it is derived from something obvious, like a first step in examining something. The thought process ended early, we think, because we can easily visualize first-level thought from our armchairs in a casual moment. What interests us is when someone takes something in a distinctive direction, which does not mean weird or unexpected so much as it means a direction expressive of something. At some point, riffs either sound like an event from life itself, an emotional event or resemble an idea, and if the riff does not show similarity to one of those but seems to be introductory thought on its own, we discern that it is purposeless. Human Infection have made a grand effort at the technicality required for a death metal release, although the abysmally hollow and loud drum sound may doom this production, but too much of this is death metal for death metal's sake without real purpose, and too much of it uses first level thought, a/k/a really obvious and played-out (because they're obvious, they're frequently used) riff patterns. I appreciate the big doofus aesthetic of this brand of death metal/deathgrind hybrid, but here it goes too far without going anywhere. As with most situations like this, there is too much reliance on the vocals and drums leading the guitars, which creates a sound like repetitive noise with background texture. Give that guitarist more prominence in songwriting and make the riffs lead the song and this could be a powerful band.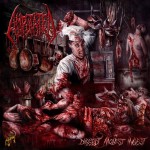 Amputated – Dissect, Molest, Ingest
What I like about this band is that they preserve the lineage of percussive death metal leading back to early Suffocation. It's not that they clone riffs; it's that they understand song conventions used by the originals and thus have to rely less on the post-Suffocation notions of breakdown to transition within the song. Other late model NYDM conventions make it in however including lots of pinch harmonics and sag-groove riffs. Luckily Amputated know how to put together a song so that it moves naturally and avoids lapsing into unrelated and thus pointless detours. At the same time, reliance on a style like this makes it very hard to distinguish songs since they are all similar in technique, rhythm and approach. This is going to be the challenge for Amputated, to distinguish "Skullfuck Lobotomy" from "Toolbox Abortionist" without relying on cheesy appearance tweaks. This band are tight, focused and have a good instinct for rhythm and song so this should not be a huge challenge for them.
This is the droning wailing type of post-metal. It uses two-note black metal minor key riffs and drones those in a predictable loop while someone rants with an open-throated, slow vocal. It's like a requiem performed by brain damage victims. The sense of purpose of classic black metal is lost; you could say Ildjarn took the same approach, and it wasn't that Ildjarn was first, it's that Ildjarn was good. Good means organized, purposeful, communicates something, and creates an experience the listener can partake in. Esoterica creates drone. If you want a background tone to go with some activity like ironing or fermenting fish guts this might be a good counterpart, but generally as it is without surprises or discernible idea, it fades into the city noises like planes overhead, trains long-hauling, trucks idling, domestic violence and identity theft.
Pantera vocals over Kreator-styled speed metal with worked in touches from American melodic heavy metal bands of the same era. If you can imagine Kreator with metalcore/bro-core vocals except that the chorus riffs were borrowed from a hybrid of Forbidden/Fates Warning, that would be a good approximation of the style here. The vocals are unfortunately impossible to overlook and I wouldn't want to listen to this in public because listening to bro-core is the equivalent of screaming "Hello, I'm a fucking moron" at the world. These guys know their classic metal and it shows with allusions that are artfully done enough to not be appropriations but subtle tributes. Phil Anselmo, although a great guy to drink with, invented the worst form of metal vocals possible because they channel aggression to the surface and replace depth with an kind of outraged customer slash drunk frat boy outlook. The rage is all one-dimensional however. The riffs have to support these bouncy rap/rock/hXc bro-core vocals and so get dumbed down. If they could hook this vocalist up with some old Rigor Mortis tapes, this band could head to better places and be really good at it.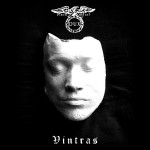 Dux – Vintras
Working both within the confines of Gallic metal and a mixed bag of influences from the past, Dux create what a metal writer might dub "national tragedy": music with a strong national sound that nonetheless embraces melancholy on the far edge of despair, and in the almost depression-distracted gaps created fills in space with past influences, exemplifying the chaotic modern approach that is the source of their angst. Very much in the same style of dissonant minor key Solutrean droning, with a sound that resembles the wind flowing past ancient caves if it were given tone, Dux create in the space etched by Celestia and Vlad Tepes. These songs sound like they might come from the distant past and yet, they are new, and exhibit the same exuberant take on the ancient ways offered by bands like Enslaved, albeit with less technicality. When there are gaps, the band fills in with equal parts Slayer-inspired proto-death metal and bits of choppy heavy metal and death metal, but these parts are infrequent and are counterbalanced by more of the delicious flowing melody they do so well. With better study habits, this band could rank in the higher echelons of contemporary black metal, beating out all the people who lack what this band has: a grasp on the emotional and intellectual subject matter, and thus content, of the black metal genre.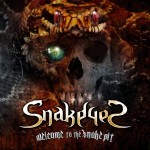 Snake Eyes – Welcome to the Snake Pit
Covering the territory once ruled by the first couple Motley Crue albums, Snake Eyes create old fashioned heavy metal with an American tinge of sleaze and darkness. It's heavy on catchy chorus activity and yet picks up the pace on the riffing more than a Sunset Strip band would have. These songs also try for the "epic" sound of European metal, where at some point the elemental pieces of the song clash and resolve in something with a greater affinity for the sense of the song than the original bits. There's some bleedover speed metal technique at points, mostly use of muted strum and budget riffs for tempo changes. Clear and strong but higher-pitched vocals guide each song, and are often in that half-sung half-chanted style that rides a good rhythm riff. This style of metal has a lot of rock in it, so will not be for everyone. With bonus cover medley from Judas Priest ("Riding the Sentinel into Hell").
Finland is boiling over with classic rock acts. They are all reallymusically competent and have a great sense of melody and rhythm. They have more trouble knowing how to pull a song together to make it highly distinctive, but that's not from lack of ability, more a lack of internal drama. Dysfunctional people make the best rock 'n' roll for a reason, which is that they are not hampered by logic and that they have internal gestures of vast theatrical exuberance that make for really distinctive, evocative songs. Sammal do not have that kind of drama going inside of them. What they do have is a reverence for the 1960s-1970s rock and a way of writing good solid tunes that make you feel like you did not waste your time listening and want to think about them for a little bit. I am not sure what the lyrics are, as I think they're in the voodoo-moonman language that is Finnish, but the songs themselves are quite powerful. Now why aren't these guys making death metal?
No one wants to say all post-metal sounds the same but it is true. This is because post-metal limits itself both to non-phrasal riffing and a certain narrow range of power-chord based ambiguous minor key riffs and arpeggios, and simultaneously imposes on itself the demand the sometimes there be distortion and hoarse vocals. One might ask these bands why they bother with post-metal when obviously they want to play mainstream rock, but no matter what answer they verbalize, the truth is that it is easier to be a big fish in the small pond of a recent trend than to compete on the much broader highway of rock itself. And yet that is a form of cowardice. Why not tackle the audience that they naturally belong to? This band would be a lot more fun if they went Dave Matthews or Barenaked Ladies on stopped trying to cram some superficial aspects of "metal" into an unrelated genre. There is more actual metal on a Taylor Swift album than is present here even though Culted clone riffs from doom, black and death metal past. But seriously, why is this band wasting its time? Better to just become the rock band they want to be than to force themselves to be trendy and not make the cut.
Zloslut – Zloslutni Horizont – Donosilac Prokletstva, Ocaja I Smrti
Part of black metal was its national tradition. Bands wanted to sound like they were from their homelands. This was harder to relate to in places that are more regional, like UK or USA (the "acronym nations"). Zloslut never quit with this idea. They sound like they are not only a band with their own voice, but they bring out some characteristics of national sound. This is not hyper-distinctive as Zloslut compose very much in the classic black metal vein, sounding much like a cross between early Gorgoroth and Immortal. Songs are melodic but not as an effect; they are based around underlying melodies with a distinctive old world flair, internally punctuated by the type of upturn that introduced a huge amount of ambiguity when metal bands first did it. Now it is worked into the melodic sense itself, like the melody is a series of questions exploding into a defiant statement, usually delivered in full toward the end of a song when it can expand into a promenade or march-style rhythm. These songs are designed to fit together like wooden puzzles, meaning that there must be some gap at all times, but the shapes can never be incompatible. The result develops underneath the ears and has subtlety like the original black metal bands. While 80-90% of it may be familiar with those who studied the early 1990s Northern black metal explosion, as with all things in life the distinction is in the details, and there's a lot to listen to here that shows this band have their own voice and one for their homeland.
4 Comments
Tags: amputated, death metal, dux, immoral hazard, oration of disorder, zloslut