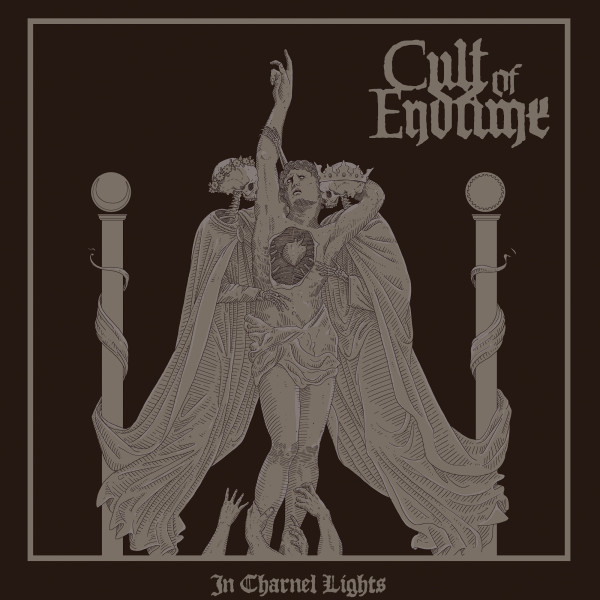 Cult of Endtime play a music that is actually both "melodic" and death metal. Taking the road of modified and expanded verse-chorus-bridge approach to music construction, this mid-paced death metal with a clear aftertaste of traditional metal maintains motific links within songs that ride clear phrasal riffs not unlike the manner of the early but already mature Black Sabbath. Although DMU does not usually hand out stars to shiny, mainstream packages because they usually are just uncreative or mediocre turds hidden under slick production, In Charnel Lights has definitely earned theirs.
A very well-performed and accomplished example of this style, the music stays within the boundaries of its chosen paradigm while introducing a variety of ideas without haphazard changes. This does imply a limited variation, a clutch of its chosen pop-format approach, which supports and defines it but cripples its movement at the same time. The nature of the music, then, reduces In Charnel Lights to a collection of songs. The result is pleasing and solid but can be repetitive in terms of musical ideas and in its adherence  to its center it fails to bring enough variety to artistically justify a second half beyond the urge to produce more of the same.
In spite of this, the variation it does introduce is not only used gracefully and properly but is both meaningful and powerful. Each variation of idea or new idea included, each slightly differing approach to a riff was probably very carefully considered and integrated with an attention to detail worthy of praise. Cult of Endtime are extremely consistent in style although they bring different techniques under its umbrella and produce strongly coherent riff-variations with a relatively wide range of character.
Sounding like a Black Sabbath reborn into death metal, Cult of Endtime build their music on phrasal riffs with a basis on heavy-sounding support and featuring melodic passages that emphasize clarity of expression and musicality rather than technique itself, although anyone paying attention to such things would not deny the professional-level musicianship of the band. Probably one of the best, if not the best, we are likely to get out of the mainstream this year, In Charnel Lights is extremely recommended to fans of metal.
3 Comments
Tags: 2015, black sabbath, Cult of Endtime, death metal, Doom Metal, Heavy Metal, In Charnel Lights, Melodic Death Metal, NWOBHM