Androgel is a testosterone supplement that you take when you've heard too much weepy mainstream pseudo-metal and become a useless person. Here's a list of bands designed to make you mute, impotent and masturbatorily dramatic.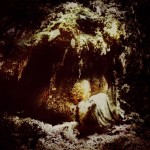 Wolves in the Throne Room – Celestial Lineage
For a band supposedly attempting to harness the beauty of nature, this is an astonishingly vapid album. Bland synths interact with tired black metal riffs you've heard too many times before…but then again, recycling is green. Listening to this album gives me the overwhelming urge to buy a used Scion, then take my Macbook to Starbucks and drink overpriced coffee. There's nothing resembling wolves here, more like domesticated house dogs. For music that actually plumbs the full depths of nature in its transcendent glory and gore, see Ildjarn.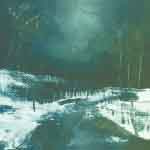 Agalloch – Marrow of the Spirit
When hipsters want to play metal, what do they do? Well, after picking up a Frappuccino they head to Guitar Center and get lessons on how play guitar solos, pick up a few effects pedals, and buy a chord progression songbook. After studying said book for three months, they book studio time and record their album. The vocalist is into that "heavier shit, brah" and thus records his vocals in the style of a strangled animal. The guitarist is into pop rock and thus records bouncy powerchords in that style, though sometimes gets a bit adventurous and throws in a folksy breakdown. Meanwhile, the drummer was arrested for selling marijuana under the overpass and has to be replaced by the local high-school band teacher, who really can't stand this music but needs some extra cash. The band finishes recording and takes the finished project to their fair trade commune, where the community listens to it while getting stoned and spray-painting peace signs on walls. Afterwards, the band teacher goes into class and tells his students; "Don't ever turn into those people."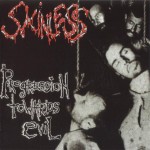 Skinless – Progression Towards Evil
Big news this week is that thud-metal band Skinless has reformed with a new guitarist named Dave Matthews. Cue jokes about Dave Matthews Band, who more resemble Opeth than Skinless. The truth is that if Skinless started playing Dave Matthews covers, it would be a huge improvement. There would be… like… music and stuff to it. Instead, we go down memory lane to the first Skinless album, which is the musical equivalent of opening your high school locker with your forehead. Peel back the skin, and this is standard grunt-and-bash death metal of the type that was an also-ran back in the day. But say what you want about the Skinless guys, they're good businessmen. So what do with generic metal? Dress it up as a new style influenced by hip-hop and techno that uses breakdowns like a rave set and jaunty bounce riffs like nu-metal if it were influenced by underground hip hop. The result is this: thud thud thud, thud thud thud, whuuuttttt, smash smash thud thud, thud. These rhythms are catchy in the same way sirens on emergency vehicles are. And it's death metal in the same way Apollo 13 was a successful mission.
Opeth stopped pretending to have balls and have now fully embraced their feminine side. This is a good thing because they were never "heavy" or "death metal" in the first place, but here their true nature is proudly on display: angry fat women complaining about washing the dishes because it interferes with their power block of eating cheesecake while crying to daytime soap operas. Perhaps the most honest Opeth album yet, but don't be fooled into thinking this is a sign of legitimacy — it's still Melissa Etheridge with Jeff Goldbloom on vocals.
Avril Lavigne parodying the demo from post VON project Sixx, only not as apt. Like other Swedish pyramid scheme acts like Tribulation, Repugnant, Ghost, and other bands created by androgynous men who lack the ability to grow facial hair, listening to In Solitude is akin to getting a chemical castration and attending a Culture Club concert simultaneously.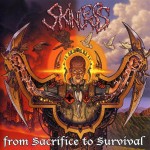 Skinless – From Sacrifice to Survival
This is another stunner from Skinless. Imagine that you took someone, and drilled through his forebrain and sucked out the tissue. Hollow-headed, he might turn to a record store and come home with this one and love it. Its heritage betrays a link to Pantera, who also liked stop-start riffs with chromatic progressions, but this is almost amusical. It is "first five frets" music exclusively, in chromatic patterns exclusively, using the most bone-poundingly basic rhythms, exclusively. It sounds like a special education field trip to a dynamite testing plant.
Clearly this band took Fenriz literally when he said black metal consisted of playing up and down the neck. Seemingly random chromatic riffs inch their way up and down with nothing connecting one section of a song to another. Sounding like a bastardized version of modern black metal and Godflesh-style industrial grindcore, confusion runs rampant over aggression. While this album may appeal to hearing-impaired wrist-slashers, it has nothing to offer functional people.
The end product of metal-archives regulars finding a way to make Ulver's first album have more indie rock parts and appeal to Meatloaf fans, this brain bleaching, testosterone sapping travesty has no purpose other than to appear as another "artsy" product that hopes to one day occupy the same void of purpose Wolves in the Throne Room currently inhabit.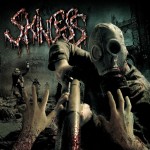 Skinless – Trample the Weak, Hurdle the Dead
The tragedy of this album is that Skinless finally refined their formula to the point where it rolls smoothly out of their instruments like an infectious bowel movement. What makes it tragic is that, despite being at the top of its game, this music still sucks in ways that would require a thousand philosopher-kings to explicate fully. The basic problem is that it aims at a moronic vision of music. In this vision, people want very basic riffs pounded into their heads. These riffs must resemble the process of hammering a stump out of the ground or beating dead horses. As with most truly annoying and terrible albums, there's nothing wrong with the musicianship or even songwriting ability. It's just that Skinless intends to make music for morons doing moronic loud and repetitive things, and they succeed. And now they're back, and THEY'RE GOING TO DO IT ALL OVER AGAIN. AAAAAAHHHHHHNNOOOOOOOO!!!
How these albums get filed under black metal astonishes me, as inept metalcore and 2 DEEP 4 U lyrics are all this band has to offer. If you think: "Hey, that sounds like every transcendental French post-black metal band in existence", you'd be right. ANGRY MAN vocals are present, but it's never clear what exactly he's angry about.
Let's take a look at the lyrics for a clue:
Two glances overwhelmed with woes
Reflecting the echoes of a fall upon a bed of rocks
Such a hideous clamour
An agony that stained the azure
The light of the world
And the wretched olive tree
Stars receded with shaking grace
Degraded holy essence, the third hypostasis
Well, that clears it up.
10 Comments
Tags: Agalloch, Black Metal, blut aus nord, death metal, deathspell omega, forestfather, In Solitude, opeth, sadistic metal reviews, Skinless, wolves in the throne room