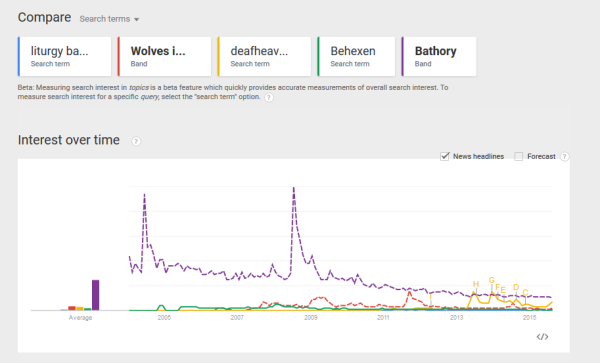 Take a sneak peek at this fascinating chart: over the last few months, interest in hipster "indie metal" and "post-metal" bands has been fading like interest in a Justin Bieber death metal album. This could explain the vast nervousness and agitation among that group, who had a ten-year window to take over metal and use it for their own ends by replacing the original metal fans with a larger audience of quasi-mainstream SJW-style indie hipsters.
But they have failed.
As Google trends reveals, hipstermetal has been a flash in the pan, and these bands that received huge media attention from SJW journalists have collapsed. Even much more extreme and abrasive and non-hipster bands maintain a surprising degree of relative popularity in comparison to the dying indie/hipster metal trend.
Even Windir is more popular even today than Liturgy and Wolves in the Throne Room combined. Why is it that even though all these bands try so damn hard to sound like real black metal, true fans can always tell? Moreover, people with the true metalhead personality always end up gravitating to the real stuff. I think that's because of psychological makeup and possibly even genetics related to brain structure.
In other news, the henhouse is clucking. But how they will be screeching when the destruction specialists appear for the first time. The anticipation is unbearable. The savoring of the flavor of the moment, as SJWs realize their gambit failed and they have now again been reduced to being low-paid entry-level workers in a world that does not care about their "Male Tears" mugs and bold, independent, brave and different social justice opinions…
8 Comments
Tags: deafheaven, hipstermetal, hipsters, indiemetal, sjws, wolves in the throne room