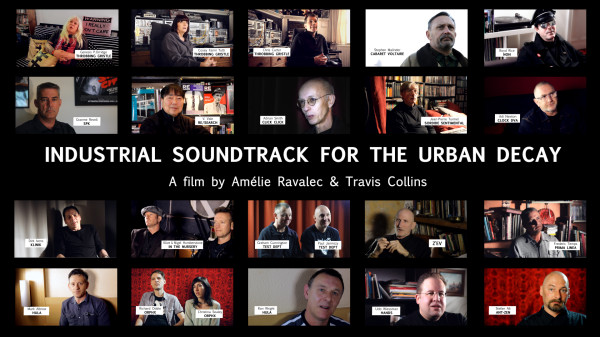 When we first heard about Industrial Soundtrack For The Urban Decay, the upcoming documentary about industrial music and its origins, it struck us as relevant for a death metal site.
In the landscape of popular music, there are obvious "pop" genres on the surface next to accepted forms like jazz and classical, but underneath that are the surly and dangerous types of music that are underground because they don't place nice with the contemporary mythos and ideology of our society.
That group includes metal, hardcore punk (not pop punk, which belongs under rock/pop) and industrial. These genres just refuse to play by the same rules as everyone else who wants mainstream acceptance, mainly because they flirt with or outright endorse ideas that the mainstream has decided are unpalatable.
We were fortunate to get a brief Q&A with Amélie Ravalec and Travis Collins, filmmakers of Industrial Soundtrack For The Urban Decay.
Industrial Soundtrack For The Urban Decay as a title seems to suggest both a documentary on industrial music, and some sense of the motivations behind industrial artists. What made you choose this approach?
Industrial Soundtrack For The Urban Decay is the first film to document the history of industrial music, featuring interviews from the genre's most influential bands, artists, labels and fanzines.
I was motivated to make this documentary as I felt this genre and these artists deserve to be exposed to a broader audience. This film is about more than just industrial music, it also reflects on art, politics and social issues, post­industrialisation and urban decay.
Are you and your fellow filmmaker industrial fans? If so, what first got you into the genre?
Amélie: ­ I came across industrial music while directing my first documentary Paris/Berlin: 20 years of underground techno. I've always enjoyed the harsher and darker side of music. Throbbing Gristle's song "Convincing People" is one of the first industrial songs I remember hearing. I was immediately attracted to Genesis's monotonous British voice and the hypnotic repetitiveness of the song. This led me on a path to discovering more industrial, post punk and dark ambient, as well as beautiful crossovers bands like Coil or In The Nursery. As I dug deeper into the industrial genre, I realized that I shared a lot common influences and preoccupations with those artists, even though they were from a different generation. From a really young age I read books by Burroughs, Ballard etc and became interested in art movements like the dadaist or the futurists, so I felt an instant connection to this music.
Travis: Working in a record store from a young age, I discovered techno and experimental music and was immediately appealed by the rawness of this sound. While living in Perth, Western Australia I had the opportunity to meet and collaborate with Cabaret Voltaire's Stephen Malinder on a radio program and had him DJ at a club night I hosted. Mal and I became friends over the years and he was the first industrial band I fell in love with. I also got into bands like Throbbing Gristle, Meat Beat Manifesto, Silver Apples, Renegade Soundwave and others through my favourite DJ at the time, Andrew Weatherall. I met Amélie while traveling Europe and we decided that this film needed to be made.
I am no expert, but it seems that metal, punk and industrial come from a similar root, which is a rejection of the social impulse of mutual tolerance. Why do you think this is, and how do you think it relates to social decay?
All bands and collaborations bring different influences to the music they make and the environment and social context of the musicians also plays an important role. Most of the early industrial bands we interviewed grew up in turbulent times, where unemployment, high­rise living and cultural oppression were all part of the decaying environment in which this music blossomed.
When the history of humanity is written, how do you think industrial music will be recorded? Do you consider it a historically ­important musical movement?
Industrial bands have been influential in many ways inspiring art forms, using tape loops and edits that pre dated sample music and these days you can hear noise and industrial elements in all forms of music from, electronic music, pop through to classical music.
Industrial musicians are educated, artistically minded and politically aware artists. They found inspiration in the avant­garde movements from the early 20th century like the Futurists, Dadaists or Surrealists, as well as contemporary writers William Burroughs and Brion Gysin. They were also influenced by early science fiction movies, Krautrock artists Kraftwerk, Can and Faust, The Velvet Underground and the DIY ethos of punk music. These artists rejected major labels, mass media and mainstream culture to invent a culture of their own.
When will Industrial Soundtrack For The Urban Decay be released and how can people watch it?
We're still editing the film, licensing music and applying for funding, but we're hoping to release the film in 2014. You can follow the film's progress on the Industrial Soundtrack For The Urban Decay Facebook page.
It's been a great experience working on this film. We look forward to sharing our work and hope people will enjoy it as much as we do!
Amélie Ravalec
Travis Collins
1 Comment
Tags: Industrial, Industrial Soundtrack For The Urban Decay, movie