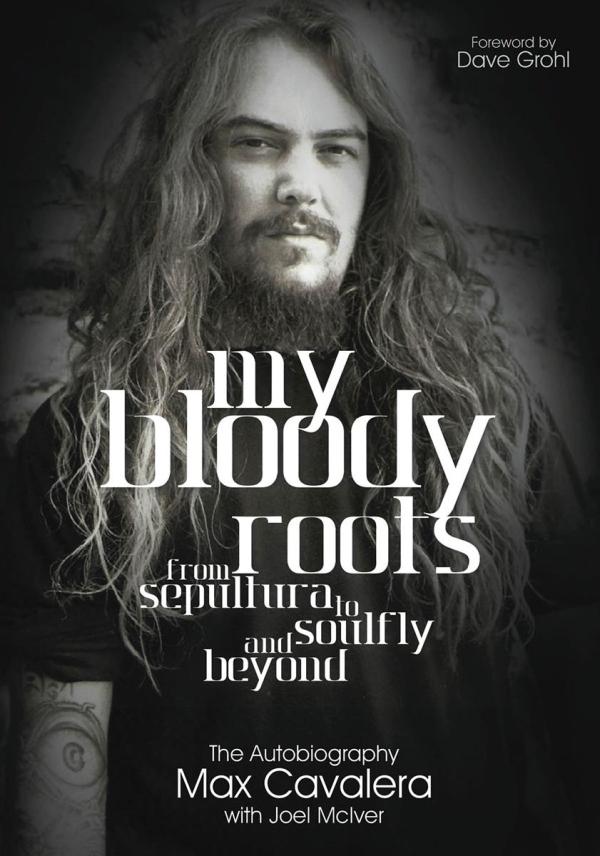 With all of the unanswered questions behind Sepultura lurking in the minds of metal fans, it makes sense that Max Cavalera would launch a guided autobiography like My Bloody Roots: From Sepultura to Soulfly and Beyond. Together with metal writer Joel McIver, Cavalera pens a work that fits within the genre of rock 'n' roll confessional-biographies but underneath the surface, a careful hand edited this narrative into a smoothly-flowing storyline that hits the points of interest to Sepultura fans.
Since the fragmentation of Sepultura, fan rumors and lore have obscured the complex dynamic of interacting personalities that made up the Sepultura camp and led to the consequent splintering off of Soulfly and other related projects. McIver shows his prowess in debunking lore by tracing it back to its origins and exploring the context of the time, which tends to show the lore as anomalous, and then making suggestions as to what was more likely to have happened. Cavalera seems amenable to this process.
My Bloody Roots: From Sepultura to Soulfly and Beyond reads like McIver accompanied Cavalera for months asking him questions about the past and then stitched together the chaotic responses into a single line of thought. The result is both genial and informative, since with multiple choices for any data point, McIver picked the one that was most thoughtful. As a result the text tends to frequently read as a pleasant narrative that suddenly gets serious in tone and detailed when an important point arises but does not, like most rock bios, leave fundamental questions unanswered by glossing over them with a trivial acknowledgment or anecdote.
The result knits together many complex threads in a narrative that has been both shrouded in mystery and inundated in propaganda from multiple warring points of view during the later years of Cavalera's career. McIver makes the text flow so that the whole book resembles a campfire conversation. He brings out the texture in Cavalera's voice by allowing as much as possible of his original statements to persist but seems to have re-ordered them and edited them to make them more efficient and thus intense than your average rock interview.
I started using only four strings on my guitar right after Bestial Devastation. My B-string broke at a practice, and we had a roadie, Silvio, who ended up singing for a band called Mutilator. He said, 'We have a bit of money left, so we can buy a new string or booze,' and I was like, 'Fuck the strings, I never use that one anyway, so let's get drunk.' He said, 'Why don't you take the top E-string off as well and make it four?' and I was like, 'Why not?'

I got used to it, and it became my trademark. I never learned to play lead guitar, and I still can't, to this day.I could learn if I worked really hard on it, and if I just did a simple, slow solo, but I always wanted to be rhythm only. I wanted to take riff-making to a new level. (61)
From this approach comes a wealth of information about the early days of Sepultura, but it is best read in its full form without an attempt at summary here which would miss the richness of detail and character it reveals. Over half of the book focuses on the post-Sepultura years, which for those of us whose interest in this band died with Arise seems like it would be extraneous, but surprisingly was not. I started reading this like any other story and found Max Cavalera a compelling subject as presented by McIver, and was curious to see how the story fully developed. As the story of a musician trying to find his path, it was ultimately satisfying to see Cavalera achieve the commercial success he has desired for years.
While many metalheads shudder at the mention of Soulfly or Cavalera's extensive projects after that time, My Bloody Roots: From Sepultura to Soulfly and Beyond correctly identifies the origin of this tendency in Chaos A.D. and also shows how this was the fulfillment of Cavalera's original intent. For him, death metal was a transition toward what he liked, which was the simple roots rock and early punk in which a catchy riff and chorus made the song. Through careful storytelling, this fact emerges fully-documented by the backstory of Cavalera's early life and musical inspirations, and changes what seems like a sinister sell-out to a quiet disagreement. Similarly, seeing the narrative leading up to the Cavalera brothers Igor and Max feuding in the post-Sepultura landscape explains many of the mysteries and lore that surround them to this day.
Although rock biography is not known for its depth and is generally assumed to be more of a public relations exercise than historical fact-based mission, My Bloody Roots: From Sepultura to Soulfly and Beyond does its best to balance the two and let Max tell the stories as he sees them, while uncovering a factual framework that puts his words in context. Thanks to some inspired interviewing and editing, it is now easy to delve into the fascinating history of the Sepultura experience and how it shaped metal.
1 Comment
Tags: Black Metal, death metal, joel mciver, max cavalera, sarcofago, sepultura