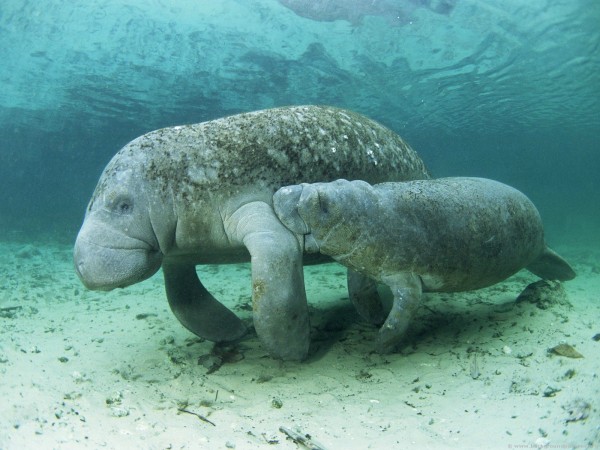 The Manatee: nature's most useful animal.
What are Sadistic Metal Reviews? It's when we decide that good things should happen to good people and bad things should happen to boring music. Most music is either imitating a trend, or totally without purpose or content, and that makes it boring. We can find trends and purposeless noise anywhere, for free. We are cruel to the stupid, and periodically, find something worthwhile to hold up above the river of feces…
It's grandad's heavy metal, kids, but with a rhythmic kick and Alice in Chains vocals. A Pantera influence in the bouncy riffing represents a modern retrospective on glam and heavy metal from the 1970s. Droning diminished scale choruses and a similar riffs stacked in a way that is both not random and not song development fleshes out the mix. Songwriting emphasizes the Big Pop Industry tendencies toward hooky choruses and distracting, somewhat aggressive verses with emphasis on stitching out the chorus rhythm in as many forms as possible, so in case you missed it the previous sixty times it will pop up again to remind you that you're listening to "music." People have made heavy metal version of power pop before (like Yes' 90125) but they aimed for quality; this aims for conformity with someone snapping their fingers and being ironic behind the scenes. Warmed-over 1970s riffs 1990s influences make this a classic record company attempt to make the present generations worship the cast-offs of the past. Despite attempts to be edgy, this is a museum piece from the Hall of Boredom.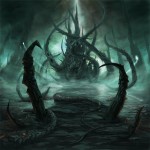 Disfiguring the Goddess – Deprive
There's no death metal to be found on this supposedly "brutal death metal" release, nor any concept of songwriting. Choppy, percussive riffs are thrown next to nu-mu thudding in random sequences that do nothing but "groove." It comes off as variations of rhythm guitar picking exercises played on an 8-string guitar and stitched together in ProTools. Like most of these rhythms, it's only a matter of time before the "out there" becomes the predictable, so there's no promise in these flights of fancy, only a return to something as mundane as the cycling rhythm of a diesel truck engine with a loose belt. Occasionally, an actual riff gets played for almost three seconds before more inconsequential rhythm chugging comes in to pacify the indie/Hot Topic demographic who use this stuff as a surrogate to nurture relationships with other idiots by sharing an interest in "wacky muzak" that makes them "different and unique", but under the surface, is Korn with tremolo picking.
Life is an IQ test. Your choices determine really how smart you are. If you picked this band, you failed. These guys should hang up the electrics, strap on acoustics and do children's television. This is sing-song music for people without direction in life. Even when I was a clueless 14-year-old buying his first albums with grubby pennies I would not have considered this dung-heap of bad musical stereotypes. It sounds like the kind of stuff that characters at Disneyland would sing, or maybe a bad world music band from the background of a car commercial. It's catchy vocal rhythms over guitars that basically serve as slaves to pounding out the catchy vocal rhythm, but it's repetitive catchiness. It's all hook to the degree that there's no sweet spot, only cloying repetition. Most bands of this nature are basically bad heavy metal with jingle music at its core. Barmageddon is basically a grindcore take on the kind of simplistic fare that got called "Pirate Metal" recently. I propose a new name: Headshot Metal. If you get caught listening to this, you should be shot through the face with a high-powered rifle. It's an insult to anyone in the genre who tries to get anything right.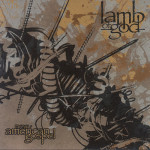 Lamb of God – New American Gospel
Upon viewing this title, the prospective listener might be intrigued to ask "what is this new gospel?" Answer: the gospel of insincere mediocrity. Half-assed guitar riffs combine the worst elements of a moron's interpretation of hardcore (autistic caveman rhythms) and speed metal (obvious riff sequences) with a fruity veneer of constipated teenager vocals. Tracks start nowhere and lead nowhere, with nothing connecting one moment to the next; a stream of irrelevance. Expect plenty of repetition which Lamb of God, like all metalcore bands, tries to disguise by being as random as possible. You know who else uses that strategy? Nu-metal bands. This is basically a kissing cousin to nu-metal anyway. It's music designed for distracted teenagers to distract themselves further until it's time for a lifetime career in something brainless to match their braindead approach to life. How anybody with above a single-digit IQ could enjoy this escapes me. Sadly for all of us, this title is accurate: the future of America is a populace that considers this a valuable piece of music.
Anal Blasphemy / Forbidden Eye – The Perverse Worship of Satanic Sins
Anal blasphemy starts off with three tracks of simple death metal with a strong melodic hook. It is however rather straightforward in structure which leaves creates a sense of uniformity. Riffs are very similar. The final track uses a melodic lead-picked counter-riff which adds some depth but ultimately these songs are one step removed from their beginnings, so despite the compelling rhythm and melodic hooks they might not survive repeated listens. Forbidden Eye produces a more lush approach to melodic metal which is clearly in the droning black metal camp, but avoids the pure sugar-coated repetition common to the Eastern European variant. Its weakness is that there is not much in the way of a unique voice; we've heard these tropes before and recognize the song patterns well. If you can imagine a Dawn or Naglfar approach with more intensive drumming that is roughly what you'll get here, well-executed but undistinctive both melodically and stylistically.
The rock 'n' roll industry is a successful industry that attracts players who are highly professional. They know what the product is, and how to do do the minimum to achieve it; this practice, otherwise known as shaving margins, is based on the idea that the other guy will cut his costs to the minimum too in order to both lower price to make the product more competitive and maximize his own profit. If two guys make a widget, and one does it for five bucks less, that's pure profit. In the same way, rock 'n' roll is based on fast turnover and following current trends so you can catch the media wave. I hear death metal is big now, like trendy. This album attempts a facial similarity to death metal with the whispery vocals of Unique Leader bands and lots of runaway blast beats followed by metalcore riffs, but after a while, they drop this and out come to the jazzy riffs based on a scale bent to a series of offbeats of offbeats in a complex pattern, and the soft-strummed ballad chord progressions and melodic hooks. The problem is that the guitar rhythms, like those of the vocals in hip-hop, are based on subdividing a rhythm and thus rapidly become highly repetitive, both internally and between songs. The result is that it all all fades into the background, as should this rather unambitious and directionless release.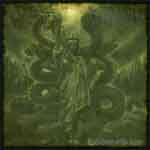 Reciprocal – New Order of the Ages
A "thinking man" band name written in a sterile font and a "politically informed" album cover. Is this more metalcore in death metal clothing? You bet. While this band is claiming influence from Deeds of Flesh and other Unique Leader bands for legitimacy, this has more in common with Necrophagist or The Black Dahlia Murder. Mechanical groove riffs are "spiced up" with sweep arpeggios and generic Slaughter of the Soul riffs appear over blast beats for the "brutality". This is boring music with nothing to offer. Perhaps musicians this good need a better concept to work with than shouting out Alex Jones podcasts over Guitar World lessons from metalcore guitarists played at 220 bpm. I couldn't tell the difference between this album and any other modern tek-deaf release. If these guys were to spend less time on conspiracy websites and more time thinking about why people still turn to their old Morbid Angel and Immolation albums instead of these tek-deaf bands (or how to structure their music to not be a series of discontinuous parts), maybe they could create something useful. Otherwise, this is Origin with propaganda attached looking to steal some time from metal fans while keeping Xanax addled brofist D&B homeys (Rings of Saturn fans) satisfied with more inconsequential ADHD music which will be forgotten a week later.
Occasionally I'm amazed that something actually got signed because it's so terrible and then later I see it on the bestseller list. The taste of the herd will never fail to shock and amaze, mainly because what they like is simple: (1) the same old stuff but (2) in some radical new format that's easy to see through so they can appreciate the sameness of it. Modern society is about anonymity and personal convenience, so why not music that you can project yourself upon, that requires you to know or feel absolutely nothing except the most transient of emotions? Caliban have it for. Ranty Pantera verses over djent-inspired harmonically-immobile riffs lead to sung alt-rock style choruses with lots of hook and lengthy vocalizations, but essentially no melodic development. As a result this is super-repetitive in that its song structure is circular to the point of linearity and the songs at their core consist of two-note clusters in riffs stacked up against four-note chorus vocal lines. Every now and then they get tricky and play rhythm games with riffs that were well-known before Metallica formed. The main factor that kills me is the repetition. It's as if the whole album is a conspiracy of details designed to hide the fact that it's basically the words of a drunk, repeating himself unsteadily and then doubling his volume and saying the same thing. This might be good music to listen while doing laundry or some other task that numbs the brain because the effect of this music is to validate tedium, repetition and simplistic pounding. Unless your brain fell out long ago, avoid this reeking turd.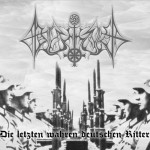 Blutkult – Die letzten deutschen Ritter
I always wondered what would happen to the formal nationalists in metal. We knew that founding bands like Bathory, Darkthrone, Burzum, Mayhem, Immortal, et al were nationalistic in the sense of national pride and perhaps more. But it's a leap from that to connect with the organized far-right parties and mentality, and for a long time, NSBM seemed like it would remain in that world. Then hipsters started like Arghoslent and Burzum and so now being a Nazi is a "lifestyle choice" like being vegan or buying a Prius… the hardcore nationalist music has changed too, as this album from Blutkult shows us. It's a three-way split between the old Skrewdriver-styled sentimental punk music, Renaissance Faire styled Celtic-y noodly melodic music, and the droning of punk-influenced black metal such as Absurd. As someone of profoundly anti-racist and egalitarian character, I find this to be alarmingly catchy and emotional. Die letzten deutschen Ritter brings out feelings of hope in me, and I don't like it. It's like a surge of elegance and an old world emerging from the ruins of this one. But that makes me uneasy, as do the Wehrmacht soldiers on the cover, the black suns and the vocal samples that sound like the man with the funny moustache himself. Regardless, this is where Graveland and Absurd have been trying to go for years. If they got rid of the stupid spoken intros and just focused on letting the music rip, this might be a really compelling release.
While their current output is being lambasted for being radio friendly rock/metal, this "technical death metal" debut album is given unwarranted praise for being some kind of masterwork. Too bad this is just metalcore. Chugging groove riffs played in mechanical stop-start sequences make room for AOR "extreme" stadium metal melodies like Soilwork, and little else. While the playing is adept, the music is annoying and makes their latest album sound favorable by comparison for being honest commercial radio muzak that's not congested with unnecessary ornamentation and fake aggression. If Nevermore made a mash up between Soilwork at it's most commercial and Meshuggah at it's most mechanical while Chimaira make MTV edits out of the recordings, you might end up with an album like this: sub-par music, but at least they know how to play. Too bad they sound like any other generic metalcore band signed to Century Media circa the 2000s with growl vocals (done in the metalcore faux-aggressive style). A terrible excuse for metal that without a doubt brings great shame to Finland.
2 Comments
Tags: adrenaline mob, alehammer, amoral, Anal Blasphemy, Black Metal, blutkult, caliban, death metal, descend, Disfiguring the Goddess, forbidden eye, Heavy Metal, lamb of god, reciprocal, sadistic metal reviews