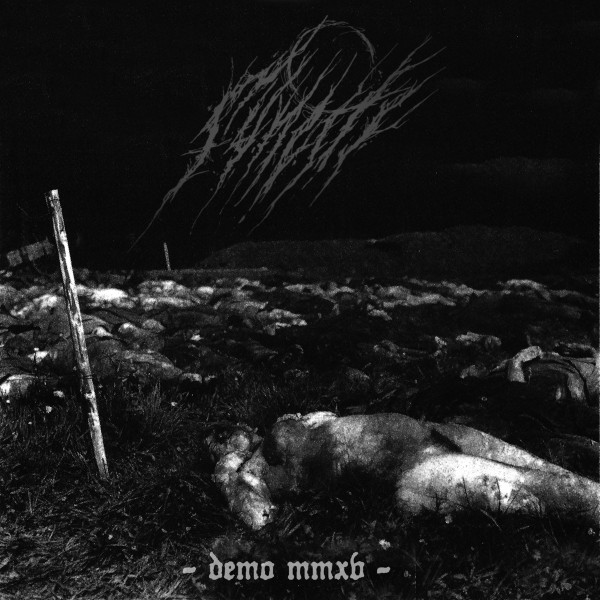 1. How did Funeste come into being?
Yannis: Well me and Léo met through my work. As a tattoo artist I get to know people rather quickly since we spend long hours together. We realized that we had a lot in common, especially music. Our passion toward the raw and the bleak immediately spawned an interest for us two to collaborate musically. We started Léo playing drums and me on guitar duty and started to incorporate other members as we progressed. But eventually the project died of its own. A couple of years later we were still involved in musical projects together. While I was mixing a common project Léo threw at me the idea to start a black metal project. At the time I was overloaded with family and work but, the idea stuck in my head and we gave the project a go. And thus Funeste was born. From there things started to moved rather quickly. After writing a couple of songs I already had test visuals for the mood of the project. But it was just for fun since we didn't have plans to release anything serious. But the more we listened to the tracks and the more people gave us feedback on it, we realized that we had something special. So we decided to release the Ep as a demo since it wasn't mixed at all. And then it exploded, people started to respond very positively to it and it hasn't stopped since.
2. Funeste plays a style of black metal which although firmly standing on a modern conception of the genre also does a very good job at keeping a smooth continuity in the music through paying attention to the consistency of material. How conscious a decision is this? Do you think a choice in style matters a lot?
Yannis: Like you said although I enjoy the traditional aspect of any genre, I think it has to move forward. To me heavy metal has always been about being extreme and subversive. Personally I think these two things can only be quantized by the era we live in and what was done before. So yes I think our style of black metal is a more modern interpretation of the genre. That said I don't think what we do is especially new.
As far as the consistency of the material goes, I think we don't think to much about it. I personally hate music that is too linear and safe. Even super technical band can get boring if there's no contrast in their music. So in terms of mood I think we're pretty consistent but, sonically wise I like I'm not so sure. I don't want us to be coined to a specific genre, that's why we change things a lot from song to song. Most of this is pretty much done on intuition.
Lastly, the choice of style was important at first to give us a foundation to work on, and draw inspiration from it. But like punk, black metal is more an ideology than a specific sound. It's music that is very emotionally driven and that wants to leave the listeners scarred In every way possible. At least that's my interpretation of it. So based on that frame of mind, I think we thrive to use all our influences to emphasize those intentions which creates a black metal with a richer spectrum of nuances.
3. In that same vein, do you think that musical genres have inherent powers or strengths and that they can be especially useful at channeling specific messages?
Yannis: I think so. I always found Black metal very introspective in nature. Delving into the roots of the honest and darkest human emotions, this music can be vessel to all sorts of messages. To me it's one of the few styles were a musician can expose self-hatred, awe and fear of the world, spirituality to its fullest. Although this music is most of the time executed to be a hard listening experience, i think it is a very positive outlet for the musician and the listener because the themes in black metal are very universal and in the end, it is very easy for people to relate to it.
Léo: I agree with Yannis and think it can go even further than that. Music that touches me is music that was made by someone feeling any kind of emotion, positive or negative, and transcripts these emotions through sound. Or at least this is how I make music. And link with the previous question, this is not constrained to any music genre. Some black metals songs can be transmit hope or relief, and pop songs can be depressing. Anyway, I guess this is why we like having vocals that melt into the instrumental part. Funeste is all about hearing a dark gloomy violent overall sound, and relating to melodic lines in any way that fits with your mind when you hear it. It could destroy your mood or strengthen it depending on who you are and what you
4. Would you care naming your main influences in metal?
Yannis: Oh this could be long hahaha! Well I know it's not metal but, I grew up listening to King Crimson and Genesis and I think that at that era was the metal of their time. Intense, intricate and creative. When it comes to metal I started with the basic, Iron Maiden, Black Sabbath then in my teens got a NuMetal phase but I was always looking for darker more punishing music. At the time I was living in the suburbs of Montreal and the only place I could dig for music was Archambault, a big record store like HMV. So I would spend days there listening to anything with a cool album cover. That's where I discovered Cradle of Filth, Dimmu Borgir, Immortal, Darkthrone. These we're my first contacts with extreme music. Than when I moved to Montreal thing's got better hehehe. I had more friends into extreme music, listening to death metal like Deicide and Cannibal Corpse, Macabre, Converge, Katatonia, My dying bride, Dark Tranquility. And then the internet started blooming. Oh the glory! Like most kids my age It was a revelation. And it really allowed me to find music that was tailored to my standards.
But to answer your question more specifically, the metal bands that really influenced me to carve the music I do with Funeste would be bands like Weakling, Twilight, Leviathan, Converge, Brutal truth, Cryptopsy, My dying bride, Buried at Sea, Gaza, Deathspell Omega, The body, Abandon. I also draw inspiration from any genre, weather its Massive Attack's Mezzanine, all the discography from Songs ; Ohia, Van der Graff Generator or the classical music of Alfred Schnittke. Listening only to metal makes really narrow minded records I find.
Léo: Appart from the bands that Yannis cited as direct influence for Funeste, we both listened to many genres which (I hope) gives us some diversity when we compose. My father has a pretty big vinyl collection, and I listened to literally every kind of music that he could find. Later on I developed my own tastes and started to listen to slipknot like many people, which quickly got me interested in more extreme metal bands such as vader, amon amarth, cannibal corpse, gorgoroth, and a lot of punk-hardcore and crust bands like converge, black breath, defdump, etc. There are so many bands that make awesome music that I kind of feel bad to name only a few of them, but I love listening to any band that makes me feel some emotion. Although, music playing with darker emotions will get to me more easily.
5. What about influences outside metal? What about outside music, perhaps in literature or cinema?
Yannis: I guess I answered parts of that question in the last question. For the music we create I focus more on reality. I watch a lot of documentaries on war, poverty and other bleak subjects. Lots of true crime shows. But mostly, what inspires me the most is my own personal experience. I've been dealing with Generalized Anxiety disorder for a good while now. Living constantly with feelings of dread generates a lot of anger, which in the end make for good heavy metal hehehe!
Léo: Well, I like making music by myself, so I guess I'm mostly inspired by what goes on through my mind when I let it slide alongside with the music. But what you live everyday is an inspiration. If you have a bad day have a beer and you will most likely write fucking angry music. As long as it concerns me, I like watching movies a lot and taking pictures. I think I'm always writing music with a graphical environment in my mind, but I couldn't really tell, as my composing process is mainly based on letting everything go, get in my personal bubble and plug my guitar.
6. What is your composition process? Would you care detailing it and commenting on what you believe are its strengths and weaknesses?
Yannis: We're only two in this project and tough we live in the same city we don't jam together. I think of us more like a two headed one man project than an actual band. The way it goes is we both compose riffs and we send them to each other, than we build unto them. And then we trim the extra fat, the stuff we don't want or like. Then I add the bass and the lyrics and vocals. I think it's a great way to work. We can create on our own time that way we don't have to go through the hassle of make everyone's schedules fit. And there's no downside because we're always calling each other for input and we meet for beers on a regular basis.
7. Does Funeste have a goal, a message or an intention? Does the music attempt to transmit something in particular or is music "just music"? I am not referring to music in service of an ideology, necessarily, but as music as a communicator of aspects of our condition as human beings.
Yannis: For me it's a way relieving myself of a lot of anger and frustrations towards that I've been repressing for a long time. I guess my main goal is to make music that I enjoy while keeping metal relevant and as far away from the cartoonish travesty it can become. I try to write lyrics that are close to my heart. I know I should be signing about nature, satan or the fact that I wanna go back to our old Viking ways with my iPhone in one hand and my credit card in the other but , this is just not me and its not part of my heritage. I'm a city boy and always been. And the city is a very demanding and stressful place, where the well-off cohabitates with the homeless. With anxiety and depression on the rise, people losing their religion and values and replacing it with careers and selfies. This is all very bleak to me and pushes me to create music that reflects that. Also all the lyrics are written in French which was really important to me. Here in Montreal, the French Canadian underground is not very strong. Very few band writes their music in French. They'd rather write everything in English because there's a better chance for them to "make it" in the music business. I think we shouldn't be ashamed of our heritage and we should promote the hell out of it, even to places that don't speak french. If the music is good there will be ears all over the globe that want's to listen to it.
Léo: We started Funeste with no specific goal other than make music and "evacuate" some energy through that. Also, we didn't expect the attention we get now at all, so we don't have specific goals related to that. But if people listen to Funeste and enjoy it in any way this we are very thankful. And we will continue making music in the same mindset.
8. Do you have a vision for the future of the band in terms of its growth?
Yannis: Create new music, grow as a musician, meet people. I'd like for us to do splits in the future as well. I still don't know what our next release is gonna be. Another Ep? LP? who knows. One thing is for sure we're writing new music as we speak, and it should see the light of day in the next 6 months or so. Eventually I think we'd like to get a proper line up to do live shows but this is still in discussion at the moment.
11. Is Le Triomphe du Charnier Funeste's first release or is there anything else fans of the band should check out?
Yannis: The Ep is our first outing. Me and Léo also play in a Electro Post-Rockish band called St-Petersbourg. Our new ep that I personally mixed, is coming out this summer. Other that's pretty much it on my side.
12. What would be the best way in which the audience can get into contact with Funeste?
Through our email: funestemtl@gmail.com
Facebook: https: www.facebook.com/funestemtl
Black element Production: blackelementproductions@gmail.com
13. Is there anything in particular you would like to let the metal world know about the band? Is there any particular reason why the audience should keep an eye on Funeste?
Yannis: Well, if you like bleak, unforgiving black metal, give us a try. There's a good chance you're gonna enjoy our EP. And keep in mind, the next song are gonna continue pushing our own boundaries to create music more and more punishing.
65 Comments
Tags: 2015, Black Metal, Funeste, Le Triomphe du Charnier