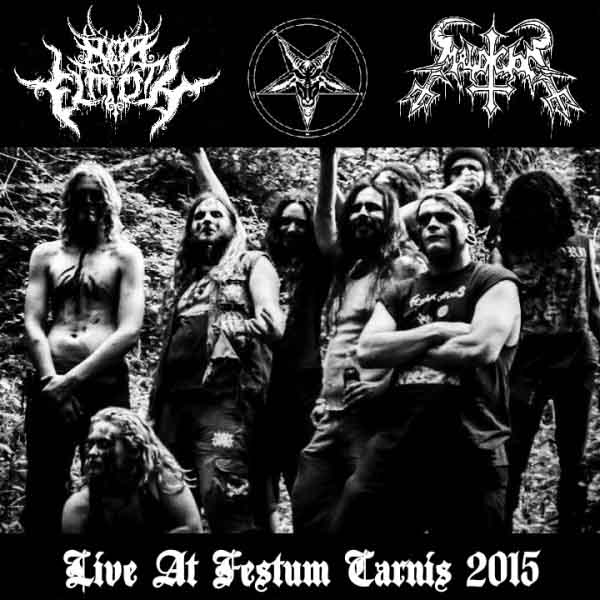 This live split contains two lengthy songs from Nan Elmoth and five more conventional ones from Maldicion. These two bands could not form a greater contrast: the prog-oriented, folk metal informed Nan Elmoth with long discursive songs, and Maldicion with fast gripping songs like Mayhem meets Terrorizer.
Nan Elmoth kicks the set off with "Unleash the King of Wolves." This lengthy song shows what is good about this band and what it needs to work on. Nan Elmoth is confused in both genre, and trying too hard. This song mixed Graveland with folk metal and power metal influences, then tries to cram it into a lengthy death metal tinged song. Perhaps a better approach would be to synthesize those voices into one of the band's own, and then to not use method as a substitute for content; let the content lead you to an epic song or lengthy instrumental if it can, but forcing it creates a disconnect. These songs hold up well with rhythm and repeated motifs, and stand as some of the more deliberately "pushing the envelope" in extreme metal at this. The next iteration may bring more fluidity and allow them to breathe a bit. Nan Elmoth covers wide ground on riffs and themes and pulls them all together in this song, and a longer second song, "Nan Elmoth," in which the variation sometimes seems pro forma but some excellent riffs stand out. This fades out into somewhat repetitive violence and then segues into Burzum "The Crying Orc" for a hint at what the past wrought.
Maldicion takes over with its songs which are dark like Mayhem, and feature periodic powerful internal collisions, but mostly seem to be more in the vein of fast death/grind. The result generates a lot of energy, gives it mystique, and then leaves it hanging about half the time. Songwriting is more proficient than most of metal but it could use some editing to determine the parts sufficiently relate to one another. Nonetheless, the raw aggression and vitality of this band outpaces most of what underground metal is doing now. Together, these bands create a set that is varied and strong, and point to future evolution of their sound that could push them farther in the world of underground metal.
1 Comment
Tags: Black Metal, death metal, maldicion, nan elmoth