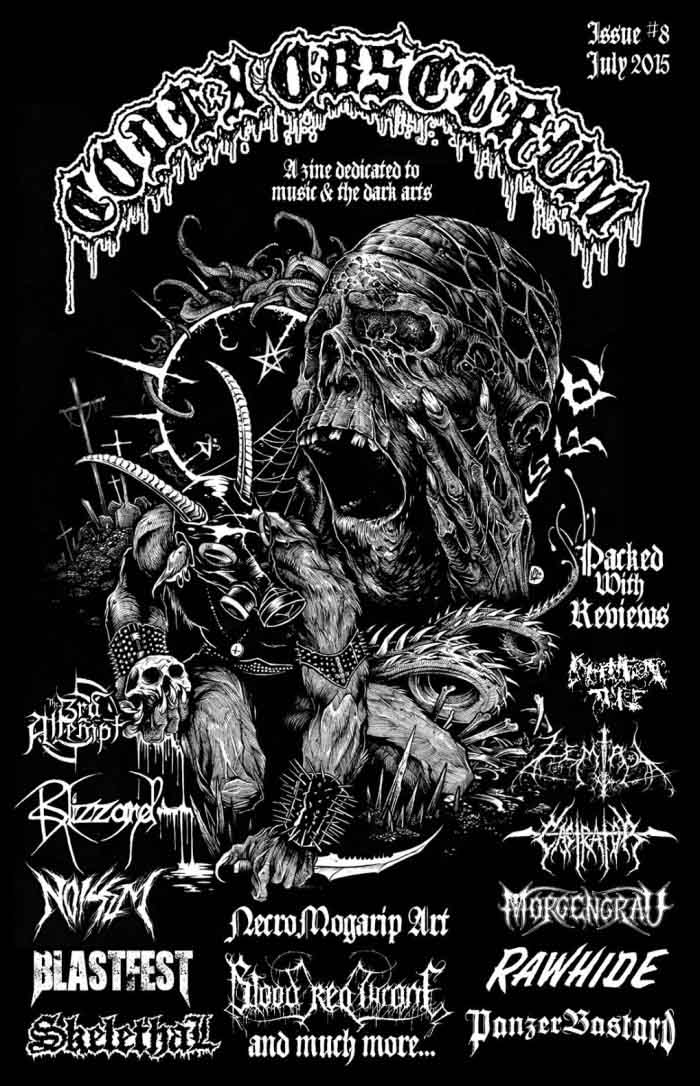 Codex Obscurum has distinguished itself over the course of seven issues by putting the underground first and focusing on quality of music, in addition to a range of topics about what we might call metal culture, or other areas of life in which metalheads find an interest. Over time, the editors have become more adventurous and now include a wide diversity of genres, artists and the ever-popular gaming features and editorials.
Issue Eight takes up the mantle with eleven band interviews, two live reviews, thirty-nine album reviews and an artist interview. These span genres from traditional underground bands to rough roadhouse hard rock, touching on grindcore and punk and even juggalo rock, giving the kind of panoramic view of the genre that big glossy magazines pretend they have. Speaking of, apparently Decibel referred to Codex Obscurum as "elitist," which is a media code word for not regurgitating the spew from promotional mailers, and that gratifying tendency means that a refreshing honesty about the limits of many of these bands cuts back the hype and focuses on the actual.
Interviews abound. This latest edition begins with a relaxed interview with The 3rd Attempt that gives some context to the last two generations of black metal, then launches into an energetic discussion with PanzerBastard that reveals some of the Motorhead plus apocalypse thinking behind that act. It follows with an honest and ambitious interview with Skelethal, whose thoughtful responses make me want to listen past the name, and a somewhat guarded interview with Castrator where the band's attempt to repeat its talking points fades under wily questioning. Then comes an interview with songwriter Ninkaszi about his latest project, Impenitent Thief, which covers a decade of New England metal in a few pages. Noisem follows with an interview of probing questions and somewhat surface-level answers, revealing more about this band than the band intended. After that, Jake Holmes of Plutonian Shore, Under the Sign of the Lone Star zine, and about ten other bands talks Morgengrau and gives some context to what this band has released. Then arrives a rough-hewn interview with hard rock band Rawhide, a contemplative discussion with Zemial, and a detailed look into Blood Red Throne. After the centerpiece of pen and ink art, Teutonic speed metal lords Blizzard weigh in with an irreverent but topical interview.
CO: You've started your own paper zine called Under the Sign of the Lone Star. Can you tell us a little about it, and how we can order a copy?

JH – Under the Sign… started as a reaction against click-baiting, witch-hunting, hypersensitive-PC and overall-clueless "metal" blogs/mags that are unfortunately ubiquitous these days. The PMRC may have been the enemy of the 80s, but at least they never passed themselves off as "one of us" like these rags do! The premise of Ut-SotLS was to write about Texan bands that I really like without stirring controversy or spreading gossip for increased ad revenue: passion, not profit. (16)
The centerpiece takes the form of a deliciously gory mythological-apocalyptic-dystopian scene hanging in blackness, which adds to the mood of the zine, and divides an interview with artist Sebastian Mazuera, who reveals quite a bit about the craft of metal art and the thought process behind it. Then the zine takes a Burzum/Bolt Thrower turn with an article about Warhammer: Age of Sigmar, showing the development and pitfalls of this very metal pastime. Most interesting here is the analysis of how fan interaction shaped, and possibly limited, the game. From the gonzo journalism department, two honest reviews of metal festivals — Blastfest and Messes de Morts — revealing the alcohol abuse and manic social aspects as well as the performances by bands both well-known and nearly unknown. These gave more of a feeling of "being there" than the usual paint-by-numbers reviews, plus hilarity in an honest and uncensored look at how well these bands actually performed.
Incorporating elements of crust, doom, even death metal at times this band can take a left turn in their composition at a moment's notice. From open palm droning and melodic riff structures moving into driving thrash renditions and crusty d beats, these types of elements give the band a really varied and aggressive sound…With tasty build ups making use of both dynamics and tempo, their song structure is quite complex and makes for an entertaining replay value without seeming repetitive after multiple listens. (47)
From there, it is on to the reviews. These establish both how a band composes and records, and reviewer reaction to the utility of listening to the material in question. Although the review of juggalo band The Convalescence is a high point for sadistic mockery in the best offhand zine style, the bread and butter here is nailing a realistic buy/avoid assessment of bands from Empyrium to Tau Cross, Dysentery to Malthusian, and W.A.S.P. to Paradise Lost. These read well, are witty and biting, but are unstinting with praise where it is deserved. Choice of albums here shows more of a strong hand with the reviewers choosing both movers 'n' shakers of the underground as well as undernoticed contributions of interest. It would be hard to find a more straightforward and observant review section in print.
Many have claimed the death of the zine, but with more people cutting the cord to the internet because of the sheer amount of spam disguised as reporting, having a volume like this — that you can pick up and then feel you have a good basic grasp of the scene after an hour of reading — reduces the chaos and puts many metalheads with otherwise full lives back into the game. On its eighth issue, Codex Obscurum has expanded its reach without losing touch with its direction, which is a feat of focus that most metal writers should aspire to.
You can still get copies of Issue Eight through the CO online store.
1 Comment
Tags: alex fewell, brian kelley, codex obscurum, death metal, j.r.doyle, josh staples, kevord, mark richards, mike shea, s. smith, sam kirsch, zine, zines