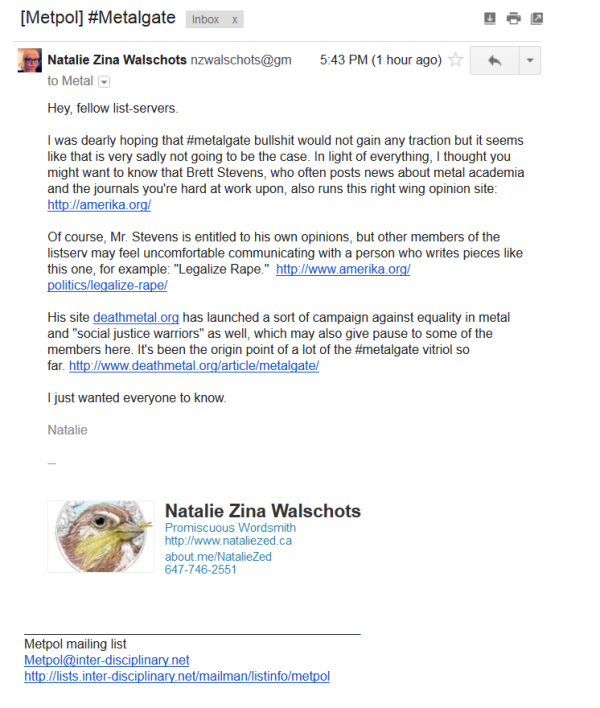 As you, our readers, know we tackle many difficult topics on this blog. Some involve pointing out what metal is trivial and what is not; others tackle "big people issues" like politics, society and moral questions. One of those has been Cory van der Pol's recent series of articles on #metalgate, a conflict between "Social Justice Warrior" (SJW) journalists and those who feel that politics should not invade metal.
Death Metal Underground has for over two decades committed itself to truth, meaning those ideas which correspond to reality and imagination at the same time. We have broached many difficult issues and disappointed people from all sides of the political, social, sexual and ethnic spectrum, as well as delighting many others of similar orientation. If you like truth and metal, you will like this blog even if it has a somewhat acerbic style.
It is disappointing to see grown men and women behaving in such a way that there is only one word for them: bullies. Like witch hunters, bullies rely on a perception of social support in order to shame, humiliate and ostracize others. It is one of the lowest attributes of humanity to use bullying instead of the original form of getting anything done, which is honest discussion and debate. In fact, bullying is meant to prevent exactly that.
People such as the SJW above do not want a discussion; they want to ensure one does not take place. It is for this reason that we at Death Metal Underground proudly resist them and continue to run controversial articles by controversial writers. Anything else is preaching to the choir and I see no reason why we should waste your time with such a mundane endeavor.
Cory van der Pol may have another article coming on the #metalgate issue, or he may not. Regardless, Death Metal Underground will continue its mission of providing quality metal information no matter who gets offended and decides we are Satan. We will save you the trouble: we are the Satan to your pharisaic interpretation of God that excludes truth in the name of obedience, and we will always oppose you.

15 Comments
Tags: gamergate, metalgate, natalie zina walschots, sjws