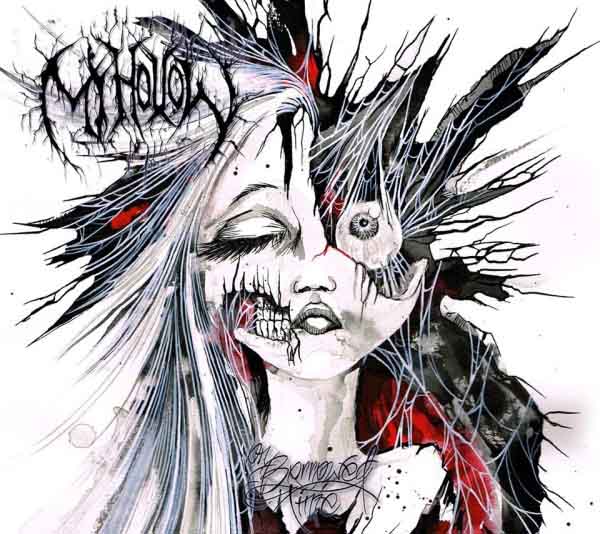 Most metal journalism has a knack for identifying two particular things as "progressive", none of which really are that. The first is incredibly messy music that obfuscates itself so much as to become an illegible carnival-fest of styles. The second is bands with tracks any longer than 3 minutes that deviates from pop format. My Hollow's On Borrowed Time is a deathcore album that is experiencing the second of these two, using a strict rhythmic concordance as a restrictive chain that allows the rest of the musical dimensions to wander with a carefree liberty.
In deathcore, a heavily rhythm-based genre, the break-down-like passages lose their original meaning completely in a context that uses them for a completely different purpose than their original context intended them for. In the best moments in On Borrowed Time, My Hollow oddly attains a coherence through maintaining this rhythmic emphasis between different sections that can be either riff-oriented, melody oriented or pure-rhythm-oriented sections, successfully tying together otherwise disparate textures. This strict rhythmic concordance that becomes unbearable in most deathcore is used as an anchoring device that allows My Hollow to lash out with dangerously varied expression variety in the rest of the parameters that borders on the inconsistent.
When this strict rhythmic link is broken, the album degrades into a completely obscure incoherence all-too-common in this genre for pleasure-seekers with no attention span to speak of. When kept in check, the limitation it forces upon itself in its rhythmic component condemns the song to be a series of themes in wildly different landscapes akin to a collage of scenes with corresponding elements but no chronology or elaboration beyond the juxtaposition. Coherent tracks and spans of sections are unfortunately in the minority of On Borrowed Time, most of it descending into chaotic tough-guy feel-good nonsense.
1 Comment
Tags: 2015, deathcore, My Hollow, On Borrowed Time, progressive