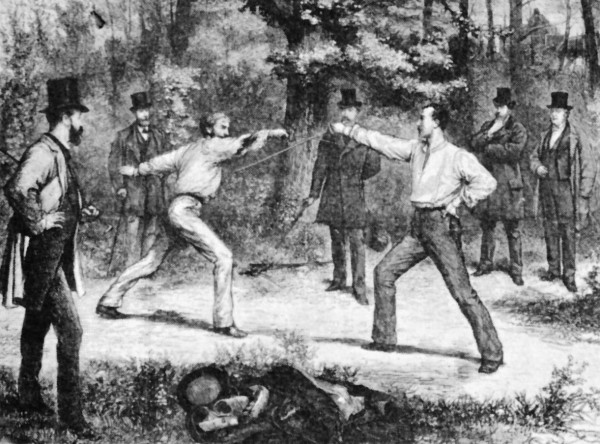 When our society fell apart, we lost politeness. In our modern view, politeness consists of validating other people whether they deserve it or not, especially if what they are doing is stupid or destructive. "It's all good, man," is the refrain of our time, inspired by our hippie grandparents.
Politeness originally evolved as a way to disagree without making it personal. With its replacement, Political Correctness (PC), everything is personal. Under politeness, you could disagree vehemently with a fellow citizen and then go on your way and still be friends. With PC, you have no reason to disagree with him unless he is bad — which used to be reserved for pedophiles, rapists, thieves and the like — but being un-PC is reason enough to consider him bad.
Members of the cult of PC will drop friendships with people who disagree with them. Where an impolite person would be simply shunned, in the PC mindset the only way to lose someone is to make them out to be a villain or enemy. They achieve this status by failing to universally validate all of the people they encounter. Dislike of someone's behavior is considered dislike of the person themselves, and reason enough to exile the person who dared notice the bad behavior.
Consider this conversation:
Person 1: You'll like Sally, she's nice.

Person 2: Everyone here is nice.

Person 1: Yeah, but I know Sally.

Person 2: Why do you hate most people?
Under politeness, it was understood — and this is too complex for PC people — that saying Sally was nice was a way of vouching for her. But PC does not allow you to selectively approve of anything. Either it is all good (", man") or you are an enemy who targets some people by the simple act of not approving of them. In the same way, PC people demand that you relinquish any personal preference or opinion other than a positive one.
Person 1: I really like tech-deth.

Person 2: Which bands?

Person 1: Oh, anything, really. All of it is good.

Person 2: I only like Shove This Microphone Into My Rectum.

Person 1: Only? There's a lot more good than that. Lighten up, citizen. Expand your calm.
Politeness allowed people to converse on the basis of exchanging information. This meant that an answer could be reached, or at least viewpoints could be fully articulated and people could mull it over later. Under PC, the right answer is always the same answer: everyone is right, we just really like one answer (but the others are fine, too, not that there's anything wrong with that). It is essentially an agree to disagree for all debates, factual questions, logical questions and preferences.
Person 1: Incantation is the best old-school death metal band.

Person 2: Naw, I like Death better.

Person 3: We all have our preferences and all of them are good.

Person 2: That's just your opinion, man.
Needless to say, PC is the defense of people who are underconfident in their beliefs. If they honestly thought that being a slut, being a hipster or liking stupid music was acceptable, they would not be trying to force you to validate it through universal acceptance. They would be instead proudly liking what they like and would be able to articulate why. PC replaces the need to have a why (or facts, or logic) for any belief. Instead, they simply regard everything as a subjective preference …except… when someone has a negative preference, then they gang up on that person and wreck his life.
When we shifted from politeness to PC, we lost the ability to have principles and get to a right answer at the end of a discussion. Instead, everything is now a Facebook wall: people spouting off about whatever they encounter, hoping to appear different enough to stand out, with nothing being wrong but also nothing being right, and so nothing is decided and nothing is acted upon. In this state of entropy, we sit decisionless and await some fortunate apocalypse which will deliver us from this utter tedium of being alive.
28 Comments
Tags: pc, politeness, political correctness