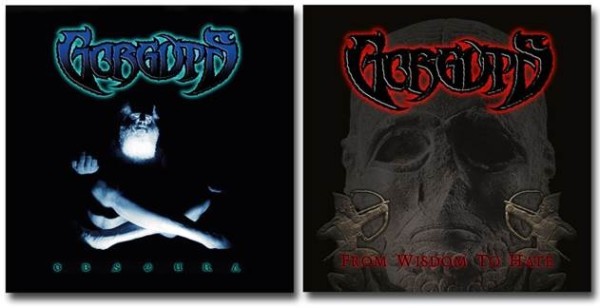 Death metal band turned prog-core act Gorguts has re-issued the latter two albums from its classic period, Gorguts and From Wisdom to Hate, on industry powerhouse Century Media Records. The re-issues — on jewelcase CD, 2LP and limited edition 2LP — will be available in pre-order starting March 9, 2015.
Says guitarist/composer Luc Lemay: "I'm proud to announce that our 1998 record Obscura and 2001's From Wisdom To Hate will finally be re-released! …For this re-issue, I decided to include liner notes that tell the story behind each record. How we got together as musicians, what was the composition process that made this sound possible and that made us grow as artists…I decided to change the logo because, with a step back, I realized that I never really like the original one on Obscura and I wanted to give the record a fresh look. I kept the same logo for From Wisdom To Hate, because it was created for this record…Thanks again to all our fans for their unconditional support through all those years."
The re-issues see official release on April 6, 2015 in Europe and April 7, 2015 in North America. Both are dedicated to the memory of former members Steeve Hurdle (R.I.P. 2012) and Steve MacDonald (R.I.P. 2002). While Gorguts has deviated into progressive-themed *core territory with their latest, Colored Sands, this band helped forge the sound of technical death metal back when that term simply referred to death metal which required technical ability to play. While Obscura has often been imitated in style, those who have tried to imitate it have generally done so on the basis of style alone and missed the sublime composition within which made this album a classic independent of style.
6 Comments
Tags: century media, death metal, gorguts, progressive metalcore, Technical Death Metal