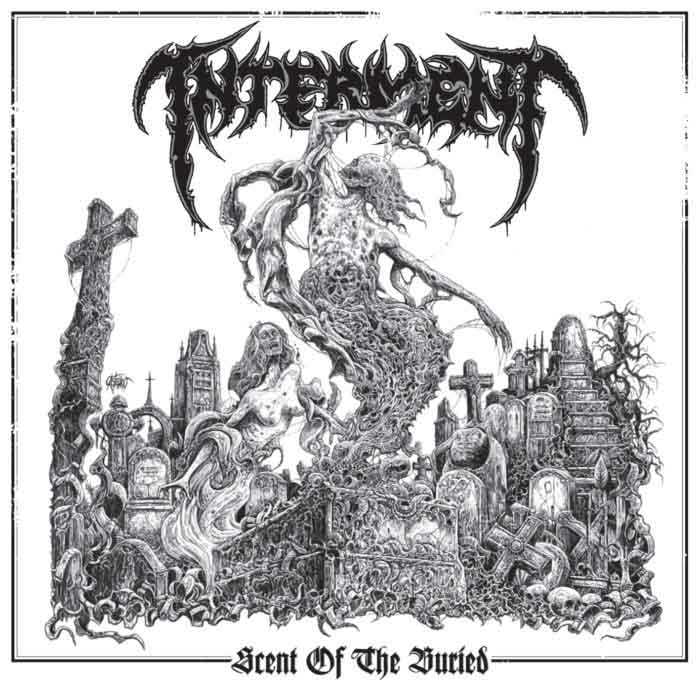 Article by David Rosales.
We tend to be skeptical when receiving a promo of a retro Swedeath band given the history of the style, but we can't help but feel a vague and healthy excitement for the raw feeling this improved grindy sound can offer when done well. Despite the long history of shams, Dismember and Entombed followers receive an enthusiastic and welcoming reception here every time. This is also, perhaps, the reason why they also get beaten down with the most derisive of tones when found 'guilty'.
Interment's Scent of the Buried is one of the best cases of the usually-unfortunate retro Swedeath we have seen in the last few years. While much praise is due, it is also interesting to try and understand when and how blatant such style appropriations fall short of the excellence of the originals. The band does a very good job at creating a flowing narrative in the style of Entombed, taking the best from the older band and approaching Dismember's power chord and tremolo melodies in low tones while discarding the most overt poppisms of the first. After the first half of the album, the B-ness (the quality of being a B-grade album) of Interment's release becomes obvious, after which it is easy to see that the band ran out of things to say.
While for some this has to do with style itself, and a superficial appreciation of music leads some to want stylistic variety, this is not what is meant here when pointing out the bands shortage of meaningful content. It has to do with a narrowness in the variety of patterns in melodies and riffs, not stylistic divergence itself. This is something that does not happen in the seminal works of Entombed and Dismember, whose style is natural-born from themselves, hence their whole effort is bent on trying to say something. In the case of stylistic followers and clones, which encompass the likes of Interment, there is a conscious will towards adhering to the stylistic conventions those older bands laid out.
This is much more confining and goes beyond genre style; these b-bands are not trying to reflect abstract ideas but the most superficial traits of the music. Hence, Scent of the Buried has enough excellent material for a 3-track EP, but not a full album. Despite the technical re-production of this vintage style being a success1, Interment doesn't have much more to offer other than a passing pleasure for those who enjoy the hell out of the Swedeath sound.
Scent of the Buried may be listened to and purchased from Pulverized Records' Bandcamp.
The CD may also be purchased in the US from Dark Descent Records.
1Scent of the Buried was actually recorded by Tomas Skogsberg at his legendary Sunlight Studio were most of the Swedish bands recorded back in the early nineties. – Editor
2 Comments
Tags: 2016, dark descent, dark descent records, death metal, interment, Pulverized Records, review, Sunlight Studio, Swedeath, Sweden, Swedish Death Metal, tomas skogsberg