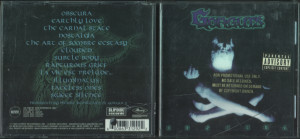 Arising from modern popular music, underground metal has retained many vestigial traits that several artists have consciously tried to erase and that some observers have started to question as detrimental to the effective expression of the genre. As the title of this article reveals, the case in point is the matter of albums as song collections. A good example of this becoming a hindrance to the message of the music is Gorguts' Obscura.
Clocking in at one hour, Obscura consists of twelve songs, a little over the typical ten tracks of metal albums since the mid 1970s. The number ten has traditionally been associated with wholeness or completeness. In the most mainstream heavy metal circles it is considered only right to fill that exact number. No more, no less. A lot of death and black metal albums have veered slightly away from this rule and tend close their albums with eight or twelve tracks. Grindcore degenerates have never let numbers stand in their way and have completely given the finger to this rule as Repulsion, Napalm Death and Blood have shown us with their two-digit track lists.
The reason why more original and progressive-minded artists pay no attention to these unofficial guidelines is because whatever the artist has to say in an album should not be restricted by too many tracks. Even worse than being limited by the number of tracks is having to fill up tracks in order to reach the required number. This is precisely how we get the albums with "filler" tracks. Tracks nobody cares for but which make the album more "meaty" for those who care about such things.
More important than the adherence to a particular number of songs or tracks in an album is the fact that most bands produce precisely that: individual tracks bundled up in collections. This is Gorguts' worse enemy even on their classic of classics. Every one of the songs up to the sixth track, Clouded, expresses a very distinct message in its method. After that, we basically get more of the same. The songs aren't bad at all, but they do not add anything more to the album except extra minutes and more good songs whose essence is not any different from the ones before them. It's basically thesaurus recitation.
Some propose that metal needs to look beyond the number, both as a rule and as a kind of indulgence. Just because that you have more songs does not mean you have to put them in the album. Just because you have more riffs does not mean they need a song to contain them. It is suggested that the album format in underground metal be exchanged for the classical opus format, where we have movements belonging to a coherent whole work, in which saying the same thing again and again is unnecessary and highly discouraged but in which consistency in style and voice is required to a healthy but not over-restrictive degree. Metal is not young anymore, the time to consciously take the step to the next level has come.
23 Comments
Tags: 2015, albums, Black Metal, blood, Classical, Clouded, death metal, gorguts, Grindcore, movement, napalm death, Obscura, opus, progressive, repulsion, song collection, underground, underground metal