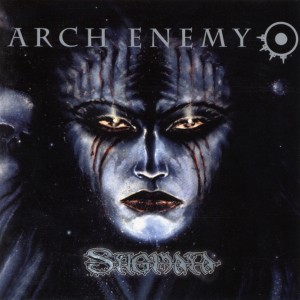 After parting ways with Carcass following the completion of Heartwork, the Swede Michael Amott embarked on his own project called Arch Enemy. Stigmata is the non-sell-out sibling of that last reviled/worshiped Carcass album in which Amott participated in. Starting out with Johan Liva barking in the vocal department, this was a far cry from the embarrassingly audience-pleasing act this band later became.
While most so-called melodic death metal acts, including later Arch Enemy, following in the footsteps of Carcass' last album (Swansong should have been kept by Bill Steer for private use) produce clear, straight-up pop verse-chorus with riffs and solos in the manner of the most mainstream 1980s metal. Sticking out from the crowd, Stigmata explores different song structures, and different ratios between Swedeath Carnage-style riff sections and those which are direct references to 1980s melodic metal. Michael Amott presents us here, in this still underground release, the best of his ideas in their most sincere (though not optimal) form.
Symptomatic of the middle-age crisis that underground metal went through in the mid 1990s, Stigmata shows a sincere desire to produce solid, thought-out metal music, but its motivation and direction is misplaced in nostalgia-driven emulations of the past rather than a forward vision. This was the end of metal's own romantic era. Metal artists' general illiteracy in art could give no rise to a counterpart to the 20th century modernist classical music (perhaps Obscura was an exception?) and it went straight to post-modernist pandemonium shortly after the turn of the century.
https://www.youtube.com/watch?v=9fk8F2vNazk
7 Comments
Tags: 1990s, Arch Enemy, Bill Steer, carcass, Heartwork, Johan Liva, Melodic Death Metal, Michael Amott, middle-age crisis, midlife crisis, modern metal, post-metal, sell-out, Stigmata, underground