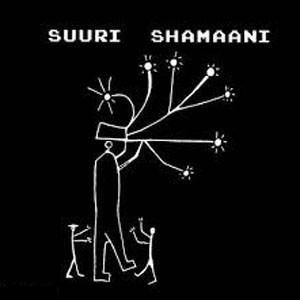 The esoteric ambient/organic noise project of Beherit's Nuclear Holocausto Vengeance, Suuri Shamaani, will see its Mysteerien Maailma re-released next week by KVLT in Finland (€ 11 pre-order).
Like Justin Broadrick project Final, or post-Napalm Death project Lull, Suuri Shamaani attempts to shape sound itself using overlapping drones and ambient noises to create internal harmonies. Mysteerien Maailma (commonly called the "mysterious mailman" album for its resemblance to that phrase in English) represents a more ritualistic and ordered vision of that approach.
Those who enjoy the later music of Beherit, especially Electric Doom Synthesis, may appreciate the extension of ideas here. Like other post-black metal ambient project Neptune Towers, Suuri Shamaani discards what we recognize as music to shape an adventure or topography out of sound.
It is more like poetry made with discovered noise organized into a music-like language than it is composed music as we know it. Because its sonic texture is lighter than that of booming guitars or bright keyboards, Mysteerien Maailma requires a quieter listening environment and more investment of attention from the listener.
Limited to 300 copies.
Tracklist
I (3:52)
Valve (14:32)
Tähdet Ja Avaruus (9:58)
IV (4:24)
A17 (4:39)
Jännite (3:33)
Säde1 (3:03)
VIII (3:21)
IX (7:39)
Okkultismi (4:44)
8 Comments
Tags: Ambient, beherit, electro-acoustic, noise, suuri shamaani