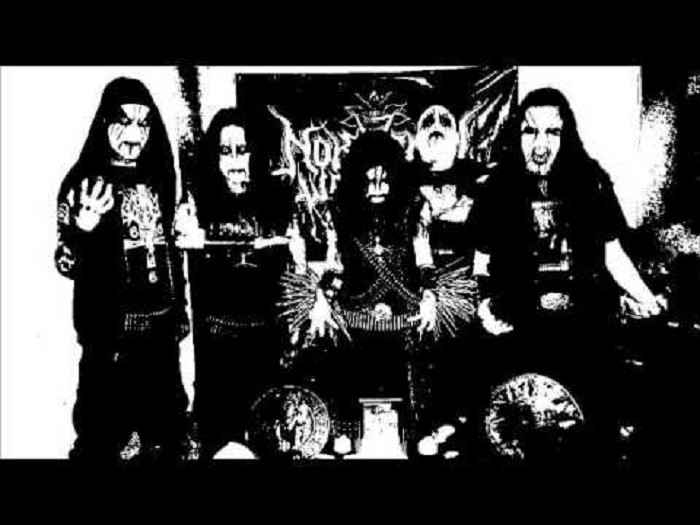 Speaking of performances quietly cancelled because of perceived political views of the band, the Phoenix New Times brings us a hilarious story about SJW-induced panic over political incorrectness:
The bands' members are mostly of Mexican descent , bringing up the question, can Latinos be Nazis?

The headliner, Nokturnal Warfare, is a Los Angeles-based group describing itself as a "nican tlaca black metal" band, a reference to a nativist Mexican pride movement. It might seem counter-intuitive for Mexican radicals to associate themselves with neo-Nazis, but there exists an offshoot of national socialist black metal (NSBM, a.k.a. Nazi metal) that has melded with certain strains of Mexican pride movements. A Spanish-language NSBM label called Pagan National Socialist Organization includes bands that feature hybrid images such as swastikas made from Aztec symbols.
The storyline is the same: show is booked, SJWs find some incriminating imagery on Facebook and swarm together in a Tumblr hive, promoter cancels show but is afraid to say why. Then we run into these ludicrous questions about whether these guys are actually Nazis considering that they are not white and not German. The hilarity accelerates:
On the band's use of swastikas: "The swastika we use is the Mexica, better known as the Aztec swastika. It symbolizes the sun, primarily the sun war god Huitzilopochtli who was the supreme god of the southern native Mexica. … The swastika IS a Mesoamerican sacred pagan symbol. All because the third Reich uses it doesn't mean we use it the same."
They do sort of have a point. Swastikas show up in American Indian culture and the related Mesoamerican cultures, much as swastikas show up in Japanese, Finnish, Korean, Indian, Buddhist and Hindu imagery. Before the second World War, swastikas were common in American advertisements, including for Coca-Cola. This ruins the idea that a swastika has to mean whites hating non-whites. Even more, it calls to mind the question: if any group has pride in itself, does that make them Nazis?
Such questions are beyond the scope of this article.
What is within its scope is the problem metal faces with SJWs: they find new meaning in life by destroying the art of others. Their goal is not to expand meaning, but to collapse it into two categories. Either you agree to bleat the SJW orthodoxy, or you are an enemy of the state, an ideological dropout who should be treated as a mental patient. The hypocrisy of it is that most SJWs are white trust-fund babies who went to expensive colleges to learn this stuff, and now use it to assuage their deep inner doubt as they labor on in utter failures of lives.
This brings to mind other times SJW ideology has collided with reality, such as when bisexual Turks troll around with Nazi and racist imagery just to provoke the sheer stupidity of the herd. The SJWs are the herd; they are being trolled in the classic sense, which occurs when people poke at the sacred cows and taboos of an uptight group knowing that the group will lash out in hilarious ways. This is not much different than the Church of Lucifer opening a "church" in a tourist trap or metal bands using themes of war, eugenics, Darwinism, disease and apocalypse to momentarily stir their audience into brief glimpses of something like thought.
In the meantime, another show is cancelled and SJWs attempt to sweep the band under the rug, terrified that somewhere out there the rest of us might make up our own minds. With SJWs, like with Nazis and Stalinists, you either say the right thing… or you must be destroyed. It's not surprising that metal continues to clash with these intolerant, small-minded and bigoted SJWs, exploding into the conflict we call "Metalgate" because it reflects the same attempts at industry takeover by SJWs as we saw in GamerGate. As with the gaming industry, SJWs have failed to take over metal, and are now fighting a rearguard action to try to save their fractured sense of self-esteem.
3 Comments
Tags: censorship, gamergate, latinos, metalgate, nazis, nokturnal warfare, swastikas