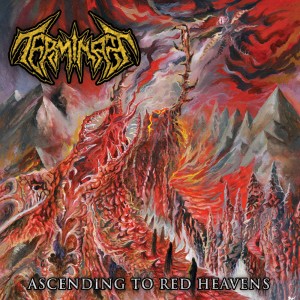 Any band making music of a vaguely "Swedish style" is going to attract both absurdly high hopes and cynicism, and Terminate fulfills some expectations from each column.
Mixed emotions about Swedish-style death metal appear mainly because the recent "revival" of Swedish death metal is more like an "imitation" of the past using the bad techniques of the now. A lot of bands picked up Boss HM-2 pedals, dimed their amps and switched to flying Vs, then mixed a few classic Carnage, Nihilist and At the Gates riffs into their bog-standard death metal with the design philosophy of a cardboard box.
Terminate may or may not fall into this category, but their rendition of Swedish death metal is more like what happens now than what happened then. Its verse-chorus approach is sparse with riffs and heavy on repetition, and its songwriting is blocky, in that these riffs don't particularly appear to relate to each other and the need to drop in a note-shifted favorite from Left Hand Path or Like an Ever-Flowing Stream cramps their songwriting. The other struggle this band faces is that their choice of notes, chords and rhythms is what we might call "obvious," meaning that these will always be common variations of the most basic approach to writing this style of music, and they're not particularly evocative ones.
As any reader with an IQ over his or her shoe size can guess, the overall style here is "Swedish death metal," which is now as much TM as the Nordish foods at the front of Ikea. Terminate use the crunchy riffs that gradually create a melodic mood, although here it's more like a side-step from crunch to melody, and build an architectural sense of the sonic space in which death metal moves. Vocals are equally gruff and guttural, sounding a lot like Carnage or Utumno on a bad day.
Ascending to Red Heavens distinguishes itself because it is not cynical toward its subject matter. The band dives right in and goes for the death metal thrills of thunderous riffs and dark passages culminating in near-nuclear levels of antagonism. Whether this rises above the average is an exercise for the reader, but at least this band, like other Swede-worshippers Disma and Decrepitaph, enjoys its subject matter and tries to be faithful to the idea of it as a whole.
7 Comments
Tags: death metal, Swedish Death Metal, terminate