Profanatica
Sickened by Holy Host / The Grand Masters Session
81 min, Hells Headbangers, $12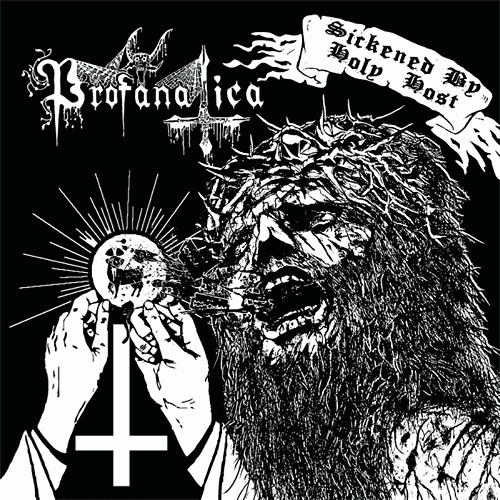 For those new to Profanatica, this is the album to get. Like the band, it is baffling, organic, unsystematic, arcane and labyrinthine. It resembles its own hybrid of occultism, blasphemy and feral Jack London/Fred Nietzsche style absurdist feral Darwinism. It is ungovernable, down to the 7″-sized packaging for a relatively plain CD.
Sickened by Holy Host shows Profanatica at two extremes. The first is Paul Ledney, the percussionist and conceptual designer of the band, with an unnamed collaborator on guitar. The second is the same drum track with contemporary Profanatica guitarist John Gelso riffing along on guitar. The idea is that the first side shows us Profanatica as it might have been in the early 1990s, while the second side shows us Profanatica now as it evolves.
The Grand Masters Session on the other hand is a CD recording of the material Profanatica unleashed as a 7″ box set, and is essentially the band in the studio covering some old classics with updated musicianship and production. This serves as a continuity for the two parts and unites the album at full strength.
Together, Sickened by Holy Host / The Grand Masters Session reveals this atavistic American black metal band in all of their glory. The motivic force is undoubtedly Ledney's (Revenant, Incantation, Havohej) impulsive but controlled drumming, which like a ritual dance of knives lures our listening minds closer to the core of each song. Gelso holds his own with an ability to make classic and new Profanatica riffs both simultaneously awkward and unearthly and also surprisingly difficult to pull off at speed. The result is an untameable surge of raw ideas guided by the torn-silk vocals of Ledney.
This album provides an ideal introduction to Profanatica because it captures its extremes through its most evolved material, giving a quick but deep plunge into the psyche of this sonic terrorism against the civilizing forces of religion and sociability. Soon you too will be chanting blasphemies against the highest holy while engaging in ceremonial defiance.
3 Comments
Tags: Black Metal, death metal, paul ledney, profanatica, review, Sickened by the Holy Host, The Grand Masters Session