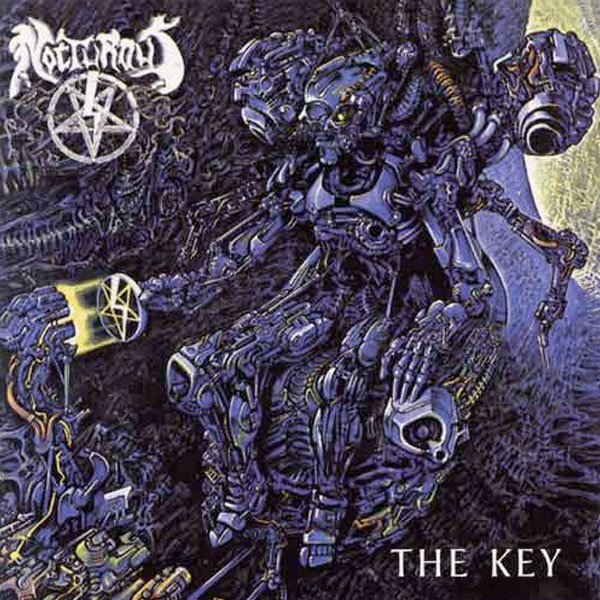 A cult classic of death metal, Nocturnus' The Key often elicits outwardly moderate yet intense praise from connoisseurs of the genre. Reading online reviews and commentaries on the album one realizes that these praises are based on a three points. The first is the prominent use of keyboards throughout the album, then there is the ubiquitous, ripping guitar solos and last, its supposed resemblance to Morbid Angel, which is mainly based on the fact that Mike Browning took charge of the vocals on Nocturnus but also on the so-called thrash/speed-death amalgam this style is supposed to be. Let's shoot each of these down one at a time.
The much-mentioned "pioneering" death metal with keyboards is an example of how too much of the metal critique is bent on praising novelty. Not only is the use of keyboards in the album amateur but it is often gimmicky, half of the time being out of place, the other half being completely extra and unnecessary — not strongly integrated into the music except in a very few places ("Neolithic" has a gesture in the solo section that shows promise). There are very good reasons why you do not hear keyboards often in death metal, and it goes beyond the fact that most death metal musicians are not learned enough to integrate them and would rather just make "pummeling and brutal riffs". Style has to accommodate instrument choice. As it stands, The Key only crams keyboards wherever it can, but it is little more than a gimmick. Overall, a metalhead should look up to In the Nightside Eclipse for a better example of keyboards in underground metal.
On to the much lauded guitar solos in this album. What can I say? Besides being mindlessly infantile and trivial in their transparent scale runs, the solos throughout this album are, like the keyboard sections, often out of place and come off as being only superimposed on top of the rest of the music rather than composed within it. On their own and apart from the discussion on whether they fit into the music or not, it is not the messiness of the solos but their complete lack of character that would give one a good reason to ditch them and never think about them again.
Regarding Nocturnus sounding like a "Morbid Angel on steroids" or "an improved version of Morbid Angel", we can say it comes from extremely superficial comparisons and a complete lack of discernment concerning composition quality. While Nocturnus perfectly exemplifies the brand of speed metal that wants to be death metal but is not quite there yet, early Morbid Angel was known as "death-thrash" only as a result of the audience's ignorance. In this respect and given that The Key was released in 1990, when death metal had already solidified as a genre, we can say Nocturnus' music is retrograde gimmick.  The distinction between the death metal of Morbid Angel and the harsh, late-speed metal of Nocturnus lies in the phrase construction of the first that becomes the central development of the music, while the latter produces riffs to carry the voice that end in hooks. Death metal is progressive-symphonic phrasal music, speed metal is still heavy metal of a pop nature. Rather than compare them to Morbid Angel it would be more fitting to compare them to that other famous retrograde and gimmicky act called Death.
All in all, The Key still captures the imagination despite its amateur character and its great faults. I believe the reason for this is that in spite of its immature musical notions, its concept is very clear and this comes through in a very strong manner, outshining the blunders it houses. For the sake of metal, its future and the education of the audience, it is important to give albums like this their correct place. This is enjoyable and fun in much the same way that Sharknado is. You know it is silly, you know its appeal comes from its exaggerations and awkwardness, but a focused awkwardness with a clear idea in mind.
---
Masturbate on the throne of god
Crucifixion of a thousand saints
Stakes are mounted with the heads of angels
Nocturnal spells are casted,
Heaven begins to bleed

–Havohej
No Comments
Tags: 1990, 2015, death metal, Emperor In the Nightside Eclipse, in the nightside eclipse, mike browning, nocturnus, Raping of Angels, Sharknado, Speed Metal, The Key